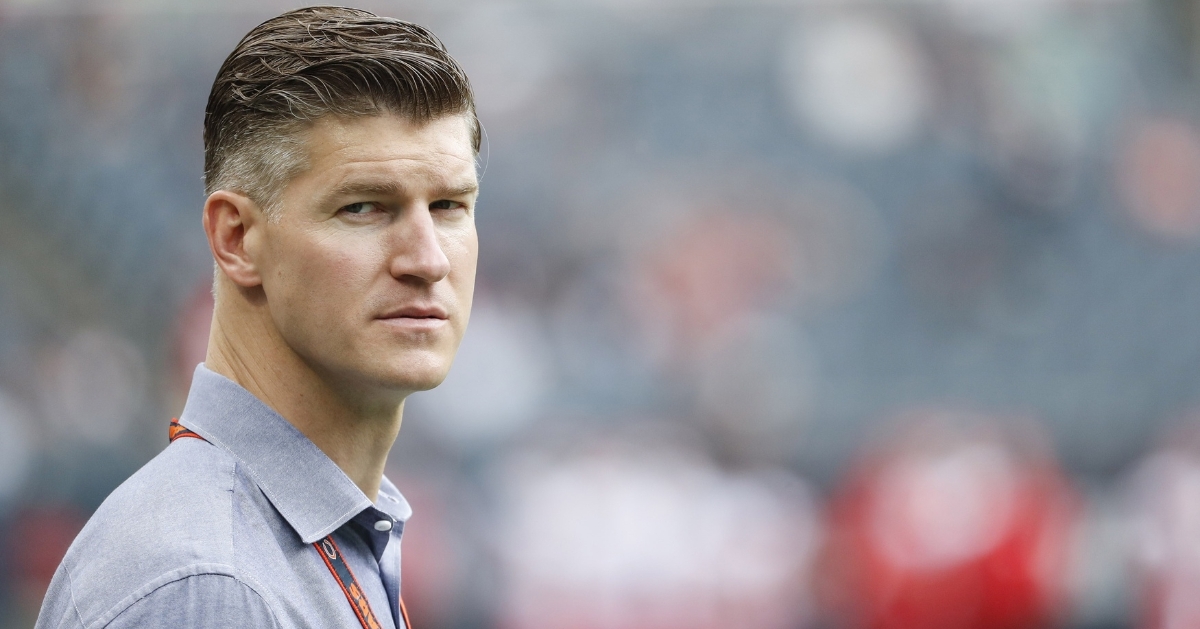 | | |
| --- | --- |
| Bears News: Four moves for Ryan Pace to prove he is a good general manager | |
---
The title of this story isn't indicating that Ryan Pace is not a GM. He has been the GM of the Bears for quite some time, but now is the time for him to leave his mark on the franchise. The Bears are sitting at 3-0 right now, and they are in a great position. Pace is the mastermind behind this team, but he will also be remembered in ways he wishes he wouldn't have.
For Pace to prove he is a good GM, he could do a few things to finish out the season.
Commit to Nick Foles at QB and move forward:
We are now four years removed from the Bears trading up to get Foles, and Pace may never live that down. When you look at how both Patrick Mahomes and Deshaun Watson have turned out, I wonder what the Bears saw in Trubisky and how they missed so much.
I know it takes a lot to admit a mistake, but Pace made a mistake in drafting Trubisky, and he finally realizes it. Nagy pulled the trigger this weekend by benching Trubisky in favor of Foles. Now it is up to Pace to commit to Foles through this season, move on from Trubisky and start a new with either Foles or another option next year.
The @ChicagoBears announced Nick Foles is their starter going forward.

Yesterday, Foles became the first player with 3 passing touchdowns in the final 7 minutes of regulation in a win since Joe Montana in 1989.

(h/t @EliasSports) pic.twitter.com/WLsfjn7but

— ESPN Stats & Info (@ESPNStatsInfo) September 28, 2020
With Tarik Cohen down, get another reliable running back:
Cohen made headlines a week ago by signing a team-friendly extension to keep him in Chicago. He then made headlines by tearing his ACL and now will be lost for the season. That leaves David Montgomery as the lone running back on the roster, and now the Bears must find some help.
Chicago did add through the practice squad, but that won't be enough. There are several reliable backs on the open market in Corey Clement, Theo Riddick, and C.J. Prosise. All three of them have starting experience but would come on the cheap to pair with Montgomery. There is also the option of trading for running back talent. What about talking to the Lions for Kerreon Johnson or the Packers for Jamal Williams?
Pace should be considering all options at this point to help this team get better.
Following Tarik Cohen's injury, the Bears are working out a group of running backs that includes veteran Lamar Miller.

— Field Yates (@FieldYates) September 30, 2020
Swallow your pride and ink Allen Robinson:
I don't know what is taking so long to sign Robinson, but something has to get done. Pace wasted little time extending Cohen, and now the attention focuses on Robinson, who has expressed his frustrations about no long-term deal. For the first time in a while, the Bears have a reliable No. 1 receiver in Robinson, who carries the passing game.
Do the Bears want to lose him and risk replacing him with someone who may not be as good? I know Pace has talked about working out a deal with him, but what is taking so long. The longer this process drags out, the worse the outcome will be for the Bears. He should be the priority right now to figure something out because this passing game will struggle without him.
Allen Robinson appeared on ESPN @FirstTake this morning and had several opportunities to throw Mitchell Trubisky under the bus.

He didn't. Instead, he backed his teammates. Stood by the coaching staff. I don't want to hear this diva talk. Just dumb.

Respect, @AllenRobinson.

— Dave (@runbackdave) September 29, 2020
Get a big run-stuffer:
The Bears were put behind the eight ball for the season started when Eddie Goldman opted out of the season. Knowing that was a possibility for a lot of teams, Pace and the Bears decided to stay within the organization to find a replacement as Bilal Nichols has stepped in. No one expected him to produce at Goldman's level, but the Bears have not bee stopping the run at all this season.
If the Bears want to stop the Packers and win this division, they need to stop the run. Guys like Snacks Harrison and Timmy Jernigan are available on the open market, so why hasn't he pulled the trigger on one of them. If money is the issue, these two are looking for jobs right now, so they wouldn't request a lot of cash at this point.
If the Bears can shore up their run defense, that defense will get back to the level we expect them to be, which will be an ultimate X-Factor for the Bears. I respect many of Pace's moves for the Bears franchise, but he will also be known for something he doesn't want to be known for. Now is the perfect time to erase all that buy doing the little things to put this team over the top this season.
Is Timmy Jernigan a fit for the #Bears?: https://t.co/CfrKct0UPB pic.twitter.com/vglpk7kjd5

— ChicagoBearsHQ (@dabearshq) September 29, 2020