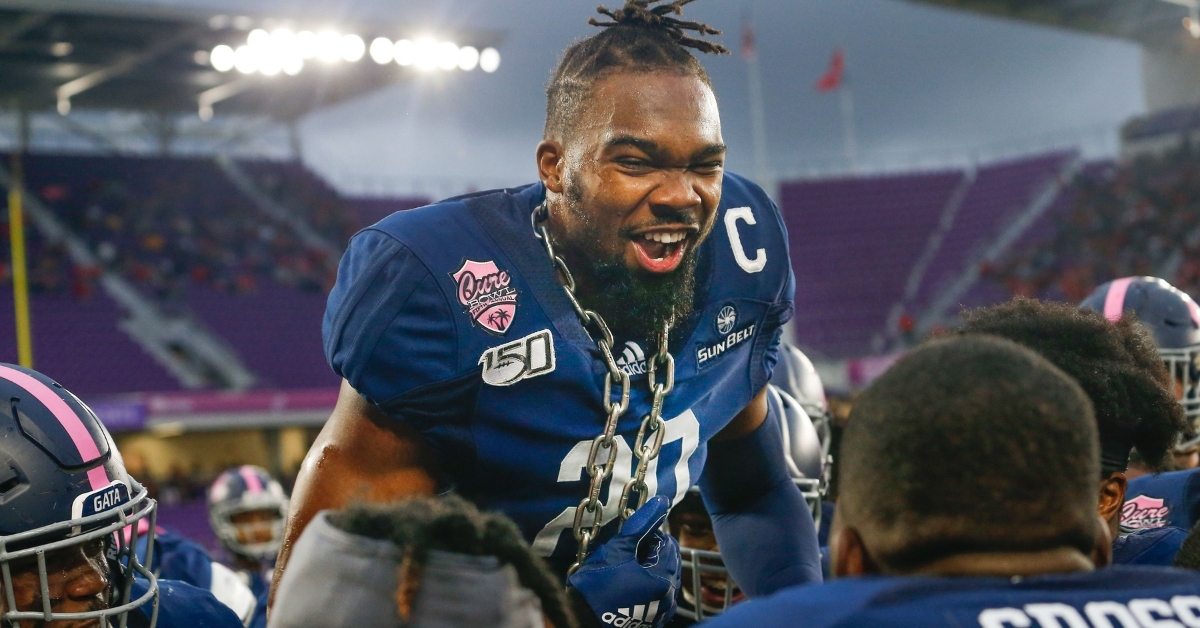 | | |
| --- | --- |
| Bears News: Getting to know: DB Kindle Vildor | |
---
The Bears continued to do work in the fifth round of the draft by once again adding depth to the defensive position. For the second time over the weekend, Chicago chose to build on secondary depth as Georgia Southern DB Kindle Vildor was taken with the 163rd selection.
At 5-11 177 lbs, Vildor is undoubtedly not going to be a physical specimen on the outside, but instead could be an excellent option at the nickel corner position. In four seasons for the Eagles of Georgia Southern, Vildor was a huge playmaker for that defense and someone who saw tons of time on the field. Outside of his freshman season in which he played in just three games, Vildor saw action in double-digit games his final three seasons at school with most of those being starts.
His career year came in his junior season in which he played in 13 games, including a bowl game. He came away with 42 tackle that season, 31 solos to go with 4.5 tackles for a loss, but it was his play in the secondary that stood out. Vildor came away with not only 12 pass breakups that season, but four interceptions also gaining 36 yards in returns. For his career, he picked up nine career interceptions to go with his 25 pass breakups showing his knack for finding the ball.
Vildor has a lot of things going for him, but his athletic profile and competitive demeanor to succeed are his best traits as a player. The thing that Chuck Pagano will love the most about his is that everything he does on the field is with an aggressive and physical manner, which is precisely what he is looking to add to his defense going forward. Add that to his excellent anticipation and amazing zone coverage skills, and the Bears have someone they could count on off the bench in specific scheme situations.
As expected, Vildor does struggle a little bit with tackling, but that is to be expected with his smaller frame. Knowing that he isn't the biggest corner on the field, he often tries to be over aggressive in coverage, and that sometimes takes him out of proper position. After posting a career season in 2018, Vildor did take a step back in 2019, especially in the tackling department. Not only was he not getting square, but he wasn't wrapping up either, which forced him to whiff often. That is certainly something Pagano will need to coach him up on.
Vildor entered the draft after starting his final two seasons in college, but it is his junior tape that has people talking more so than his senior film. He was a much more exciting prospect in 2018 and made his presence felt against Trevor Lawrence and Clemson that season. Had he been able to duplicate his Junior season again in 2019, he had a shot to go much earlier in the draft.
Vildor is not only a physical football player but an aggressive one, also both traits which are much needed on this Bears defense. While he is much better in zone than man coverage, if he gets a chance to attack a receiver downhill, watch out. Vildor will most likely be matched up with slot receivers in
a zone heavy situation, but needs to become a more fluid tackler to see more of a full-time role on the field.
Player comparison: When you get to this point in the draft, it is hard to find players that closely resemble what Vildor is. One player that I think is the closest is Jacksonville CB and 2018 sixth-round pick Parry Nickerson. Both are not only similar in size but also similar in their style of play, although Nickerson had a much more decorated college career than Vildor. Regardless of what happens moving forward, Vildor is at least one or two years away from making a significant impact but will be a talented piece for Chuck Pagano to have.