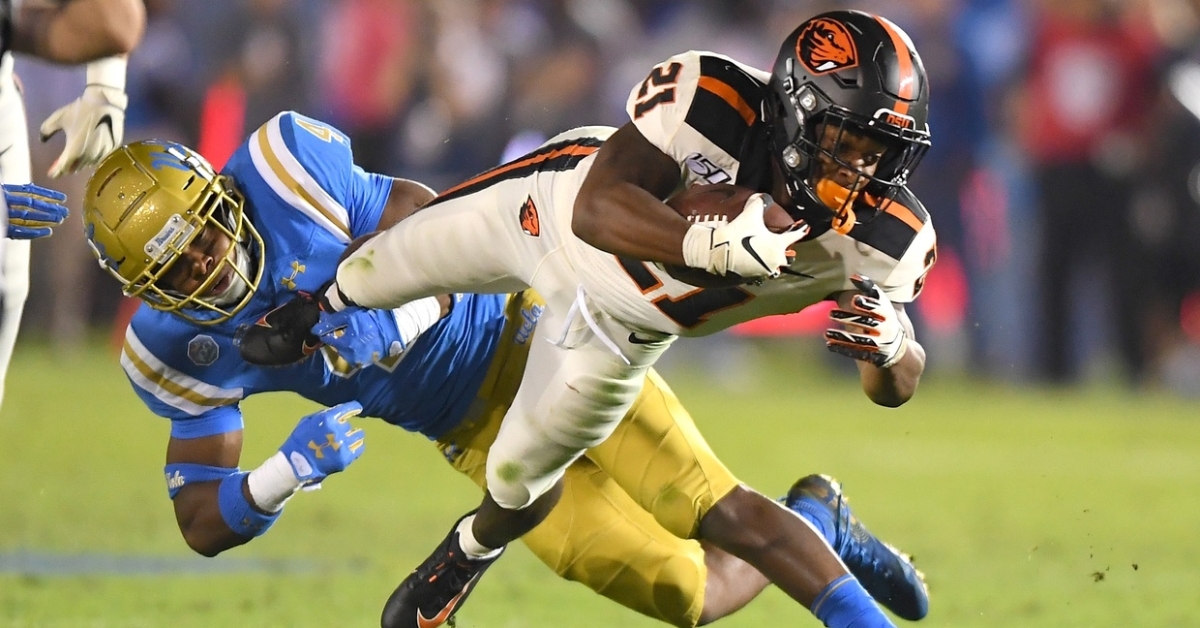 | | |
| --- | --- |
| Bears News: Getting to know: RB Artavis Pierce | |
---
Every now and then, teams scour the undrafted free agent wire post-draft and find a diamond in the rough that not only makes the team but contributes in significant ways. Adam Thielen of the Vikings is a prime example of this as he went undrafted, earned a try out with the team, and has become the teams go-to WR. Could the Bears have their version of Thielen in their list of undrafted players?
When it comes to Artavis Pierce, not only is there a great chance he makes this roster, but he has an opportunity to be the No. 3 RB and quite possibly a chance to dethrone Tarik Cohen as the teams No. 2 man. At 5-11 208 LBS, Pierce is the perfect size for an RB and is coming off an impressive college career with the Oregon State Beavers.
During his four-year tenure with the Beavers, Pierce rushed for 2127 yards on an impressive 5.8 YPC average and tallied 15 touchdowns on the ground. Add his 578 yards receiving and two scores, and you can see why he was viewed as a mid-round talent that someone how went undrafted. What stood out the most watching film on him was what he put together his final two years in school.
Granted, he may not have rushed for more than 900 yards in any season, but he dealt with injuries his junior season before playing in all 12 games as a senior. Yards aside, Pierce not only averaged 6.0 YPC as a senior but was averaging 7.6 YPC as a junior before getting hurt, meaning his YPC average over his final two years in school was 6.8. That is a ridiculous average no matter who you are, and the Bears are hoping he can put a fraction of that together when getting to the Windy City.
Pierce may be the ideal size for an RB, but his long strides and great speed are certainly some pros with his game as he can get through the first level with relative ease hence why the high yards per carry average. He is big enough to lower his shoulder and deliver punishment to opposing players yet fast enough where he can get outside to make things happen.
That speed allowed Pierce to have a nice return background, also where he has proven to be a great player in space, finding ways to get around opposing defenders. While his agility doesn't jump off the chart, he is agile enough to get free, which allows him to turn minimal games into decent yardage. Pierce is a patient runner who has no problem waiting for things to open. Add that to reliable hands that should allow him to take on more receiving reps, and the Bears have someone who fits perfectly in their system.
Along with those positives, Pierce does have things to work on, which could be why he somehow went undrafted. For starters, he doesn't have the best vision as a runner, and if the hole isn't where it should be, he has a hard time finding one. He is listed as a great zone runner but does tend to run into his blockers as he looks down on some runs.
While he does show great explosion through the holes he can see, Pierce also is hesitant on anticipating things at times, which could be a result of his lack of overall vision. Not only does he not have the most exposure as a pass catcher, but he also struggles in pass blocking as his senior year, which was the first year, he was the primary back in the backfield.
NFL Player Comparison: I know Bears fans hate to talk about the Packers, but if I had to compare Pierce to a current NFL player, I would compare him to Jamal Williams of Green Bay. Like Pierce, Williams was a four-year player for BYU but didn't see the brunt of starts until later in his career. Williams didn't have much pass-catching experience in college but has shown better hands in the pros. Pierce is the same way. He was always the No. 2 back for much of his career, but given his first real chance as a starter, he showed what he could do. If any undrafted player were to make this team and contribute, Pierce is that man.