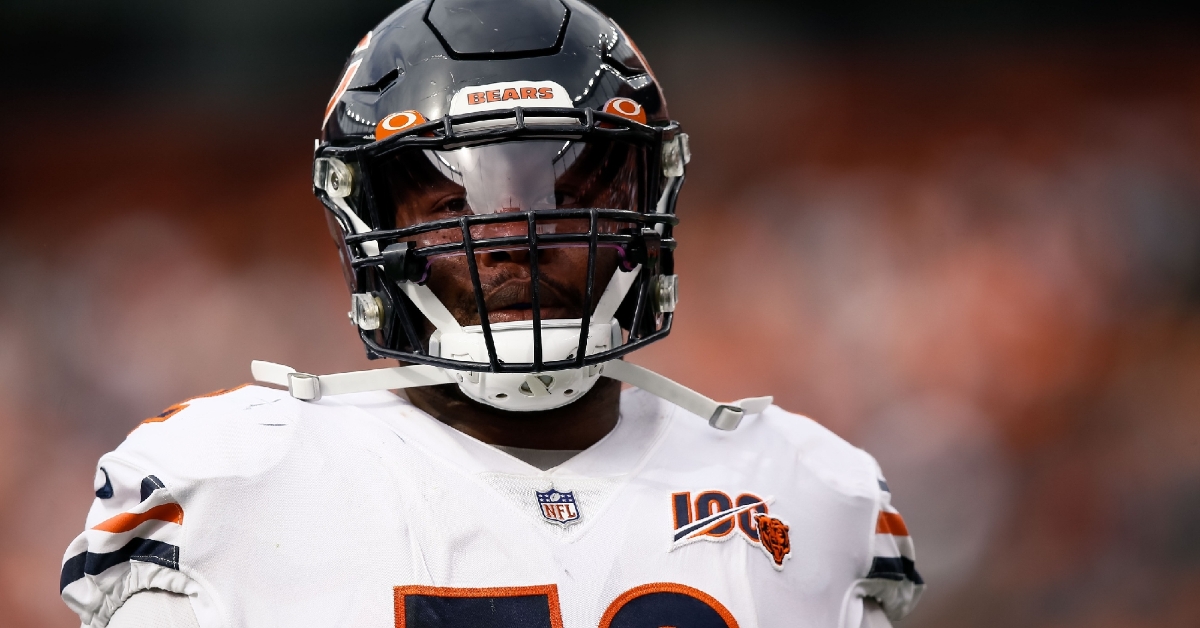 | | |
| --- | --- |
| Have the Bears O-line found their groove? | |
---
When the team was struggling to get anything done most of this season, substantial blame went to the offensive line for their inability to consistently block in the passing game and open holes for the running game. Despite another gut-wrenching loss last week, a lot of the attention went toward David Montgomery and the career game he put together.
Yes, that attention was certainly noteworthy, but he shouldn't be the only one gaining recognition in the Bears headlines. Even with the rookie RB turning heads with a 135-yard performance, anchored by a 55-yard chunk play, a significant reason for the success was the work the offensive line put in during the game. For this unit, this season has been a work in progress as they have had to overcome some critical injuries to find the right pieces.
Sunday was certainly a step in the right direction as Head Coach Matt Nagy made some minor adjustments to specific schemes that eventually helped the offensive line find their identity. Tackle Charles Leno felt the adjustments were simple in hindsight but allowed the whole unit to gel more cohesively than in the past.
"You can see it from the first play," said tackle Charles Leno in an interview with Nathan Smith of Bears.com. "I formation, simple, but it's just a way that offensive linemen and running backs can hit their hole, get off the ball and just be physical, and that's what we were doing — just things like that. Not a lot of RPO stuff, just going straight at defenders because as offensive linemen and running backs, that's what we like to do. We like to go straight downhill."
Even though Leno doesn't speak for the entire unit, he does prefer the philosophy of what the I-Formation is all about. During his time with the Bears and going back to his college days at Boise State, Leno has generally played in pass centric offensive styles, so having an I-Formation geared to running the football was a nice change of pace for him.
"Punish them," said Leno. "That's really what it is. We just want to go out there and hit people. It's fun for offensive linemen when you get to hit somebody instead of in pass pro those guys are coming 275 pounds, running 4.5s at your face all day. It's better when we can go attack them."
Due to in-season injuries to players like Kyle Long, and illnesses going through the roster, the Bears have started four different combinations on the line through the teams first seven games. That is always hard on a team that is looking for consistency, but for the second straight week, the Bears have used Leno, Cody Whitehair, James Daniels, Rashaad Coward, and Bobbie Massie. That lineup seems to be gaining chemistry together, which could be huge for the Bears offense moving forward.
After showing some growing pains in his first with some false start and holding calls, Coward responded last Sunday by holding his own against some good Charger pass rushers. Coward, who has stepped into to replace Long, said that he is learning as he goes to become familiar and comfortable with the schemes put in place.
Daniels, on the other hand, who is the second-youngest member (22) of the unit, has certainly come into his own at center. The second-year player covered that position at Iowa but did struggle at times earlier this season. However, with a steady dose of veterans around him, it seems like he is getting more comfortable with each passing snap.
"It's my teammates that give me confidence," said Daniels. "My teammates are the ones that are encouraging me."
When the offense is going right, no one will give the line credit. When it goes wrong, then the linemen take their fair share of criticism for not blocking and whatnot. Sunday was not an instance where the line should take the heat as they certainly did their job to help the Bears win.
"We really don't focus on what people say outside this organization," said Daniels. "We just focus on every play getting our job done, so it doesn't matter what the media says, or anybody says. The offensive line, we all know what we're capable of doing, so we're just trying to play at that level every time we go out on the field."
Look for the line to continue to improve as the current unit in place should be out there for a third consecutive game on Sunday.