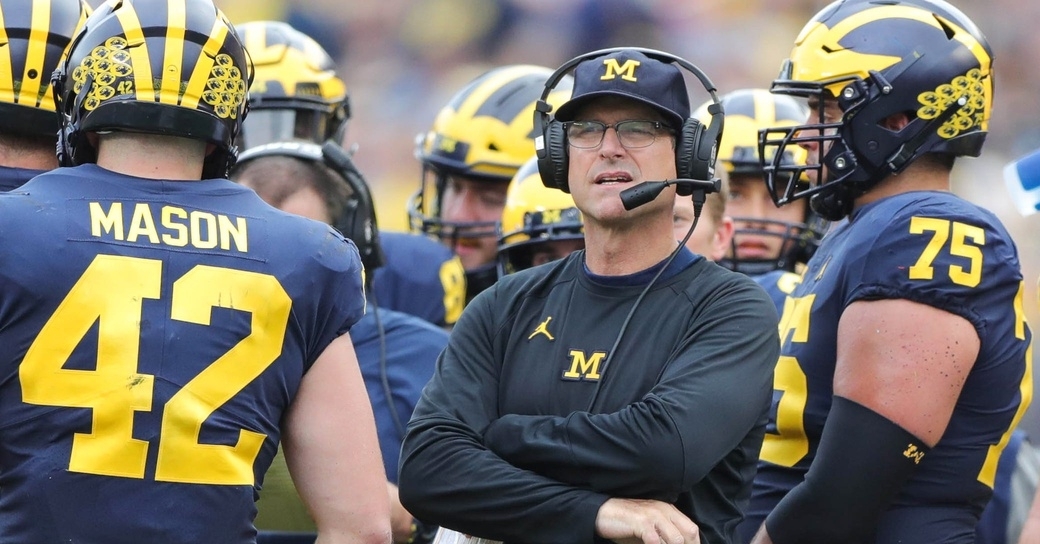 | | |
| --- | --- |
| Hot Seat talk: Will Bears eventually consider Jim Harbaugh? | |
---
| | | |
| --- | --- | --- |
| Friday, November 13, 2020, 8:46 AM | | |
Some people are born to play football. Others are born to coach football. Then you have the rare breed of football lifers who are both born to play and coach the great game they love. For the Harbaugh family, coaching has been the lifeline of their relationship as it has been built around success. From the early days of Jack Harbaugh to his sons John and Jim, coaching success in that family is sure to follow.
Given what fans have seen from Matt Nagy and the Bears the past two seasons, the consensus feeling is that Nagy is in over his head and that he may be let go if the Bears don't turn things around soon. If that is the case, Chicago will not only be looking for a new head coach but should have an intriguing position open for the taking. If that is indeed the case, could the Bears make a push for Jim Harbaugh?
The former player and now head coach was always a decent quarterback in this league but never seemed to wow anyone. Across his career as a player, Harbaugh threw for just under 27000 yards with 129 TDs and 117 interceptions. Those are not the greatest numbers, but he spent a long time in this league, so teams wanted him to be on their sidelines.
Upon retiring in 2001, Harbaugh didn't stay away from the game long as he immediately hopped into coaching in 2002 as a quarterback's coach under Bill Callahan at Oakland. He didn't last long as the quarterback's coach as he jumped into the head coaching ranks in 2004 to continue his father and his brother's family legacy, who followed suit a few years later as a head coach.
Harbaugh is unique when it comes to head coaching, as he has had success everywhere he goes. The strange thing about his journey is that it seems he puts a timeline on his tenures. Across his four stops as a head coach, he lasted five years or more just once with his current team, the University of Michigan. Whatever the reason for early departures remains unclear, but Harbaugh could soon be looking for his next destination.
Harbaugh and the Bears are very familiar with one another as they drafted him in 1987 as he spent the first seven years of his career there. Those were some of the Bears better seasons, so Harbaugh knows how the city embraces winning football and would love to be the man to bring that back at a consistent level.
While his success as a player was not all that great, coaching success is what separates him as he took now for teams and turned them into consistent winners. Starting with his first stop at the University of San Diego in 2004, Harbaugh spent three seasons with the Terroroes going 7-4 in his first season. He followed that up with back to back 11-1 seasons going unbeaten in conference play both times to finish 29-6 with a 15-1 conference mark.
Following the 2006 season, Harbaugh stayed in California as he moved north to Palo Alto to become the Stanford head coach. A program looking for new life was undoubtedly given despite him going 9-15 across his first two seasons. His third season is when everything changed as he led the Cardinal to a 6-3 Pac 12 mark and 8-5 overall.
The next season with Andrew Luck as his starter, Harbaugh and Stanford went 12-1 on the season, including 8-1 in conference, good for second place. They capped off that season with an Orange Bowl to finish No. 4 in the nation as he turned the program over to his assistant David Shaw after going 29-21 across four years.
Following his short stint at Stanford, Harbaugh continued his California tour as he was given his first head coaching job with the 49ers in 2011. Once again, immediate success followed as he not only went 13-3 in his first season but made it to the NFC Championship game. The next season saw Harbaugh go 11-4-1 and advancing to the Superbowl before a 12-4 season and third straight NFC Title game appearance. His tenure with the 49ers came to a rocky end by going 8-8 as he was once again on the move going 44-19-1 in the NFL.
With so many openings looking to acquire his services, Harbaugh moved to the Midwest to take over the Michigan Wolverines program in 2015. Once again, Harbaugh put his stamp on the program going 10-3 in each of his first two seasons and three times over his first four years. When you think of Michigan football, it is all about beating Ohio State.
Harbaugh has yet to do that, which has many people calling for his head after this year. I find that difficult to fathom as his worst year at Michigan has been an 8-5 season, and he was gone 48-30 so far. That brings his college football record to 106-47 and career record to 155-69-1. That comes out to a .691 winning percentage, so there is no question that he knows how to coach.
Why would the Bears be wise talking to him? It is no secret that Harbaugh doesn't stay at places too long, and so far, Michigan is his longest stop. Depending on how his season ends with the Wolverines, it could be the first time he is pushed out the door as a coach. Should that happen, the Bears need to be on the phone to get him.
In coming to the Bears, Harbaugh would immediately inherit a top 10 defense like what he had to work within San Francisco. The most significant difference will be the quarterback position in which Harbaugh had Alex Smith and Collin Kaepernick to work with. You can bet that Harbaugh would fix the offense, starting with Oline and the quarterback. Whether he drafts someone like Trey Lance or Zach Wilson or goes after one in free agency, the Bears will undoubtedly have people interested in playing for him.
Harbaugh is a winner. The Bears franchise has the most wins all-time, and they want to be winners again. This seems like a match made in heaven if it becomes a possibility.