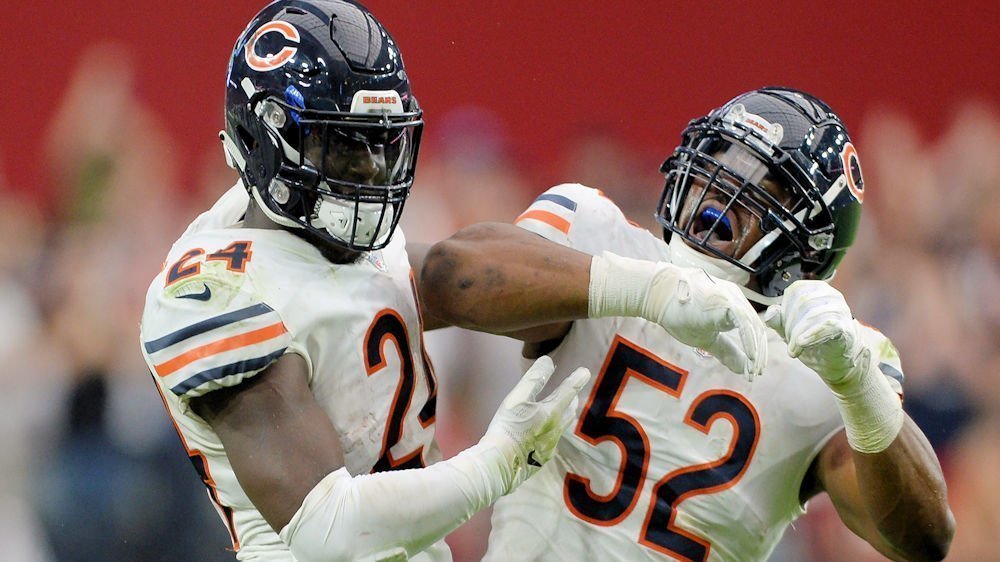 | | |
| --- | --- |
| How do the Chicago Bears look two weeks in? | |
---
Through two weeks of the regular season, the Bears have been Jekyll and Hyde as they have looked good for short bursts and then bad for longer chunks of action. Despite that inconsistent play, Chicago has managed to get off to a 1-1 start out of the gate. However, what do we know about this team through two games?
Looking at both games a little bit more closely, I have realized that we still don't know what type of team we have in Chicago for 2019. I am not saying we have a ton of holes even though we do have some but more, so the Bears are struggling to find their identity which was something they thrived off last year.
What we do know so far in 2019 is the Bears team will be the same old story when it comes to what they do best on the field. After leading the NFL in total defense, a season ago, Chicago has gotten off to another great start this year with their defense ranking fourth in yards allowed and second in yards per play. Even with a new defensive coordinator calling the shots this year's defense has not missed a beat and continues to dominate in the trenches.
Riding their defense will continue to be Chicago's best way to win as they once again rank in the top three in points allowed and third-down defense. I know two weeks is still a tiny sample size, but the Bears defense has limited both Aaron Rodgers and Joe Flacco to one touchdown each through two games which is something to hang your hat on.
Another thing we know about the Bears in 2019 is that their special teams are much better than a year ago. Not only is Eddy Pinero responsible for 13 of the team's first 19 points of the season, but he has been perfect on all his kicks thus far including his game-winner from 53 yards out in Denver. That must be the most encouraging sign through two games as that was one of the most significant question marks entering the year.
Along with perfect placekicking on the field, Pinero has also been great in the kickoff department giving teams little to no chance at returning kicks. So far, every one of Pinero's kicks has gone for touchbacks or have been booted out of bounds preventing returns. With the NFL continually changing the rules for kickoffs to make things safer, the Bears have taken full advantage of that making things easier for the defense to pin opponents back.
Now we get to the things we don't know about the Bears thus far, and that starts with David Montgomery. We all know the potential this rookie possess, but what we don't know is precisely what his role on this team is quite yet. After seeing minimal touches against Green bay in week 1, Chicago elected to showcase him a bit more in week two as he led the team in rushing.
With his game in Denver, Montgomery now ranks second in the league in carries among rookies and third in total rushing yards. That leads me to believe that the Bears see him as more of a feature back instead of a rotational reserve back. Chicago does have Tarik Cohen listed as the starting RB on the depth chart, but with his ability to catch passes out of the backfield it wouldn't shock me to see him less in the backfield and take on maybe a Percy Harvin type role if Montgomery continues to produce.
Going back to the defense, Roquan Smith has undoubtedly shown up through two games, but can we expect this type of production the rest of the season. Coming off a season in which he led the team with 121 tackles as a rookie, Smith has tallied 18 through two games and is on pace for 144 tackles this season. Is that a possible number to reach, of course, it is mainly in this defense, but will that pace continue through a 16-game season.
I am not saying Smith isn't capable of doing that because he most definitely is. The problem with keeping up at that pace is the amount of talent Smith has around him on defense as just about anyone can break out with ten plus tackle efforts. From Danny Trevethan to Khalil Mack, Chicago has the athletes all over the field that can make plays. Chicago is hoping that Smith can keep this pace up to help take the load off Mack on the pass rush.
The final thing we don't quite know about the Bears is what direction is their offense headed for the remainder of the season. Last year, Chicago was a run-first team which helped take the pressure off their young starter Mitch Trubisky. Still wanting to run the ball effectively in 2019, Chicago preached in the offseason that they would throw the ball more in hopes of unlocking what Trubisky can truly do on the field.
The only problem with that through two weeks has been the offense has looked terrible in the process. Not only have they been struggling to run the ball consistently as they would like too but Trubisky has looked everything but a franchise quarterback through two games making points hard to come by. No one expects him to be a top 10 QB in this league, but with this defense, Chicago should have no trouble making the Playoffs if Trubisky plays at a top 15 level.
The only problem is he has not played at that level, and it is not even close. Outside of Kirk Cousins dismal game against Green Bay, you could argue that week one for Trubisky was the worst showing of any NFC quarterback in 2019. Yes, the season is still young, but Trubisky needs to pick things up, or we could be in for a lot of ugly games this season.
With 14 weeks to go in the NFL regular season, there is plenty of time for the Bears to discover their identity and what they want to become as a team. Until then, we need to ride the Jeckyl and Hyde wave and get used to some early ugly games.