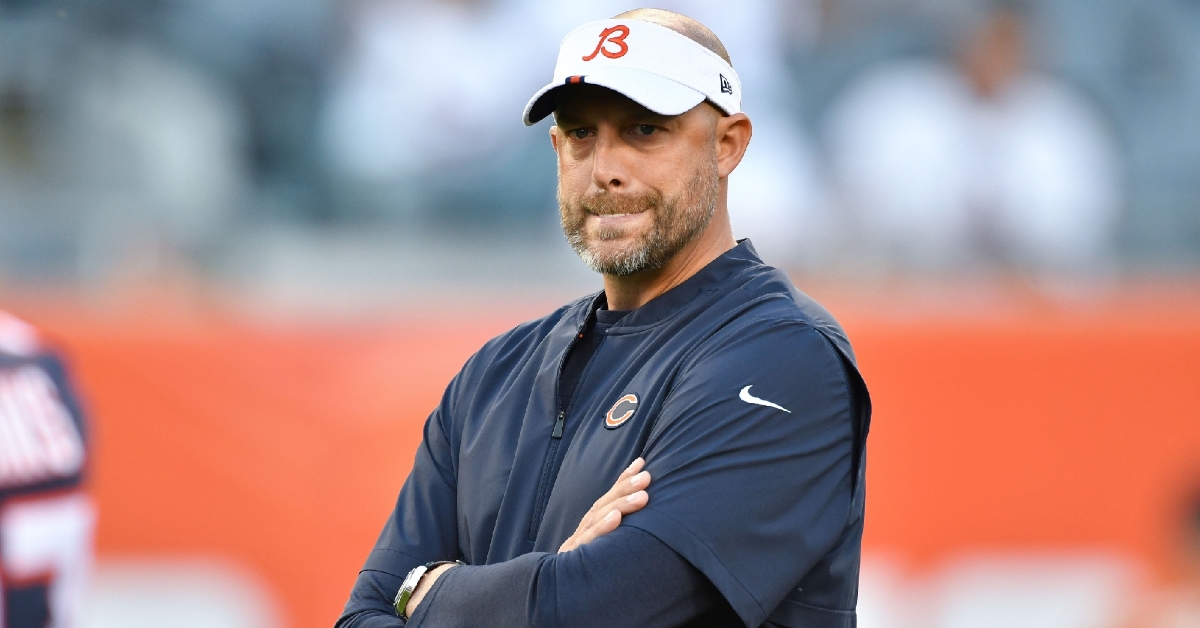 | | |
| --- | --- |
| Bears News: Matt Nagy: "We're 3-2, and we're going to use this as a positive" | |
---
As Chicago enjoyed an off week as much as they could, it is back to work this week as Chicago looks to rebound from their 24-21 set back to the Raiders in London. As Matt Nagy took the time to evaluate not only his team's latest loss but the entire season, he remains adamant that the glass is half full as the Bears have done some good things this year.
"I know you've heard this from me a lot, but I'll never lose this," Nagy said last Monday. "You'll never get me as far as being negative. Never. You won't get me. So, I'll be positive, and this team's going to be positive. We're 3-2, and we're going to use this as a positive."
If the Bears truly want to look at this as a positive, all they need to do is look at one season ago as to where they stood entering the bye week. It was an almost identical start the past two seasons as Chicago fell to Green Bay week one before winning their next three games and losing right before the bye to put them at 3-2 heading into the week off. After losing their first game out of the bye week last year, Chicago went on to win nine of their final ten games to finish 12-4 and NFC North champions.
A carbon copy of that finish this season would be a welcoming sight for Nagy and something he hopes his team can accomplish. However, it won't come as easy this season as it did last year as Nagy has spent the bye week evaluating an offense that has underachieved in 2019. Through six weeks, the Bears rank 28th in scoring, 30th in total yards, 26th in rushing yards and 30th in passing yards. Compare that to the teams with similar rankings, and the Bears should be lucky to be 3-2. Nagy knows for his team to be contenders again; the offense needs to get things right in a hurry.
"We have a happy-go-lucky attitude around the building," Nagy said. "We have fun. Every now and then, though, you need to be able to show a dark side—and they need to see that and feel that. It just so happened that [Sunday] was one of those days that they felt it. I know they felt it.
"They always know the importance that they mean to us as coaches and to me as a head coach, where I'll always have my arm around them and always be there to listen, too, because that's a part of this, too. Let's listen to them and see what how we can collaborate together to get answers."
Even with the team seemingly better on offense last season, Nagy also had to reach into his bag of tricks in 2018 as he also had to show the team what he likes to call "the Dark side" in 2018.
"I had to do that last year, too, I did," he said. "There were times where we had to do it. This year it's just coming a little bit earlier. That's where we're at.
"I just trust and appreciate who these guys are as people, and I trust them. I trust that they're going to figure out a way, along with us, what the answers are. And we stick together. We're 3-2. We're at a point now where we're going to be OK, and we're going to get answers."
As the Bears enjoyed a weekend off without game action, the team will once again reassemble this week at Halas Hall as they begin to prepare for a huge NFC contest with the Saints on Sunday. This is a Saints team that lost Drew Brees in week two but has gone 4-0 with Teddy Bridgewater as the starter pushing their record to 5-1 on the season.
Upgrade Your Account
Unlock premium boards and exclusive features (e.g. ad-free) by upgrading your account today.
Upgrade Now