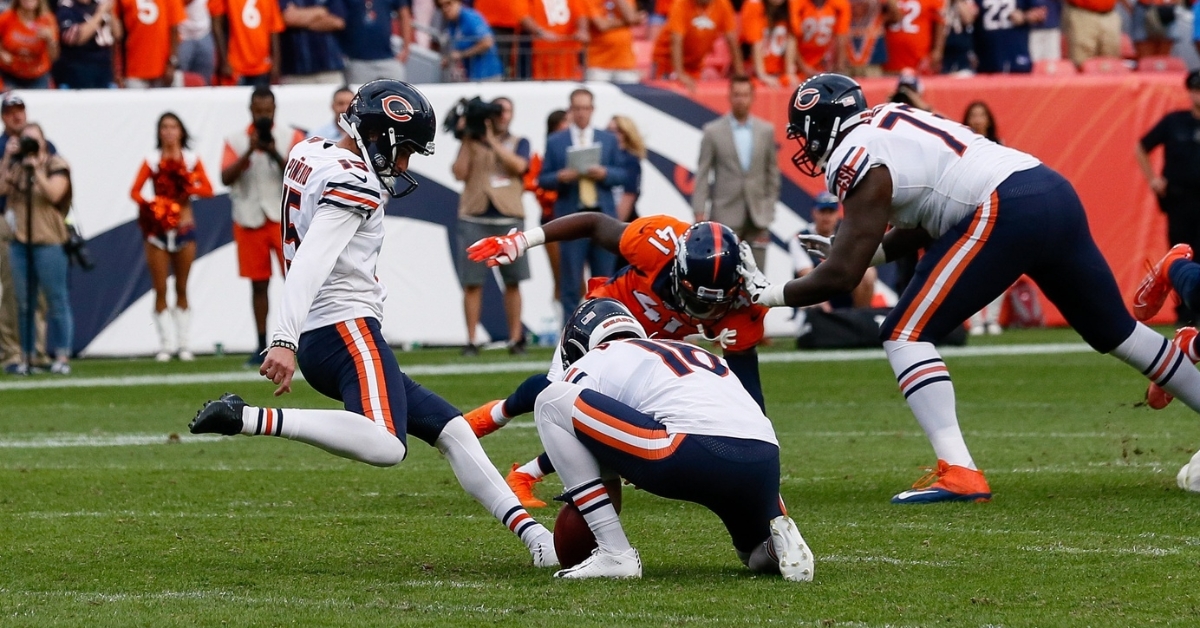 | | |
| --- | --- |
| Bears News: Mile-high magic: Eddy Pineiro caps off wild finish with game-winning field goal | |
---
| | | |
| --- | --- | --- |
| Sunday, September 15, 2019, 11:31 PM | | |
DENVER — In an instant, all of the pain suffered by the Chicago Bears (1-1) due to inept kicking last season was washed away on Sunday, as first-year Bears kicker Eddy Pineiro earned his keep by making a game-winning 53-yard field goal as time expired. Defeating the Denver Broncos (0-2) 16-14 at Empower Field at Mile High, the Bears came out on top in a contest that featured a frenetic, thrilling final minute of action, which included two lead changes in a little over 30 seconds of gameplay.
Although the 6-play, 40-yard drive that the Bears put together with the game on line might not indicate as much, offense was hard to come by for the Bears in the low-scoring affair. Bears quarterback Mitchell Trubisky went 16-for-27 for a modest 120 yards through the air, and rookie Bears running back David Montgomery picked up 62 rushing yards on 18 carries. Wideout Allen Robinson II was the leading receiver for the Bears, as he attained 41 receiving yards on four catches. Second-year Bears linebacker Roquan Smith led all tacklers in the contest with 13 combined tackles.
The first half was essentially a war of attrition, with the two teams combining for three field goals and zero touchdowns. A 50-yard opening drive for the Broncos culminated in kicker Brandon McManus connecting on a 43-yarder. The second quarter saw Pineiro, who won the Bears' kicking job in the preseason, drilling a 40-yarder and a 52-yarder, respectively, to cap off a pair of Chicago drives that were both 50-plus yards in length. Of course, the thin air at elevation helped Pineiro's cause, but, regardless, he was a perfect 4-for-4 on kicks, including an extra-point attempt.
A touchdown was finally scored at the 1:14 mark of the third quarter, with Montgomery jumping up and over a scrum for a 1-yard touchdown run. The football barely broke the plane to cap off the 80-yard scoring drive, and the Bears took a 13-3 lead as a result. The Broncos answered with a 61-yard possession that ended with a successful 32-yard try by McManus early in the fourth quarter. In need of a touchdown, Denver came through on its final possession of the game. After converting on two separate fourth-down passes, Broncos quarterback Joe Flacco threw a 7-yard touchdown pass to wide receiver Emmanuel Sanders, who hauled in 11 receptions for 98 yards on the day.
Facing off against his old team, former Bears defensive coordinator Vic Fangio, who is in his first year as the Broncos' head coach, decided to go for two following Sanders' touchdown grab, and the gutsy play call paid off. Sanders followed up his 7-yard score by nabbing the go-ahead 2-point conversion that put the Broncos up by one point with 31 seconds remaining. The Bears did not give in, however, as they manufactured a clutch game-winning drive that left Pineiro with just enough time to make a 53-yard field goal.
After taking over at its own 25-yard line, Chicago was able to reach Denver's 35-yard line with one second on the game clock. A roughing-the-passer penalty called against the Broncos on the first play of the drive helped the Bears out tremendously. Then, with nine seconds left and the Bears facing a fourth-and-15, Trubisky produced under pressure by finding Robinson over the middle for a 25-yard gain. Fortunately for the Bears, they were granted a timeout as soon as Robinson gave himself up with one second to go, and, thereafter, Pineiro delivered the winning kick to provide the Bears with a riveting 16-14 victory on the road.
Chicago Bears at Denver Broncos
Sep 15, 2019
1ST
2ND
3RD
4TH
SCORE
Chicago Bears (1-1)
0
6
7
3
16
Denver Broncos (0-2)
3
0
0
11
14