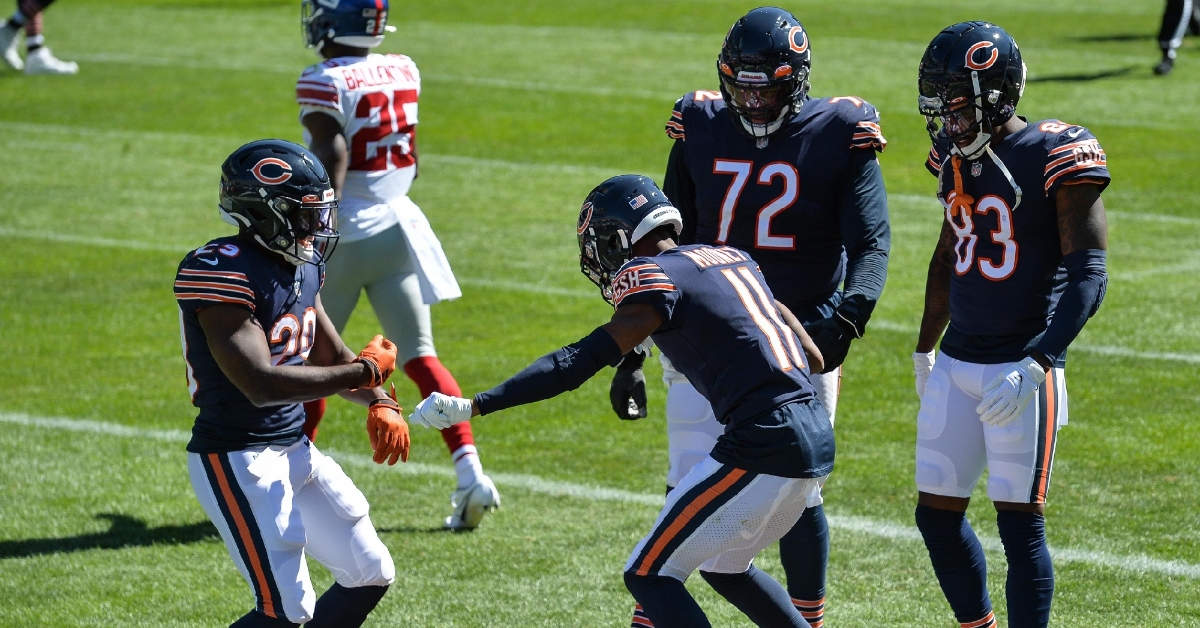 | | |
| --- | --- |
| NFL Power Rankings 2020: Bears gaining momentum after two wins | |
---
| | | |
| --- | --- | --- |
| Thursday, September 24, 2020, 9:52 AM | | |
We at ChicagoBears HQ would love to deliver our Week 3, NFL Power Rankings after a fun and wild week 2.
We decided to explain the top 15 rankings:
1. Chiefs 2-0 - The reigning Super Bowl champions will remain at the top of our list until we have a reason to change. Pat Mahomes had a gutsy performance against a tough Chargers team. Although it would not be considered that good of a game for Mahomes, he STILL threw for over 300 yards.
2. Ravens 2-0- The revenge tour is under way for Baltimore. Another week another blowout for the Ravens. Lamar Jackson leads a high powered offense with one of the best defenses in the league — look out for the Ravens in 2020, they've got something to prove. They will try to show it this week against Kansas City.
3. Seahawks 2-0 - Russell Willson had a phenomenal week one and followed it up with a huge week two. The Seahawks have beaten the Falcons and Patriots and have really let Russell Wilson go. He is in the early conversation for MVP.
4. Packers 2-0 - The Packers quietly went 13-3 last season and started off year 2 of the Matt Lafleur era with a bang, followed by another bang. Rodgers and the Packers have now put up 40 points two games in a row and are looking to build on that this week against the Saints.
5. Bills 2-0 - The AFC East is finally for the taking and the Bills look primed to take it. Josh Allen had his best throwing game as a quarterback in week one and nearly topped it in week 2. The offense has anther dimension now with Stefon Diggs, and the defense didn't really lose anybody. Maybe the Patriots could finally dethroned.
6. Steelers 2-0 - A healthy James Connor, Ju-Ju Smith-Schuster, Ben Roethlisberger and the addition of Eric Ebron to pair with what was one of the league's top defenses should be a scary thought for the rest of the AFC — the Steelers are a team you should not sleep on. They put that on display in their two wins thus far.
7. Titans 2-0 - A year after making the AFC Championship, the Titans look poised to take advantage of a division that has lacked a true contender. Tennessee was able to retain Ryan Tannehill and Derrick Henry, which was their bread and butter down the stretch. The Titans have a few defensive moves to go, but signing Jadeveon Clowney certainly helps. And the Titans have kept their hot streak alive after beating the Broncos and now Jaguars.
8. Saints 1-1 - After losing in the postseason in heartbreaking fashion three years in a row, Drew Brees resigned with one goal in mind : a Lombardi Trophy. The quest has hit a rocky start after losing on Monday night to the Raiders. Brees looked okay, but the team certainly missed Michael Thomas. The talent is undoubtedly there, we just need to see it.
9. Cardinals 2-0 - In Kyler Murray's rookie season, the Cardinals were able to win some impressive games. Take Kliff Kingsbury's offense and add all-pro DeAndre Hopkins to it, while also adding to the defense — the Cardinals suddenly appear as a team that could go from last place to the playoffs in 2020. They certainly looked like it as they took down the 49ers in week 1 and dominated Washington in week 2.
10. 49ers 1-1 - The 49ers lost last season's Super Bowl and a few important pieces, but still have a highly talented roster in one of the leagues toughest divisions. The issue for the 49ers has been health and that was on display on Sunday's loss to the Cardinals. The niners are loaded with talent, but need the health as Bosa, Mostert, Coleman, Kittle, Garopolo, Thomas, Sherman and more are injured.
11. Buccaneers 1-1 - Sure they have added six-time Super Bowl champion Tom Brady to quarterback an offense that had two of the top five receivers in the NFL a year ago. Oh yeah, and Rob Gronkowski signed there. Oh yeah, and Leonard Fournette. The Bucs are looking for their offensive identity still but the talent is scary, and the Bucs are now 1-1 after a strong win over the Panthers in week 2.
12. Cowboys 1-1 - The Cowboys have an extremely talented team and they put that on display on Sunday. After a tough loss week one, and trailing 29-10 against Atlanta, Dak, Elliot, Cooper, Lamb, Gallup and the Cowboys went to work and pulled off an improbably 40-39 comeback win. Cowboys will be looking to build on that this week.
13. Patriots 1-1 - 2020 will be the Patriot's first crack at life without Tom Brady. So far, the Cam Newton experiment has been exciting. The Patriots have a dynamic offense mixed with one of the league's top defensive teams. This Patriots team may be A LOT better than we thought.
14. Rams 2-0 - In a year where the Rams were expected to take a step back after losing many pieces after last year, the Rams have turned head in two weeks. The Rams hung on to beat a strong Cowboys team, and destroyed what was expected to be a strong Eagles team. Good start for LA.
15. Bears 2-0 - Cracking our top fifteen for the first time this year is the Chicago Bears. Mitchell Trubisky has put together three solid quarters out of eight, and that defense looks scary again. Both wins by Chicago had its flaws, just imagine if this team puts it all together.
The rest of the rankings:
16. Raiders 2-0
17. Colts 1-1
18. Vikings 0-2
19. Eagles 0-2
20. Texans 0-2
21. Falcons 0-2
22. Chargers 1-1
23. Browns 1-1
24. Broncos 0-2
25. Panthers 0-2
26. Lions 0-2
27. Football Team 1-1
28. Jaguars 1-1
29. Bengals 0-2
30. Dolphins 0-2
31. Giants 0-2
32. Jets 0-2
Keep an eye out as we will periodically update these rankings during the season.