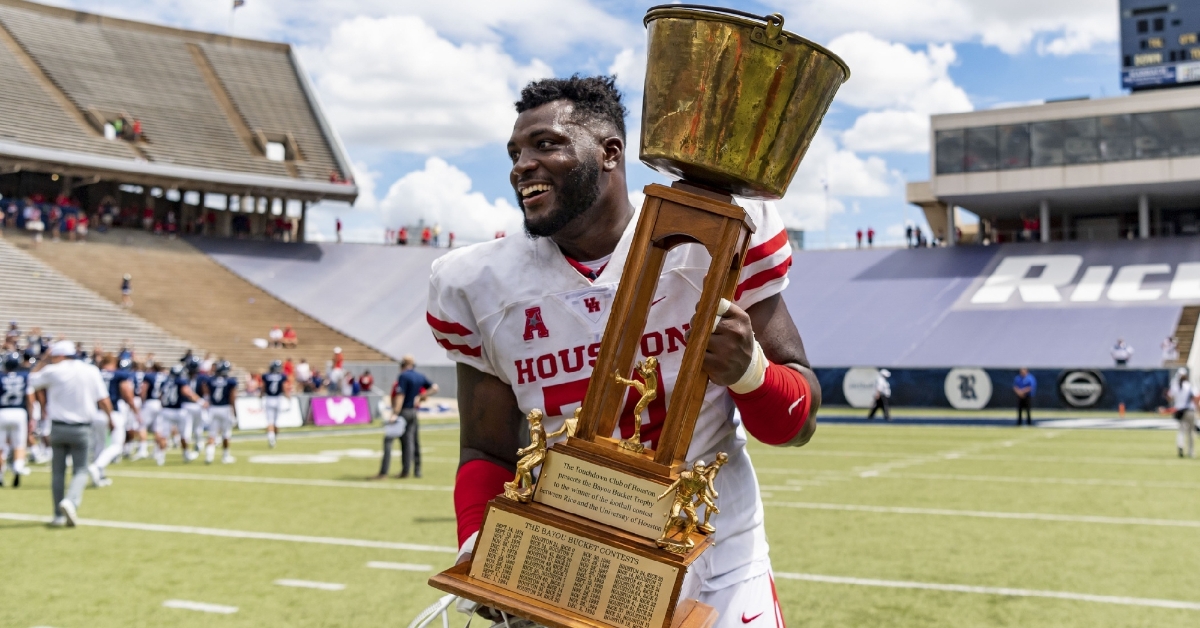 | | |
| --- | --- |
| NFL prospect profile: Josh Jones | |
---
| | | |
| --- | --- | --- |
| Thursday, April 2, 2020, 10:21 AM | | |
As teams continue to host video conference call meetings with prospects they see fit, the Bears are going about their business to be one of those teams as they have used two of their 30 meetings on a pair of safeties. It appears meeting No. 3 is right around the corner as the Bears are turning their focus to another position of need in the process.
That position would be offensive line as they are starting to kick the tires on one of the fastest rising offensive line products in the draft. That would be of Josh Jones, OT, from the University of Houston. With the Bears still needing help on the line, specifically at RG, I would be shocked if we didn't see a steady series of interviews with offensive line prospects as they need to sure up that position for next season.
With that being said, Aaron Wilson of the Houston Chronicle has mentioned the Bears as one of many teams to be scheduling a video meeting with offensive tackle Jones, who continues to be one of the most intriguing draft prospects, especially for his position. Not surprisingly, the Bears are not alone in scheduling a meeting with Jones as the Patriots, Texans, 49ers, Colts, Eagles, Rams, Chargers, Cardinals, Bucs, Ravens, Jets, Packers, and Vikings are all listed as teams expected to interview him soon. That shows you what the league thinks of him as he must be good to have nearly half the league interested in his services.
As things sit right now, Jones is ranked as the fifth-best offensive line prospect and 32nd best prospect overall. That puts him in the late first early second-round range depending on how things fall throughout the draft weekend. At 6'5 319 pounds, Jones certainly has the size and measurables teams desire from offensive line products, and it comes as no surprise that he is so highly ranked to this point. Since the Bears could use youth and talent on this part of their roster, Jones should be on their radar until he is off the board.
Jones possesses a lot of strengths and some surprising power for his size. For one, he is a plus athlete with great bend throughout his lower half. That means he has excellent leg strength and knows how to use it to his advantage. Another strength he brings to the table is the ability to get to difficult blocks on both strong and weak sides. For a team that likes to use screens and a short passing game, the Bears could use that to their advantage.
Another strength that is very important for teams looking to run that ball is that Jones quickly climbs to the second level to take on linebackers. Can you imagine a 319-pounder running downhill at you? He has lateral smoothness, which helps him handle mirror duties. Finally, although we haven't seen it yet, Jones has the makings of possessing a nasty field demeanor which could set the tone in the trenches.
With all those strengths listed above, some might think he is a can't miss prospect should he somehow get to the Bears in day two. While useful, Jones still has some kinks to work on with his game, which makes sense; otherwise, he would be a shoo-in first-round pick. As we have seen with his current draft profile, most of Jone's current issues appear to be very coachable, which is an encouraging sign.
Despite a lot of those strengths fitting specific needs for the Bears, the one that stands out to me the most is the nasty on-field demeanor. The Bears are missing that toughness on the offensive side of the ball, and adding that would certainly be a nice change. While improved play from the QB, WR, TE, and RB positions would all be welcoming sights in 2020, none of that will be possible without better blocking from the boys up front. Adding a little bit of nasty and toughness to that group certainly wouldn't be a bad thing.
The one thing that has fans a little concerned with this pick is that Jones is a tackle, and the Bears already have two high-priced tackles entering the 2020 season. Despite being projected as a tackle, considering the work that he needs to improve on, moving him to guard is undoubtedly a possibility, especially if they are coachable issues.
I was expecting the Bears to use what they had in salary cap space to add some talent and depth to the o-line this offseason, so when they didn't, I was shocked. However, I found myself being a bit more relieved when I realized there are several reliable offensive line products in this draft that can be had on day two. Should the Bears be able to add to their team with young players with a ton of upside, it could go a long way for establishing this team in the future.