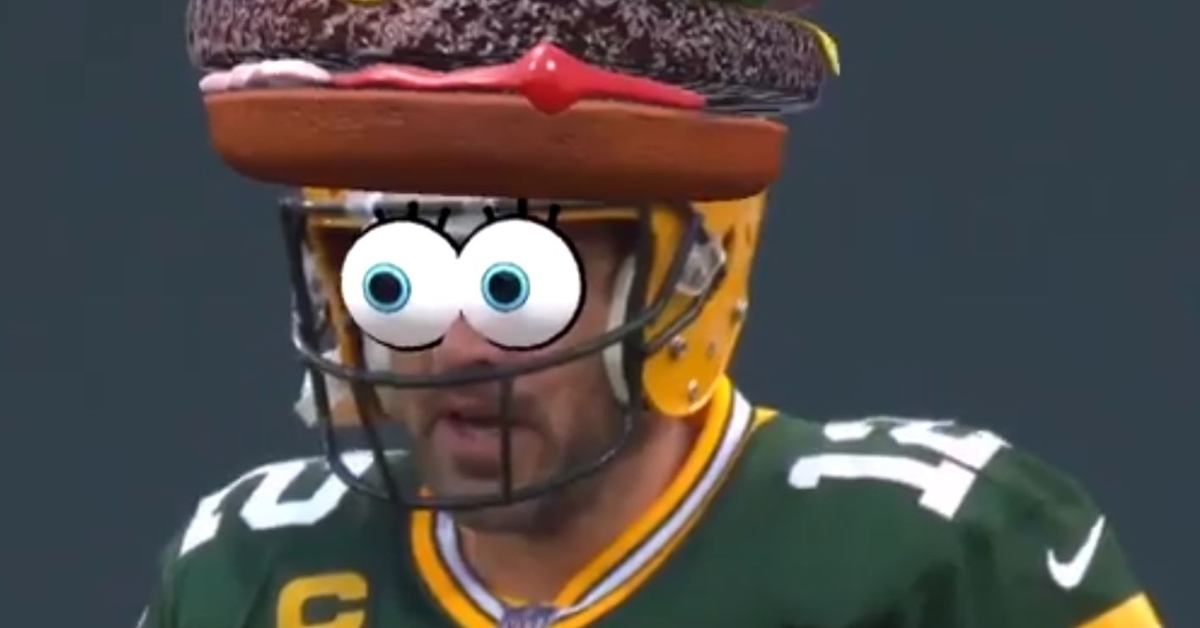 | | |
| --- | --- |
| Nickelodeon to air NFL Wild Card game with SpongeBob, Slime, and Googly Eyes | |
---
As if 2020 hasn't been weird enough, things are about to get weird, especially for the postseason of the NFL. Already with two additional teams in the tournament, things were going to be interesting, to say the least. Now, the NFL is going to do something so strange that I am not even sure how to react at this point.
With six playoff games, opening weekend instead of four, FOX, NBC, ESPN, and CBS will have a loaded slate of games to the point where they may not be able to cover all of them. Have no fear; Nickelodeon is here. Yes, you read that right. The kid's network Nickelodeon will be hosting a playoff game this season with the hopes it will attract a much younger audience.
Partnering with CBS, Nickelodeon will use a SpongeBob, slime, and googly eyes broadcast for the Wild Card round of the playoffs. The broadcast is set to happen on Jan. 10 and will undoubtedly be something no one has seen before. Growing up on Nickelodeon as a kid, I was all about the slime theme games as that was every kid's dream. Add professional athletes into the mix, and I was hooked.
The NFL is all about TV ratings and dominating the Sports world, and they will do anything to improve viewership. I am not sure if this is what anybody had in mind, but CBS and Nickelodeon are certainly going to bring something unique to the table that will attract viewers. This is a bold roll of the dice for the NFL, but considering what 2020 has been for everyone, it is a risk worth taking, especially if the ratings are good.
Nickelodeon is airing an NFL wild card game, clearly aimed at garnering a younger audience.

Outside of sports, what was your favorite show to watch as a kid? pic.twitter.com/CNsxPODOXr

— Sports Illustrated (@SInow) December 16, 2020
The problem I see with this is the overall demographic and who will watch the game. I am still young enough and have children in the house where I would watch a broadcast like this, but what about the middle-aged folks who don't have children at home. How does this appeal to them, and would it even interest them to watch?
This broadcast is being aimed at the younger demographic, especially the Kids who will be the future of this sport. Granted, sliming people on the field will not be possible considering the safety side of things but giving kids the illusion that is happening to the like of Aaron Rodgers or Russell Wilson is undoubtedly attention-grabbing.
If this isn't the halftime show of the NFL game on Nickelodeon, I'm rioting pic.twitter.com/wqK4Pv8ZXN

— Adam Weil (@AdamWeil22) December 16, 2020
Here is what we know so far as the press release broke earlier this week.
CBS Sports and Nickelodeon are teaming up to get families engaged in Wild Card weekend. In doing so, they are presenting a special Slime-Filled presentation of NFL Wildcard weekend set for the 4:30 ET slate on Sunday, Jan. 10. The broadcast will feature one-of-a-kind kid-focused content and Nick-themed elements throughout, including a special halftime presentation, guest reporters and original on-field graphics, virtual filters, and more.
The NFL Wild Card Game on Nickelodeon will air alongside CBS Sports' broadcast of the game on The CBS Television Network.
As far as the broadcast side of things, that too will be a combined effort as both CBS and Nick stars will handle business. In the booth, Noah Eagle
will be joined alongside Nate Burleson for the call. All That start Gabrielle Nevaeh Green will also be joining them. Fellow All That actor Lex Lumpkin will serve as the sideline reporter throughout the broadcast.
Along with the joint broadcast, Nickelodeon will be hosting an all-day event leading up to the game. That all starts with the special SpongeBob Sportspants countdown special hosted by Denver Broncos LB Von Miller. The feature will be about the best sports moments and will have appearances by Jim Nance, Tony Romo, and the broadcast crew for the game.
"This is a first of its kind presentation for the NFL together with Nickelodeon, and we are very excited to create a unique telecast that will maximize the co-viewing appeal for kids and families while maintaining the integrity of the game and its traditions," said Sean McManus, Chairman, CBS Sports. "Partnering with Nickelodeon to showcase the NFL Playoffs is a great opportunity to highlight the power, depth, and reach of Viacom CBS, as we continue to unlock the true potential of our merged company with the first of many opportunities between CBS Sports and our Viacom CBS family."
"Our game plan is to make sure the NFL Wild Card Game on Nickelodeon lives up to its name by infusing the telecast with Nick's sensibility of surprise and fun at almost every turn," said Brian Robbins, President of Viacom CBS Kids & Family Entertainment. "We're incredibly proud to team up with CBS Sports and the NFL to elevate the thrill of this game for kids and families to enjoy together."
SpongeBob, Slime, and Googly Eyes, @NFLonCBS and @Nickelodeon will present the NFL like you've NEVER seen it before on Wild Card Weekend.

Details on the January 10 broadcast here: https://t.co/NK00FW2vsN pic.twitter.com/x3wf1dqaIk

— CBS Sports (@CBSSports) December 15, 2020
Upgrade Your Account
Unlock premium boards and exclusive features (e.g. ad-free) by upgrading your account today.
Upgrade Now