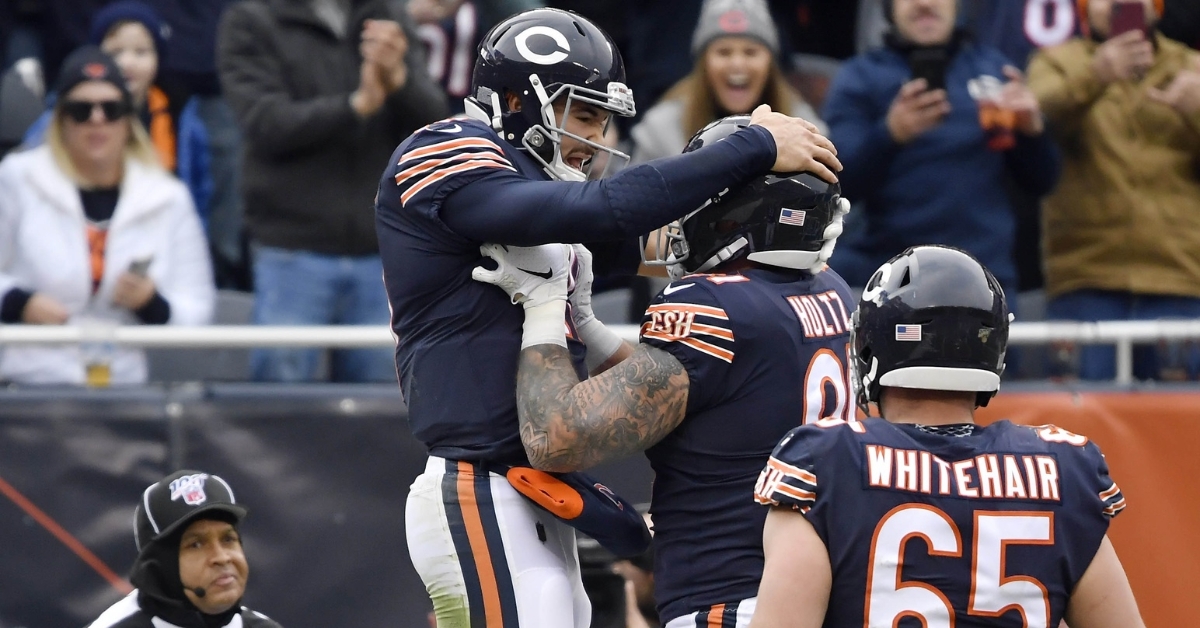 | | |
| --- | --- |
| Prediction, Three keys to Bears-Cowboys matchup | |
---
| | | |
| --- | --- | --- |
| Thursday, December 5, 2019, 11:53 AM | | |
A team rarely sees multiple Thursday night games in one season. What is even rarer is when that team sees consecutive Thursday night contests against another team in a similar boat. That is precisely the case for tonight's matchup with the Dallas Cowboys as both teams are coming off Thanksgiving Day games and are fighting for postseason berths.
With both teams entering the game at 6-6, this is a bigger game for the Bears as the Cowboys still will lead their division with a loss. A win for Chicago will not only keep them alive but would give them the tiebreaker over the Cowboys should they somehow end in a regular-season tie. This is a must-win for both teams. Here are three things to watch for in tonight's contest.
1. Win or go home mentality
Yes, the season is not over, and there are still four weeks left, but if the Bears want to make the postseason, they need to continue their win or go home mindset. This week is especially crucial as both teams enter the game at 6-6, but it is the Cowboys leading their division while the Bears are two games out of the final postseason spot.
With Games at Lambeau, at Minnesota and against Kansas City yet to come, Chicago knows that they cannot afford any slip-ups along the way, especially against a beatable opponent at home. That is the case with the Cowboys who, despite leading their division, have yet to beat anyone with a quality team on the field.
The Bears knew they had their backs against the wall when they fell to 4-6 and figured they would need to win out to make the postseason. Two weeks later, they have ripped off two straight wins and are now back to 500 and quite possibly playing their best ball of the season. With each game a must-win from here on out, now is not the time for a let-up as the Bears need to continue to win these games.
2. Pick a weapon and make Dallas one dimensional
We already know Dallas has all kinds of offensive talent on the field. From Ezekiel Elliot to Amari Cooper and even Dak Prescott, the Cowboys are loaded on that side of the ball. The biggest issue for them is that they have yet to generate any consistency from one game to the next.
The best and easiest way to shut down Chicago is by limiting their offensive attack to make them one dimensional, whether that means key in on Elliott to stop the run or zero in on the passing attack of the Cowboys to take one of their many options away.
Ideally, the Cowboys like to feed off Elliott as he generally makes the offense tick. As good as Prescott has been this season and don't get me wrong, he has been outstanding this season, but their win-loss record when Elliott struggles to get yardage is not good. If you force Dak to beat you, it would undoubtedly be playing with fire, but the Bears need to choose because the Cowboys are far too talented offensively to be completely shut down.
3. Trubisky's sudden resurgence
I know it has only been two games, but Mitch Trubisky is suddenly looking like an offensive leader the Bears have been hoping for. Over the past two games, not only has Trubisky carried the load offensively, but he has turned the offense into a major threat and one that could put fear in a defensive unit. The Cowboys statistically do not have that bad of a defense, but the numbers don't always show that. They do a great job of protecting their quarterback and do an excellent job of getting pressure on the defensive side of the ball.
I fully expect Trubisky and company to be able to move the ball against the Bears, but when it comes down to it, Chicago will also need to protect the ball and avoid costly turnovers. If they can continue to do that, which is something they have done over the past few weeks, we could be looking at a team moving to 7-6 this season.
Projection
You must feel for the Bears at this point because they got off to a hot start, faded majorly, and have now picked it back up. The only problem does not only do the Bears have the toughest remaining schedule among teams in the playoff hunt, but the NFC is loaded this season where five teams could win 11 or 12 games this year.
With the Bears knowing how important all of these games are as do the Cowboys. The most significant difference between the two teams is that the Cowboys lead their division, and even with a loss would still be the four seed. This is a road game and had this been at Dallas, I may have leaned toward the Cowboys, but I see the Bears defense giving Dallas some fits as they squeak one out 17-16.