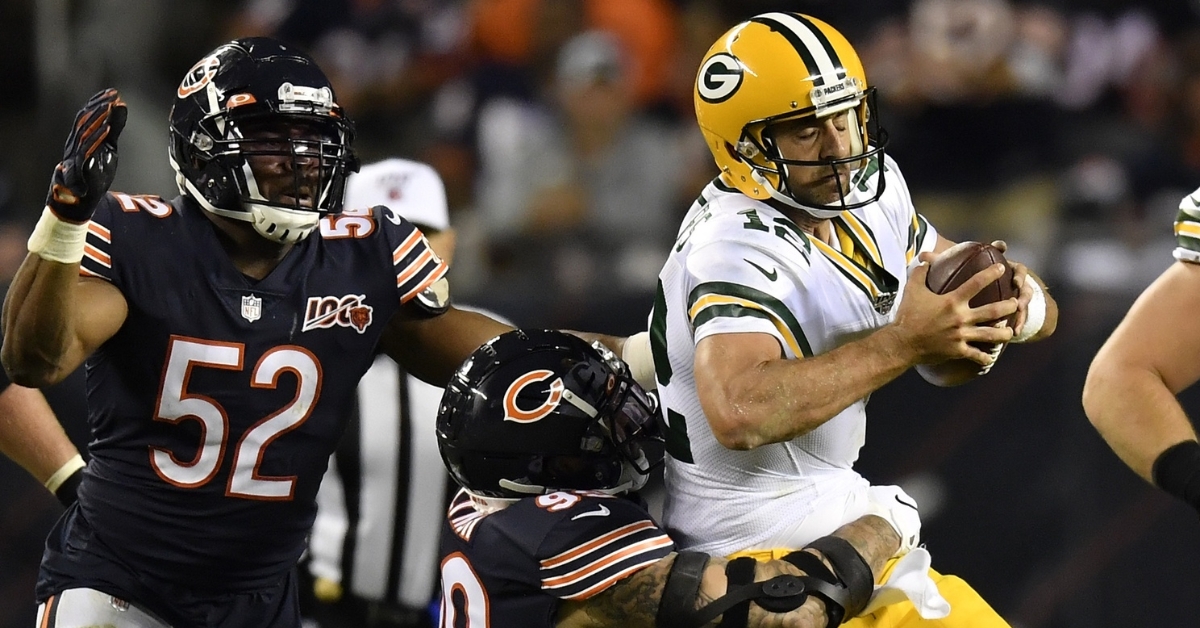 | | |
| --- | --- |
| Prediction, Three keys to Bears-Packers matchup | |
---
| | | |
| --- | --- | --- |
| Friday, December 13, 2019, 1:21 PM | | |
Whether you want to believe it or not, the Bears have a ton to play for the last three games of the season and can still accomplish their goals. Not only are they alive in the playoff hunt, but technically they could even win the division with a lot of help. Realistically, Chicago should worry about the postseason and not the division, so this week gives the Bears a great opportunity to play spoiler.
It's the rematch of the oldest rivalry in football between the Bears and Packers as Chicago will look to avenge a 10-3 way back in week 1. With temperatures in the low teens and wind chills nearing negative temps, this is precisely the black and blue game you would ask for in this long rivalry. Both teams are riding high right now with Chicago coming in on three-game winning streak 7-6 overall and the Pack winners of their last two and NFC North division leaders at 10-3. Here are three things to watch for ahead of this game.
1. Contain Aaron Jones
As weird as it is to say, especially with Aaron Rodgers healthy this season, but a new Aaron leads the way for the Packers offense, and that is RB Aaron Jones. Taken in the third round out of UTEP three years ago, Jones has always displayed big-play ability but wasn't able to put that on display given the way the Mike McCarthy offense was designed.
In comes a new coach with a new system and bam you have one of the top three running backs in the lead who currently leads the league in total touchdowns with 17. Not only can he run the ball averaging nearly five yards a carry, but he is also a significant threat in the passing game, collecting 100 yards or more in receiving three times this season. The more touches he gets, the more dangerous the Packers are. Chicago needs to keep that in mind and either limit his touches or limit his overall production when he has those touches.
2. Welcome back Akeem Hicks
It has been way too long for the man in the middle on defense, but Hicks will be returning this week to suit up against the Packers, and that is a huge plus for the Bears. Yes, even without Hicks in the middle, Chicago has still posted a top 10 defense, but they have been much more vulnerable against the run without his presence.
Adding him back not only helps in the run game but also helps in the pass rush game as Khalil Mack should have more opportunities to get after Rodgers. Mack has had a decent season once again, but compared to last year, it could be viewed as a disappointment. That is partly because of all the Injuries the Bears have had, making things easier for teams to scheme against Mack to keep him in check.
The more weapons the Bears have on defense, the better Mack becomes, and having Hicks back is a huge deal for the Bears' final playoff push. The only question is how many snaps he will see, considering he has missed roughly two months this season.
Keep doing what you are doing Mitch
A big part for the Bears late-season resurgence has been the play of Mitch Trubisky under center. Not only is he in the middle of his best stretch as a pro, but he is playing to his strengths while limiting turnovers in the process. That will be especially huge this week once again as the Packers love to force turnovers on the defensive side of the ball.
You can expect Green Bay to key in on stopping the run, hoping to put the game in Mitch's hand. That may have worked in the past, but if you haven't noticed lately, Mitch certainly is beating teams both with his arms and legs. Matt Nagy and his staff have done a great job figuring out what works best in this offense and turning Trubisky loose to play to those strengths.
Should he be able to make plays happen with his legs again, expect Green Bay to come after him with more pressure, which could leave one on one matchups in the secondary. Regardless of what happens on Sunday, Trubisky needs to keep playing at a high level for Chicago to emerge victorious.
Prediction: Packers 23 Bears 17
I know this isn't the prediction everyone was hoping for, but I think the Bears playoff hopes come to crashing halt this week. Don't get me wrong, this game should be another close game with much better offense this time around, but playing at Lambeau in December is never easy.
Not to mention, the Packers must travel to Minnesota next week, where a loss to Chicago could drop them from a division champ to a wild card team. That means both sides have a lot to play for this week. Should the Bears defense show up and force some turnovers, then it is anyone's game. However, should it come down to one drive to decide the game, obviously your going with Rodgers over Trubisky in that situation.