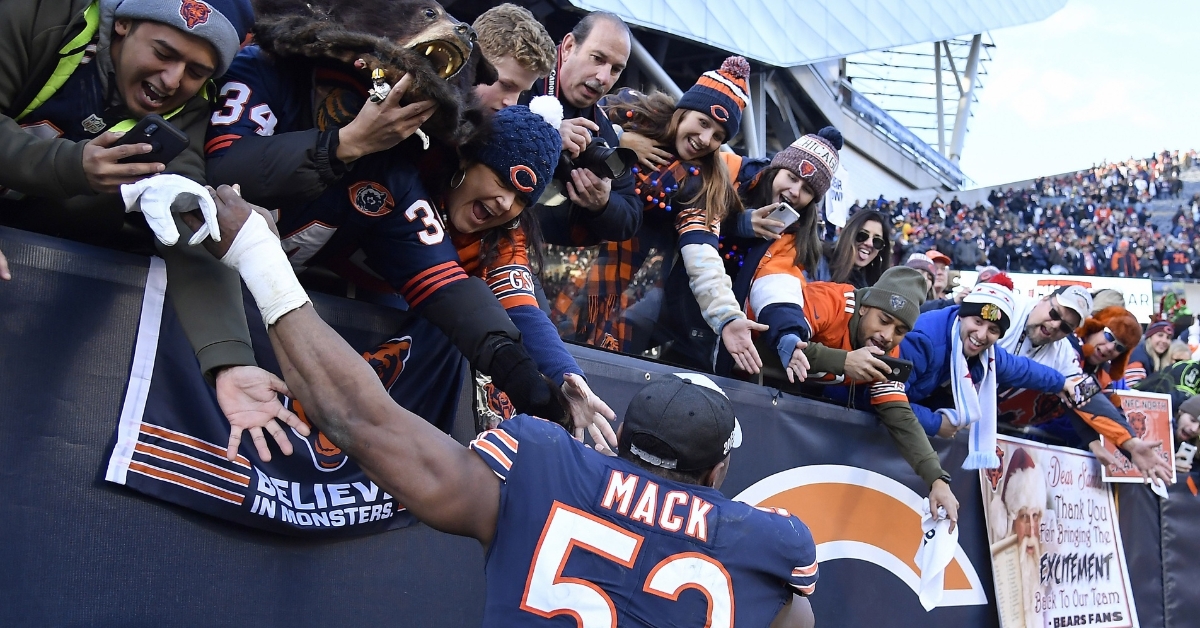 | | |
| --- | --- |
| Prediction and Three things to watch during Bears-Redskins | |
---
With Week 3 of the NFL season-ending, we have one more game to get through as the Bears travel to Washington for some Monday night football. On paper, the Bears (1-1) appear to be far superior to the (0-2) Redskins, but Washington is a much better team than what their record indicates.
In both weeks one and two, Washington took on NFC East favorites Dallas and Philadelphia and gave each of them a battle. The Redskins were able to keep things close throughout until the fourth quarter when they couldn't find the magic to pull an upset. This week, the Redskins are fortunate not to see a high-powered offense, but in return see one of the best defenses in the league. The same can be said about the Bears as they go from facing two great defenses to one that is not as good. Looking to move to 2-1 on the season here are three things I am looking for in tonight's game.
1. Get after Case Keenum: The last time Keenum faced the Bears, was back in 2017 when he managed to sweep Chicago helping the Vikings secure a division title with a 12-4 record. That was two years ago, and Keenum has not been able to duplicate that success since. However, Keenum is a better quarterback than what people have given him credit for.
Known as a career backup, he got his chance to start in 2017 and proved he was a legit starter. That helped him sign a free-agent deal with Denver before being traded to Washington this past offseason. Keenum is not going to wow you on the stat sheet because he doesn't have elite talents around him offensively, but he is a game manager who knows how to manage the flow of the game.
With Duane Haskins as the backup, Keenum knows that if he wants to stay in Washington beyond this year, he needs to play at or close to the 2017 level once again. The one advantage I could see Chicago having against him is that Keenum is known as a gunslinger who isn't afraid to take chances. With that being said, the Bears need to pressure Keenum from the start to force him into that gunslinger mentality of making bad decisions. Should that happen, the Bears will be in great shape once again.
2. Stick with the hot hand: This refers to the Bears current situation at running back as no one seems to want the bulk of the yardage. However, that doesn't necessarily fall on the players as the coaching staff has made it clear that both Tarik Cohen and David Montgomery will see plenty of touches in this offense.
It may be time for Chicago to find their bell cow and ride him for a bulk of the time. With neither running back showing much in week one, Montgomery carried the load in week two especially during the second half against Denver. That allowed the Bears to move the ball more frequently and consistently downfield, allowing the flow of the offense to improve also.
Chicago needs to continue that approach against the Washington defense and start to ride the hot hand in the backfield. I understand that an RB needs a break and will not take every carry, but if you have a guy who is averaging a yard or two more per carry than the other, don't bench him for a series. You keep him out there to ride the hot hand and force the defense to adjust to you not the other way around. This is especially important for Mitch Trubisky as he will not have to do as much with his arm.
3. Kicking concerns: Whenever you see the phrase kicking concerns in Chicago, fans immediately turn their heads in disgust in remembrance of last season. Through two games in 2019, that doesn't seem to be an issue as Eddy Pinero has nailed all his kicks thus far. That leads us to week three where the kicking game may haunt the Bears once again.
No, I don't think Pinero suddenly forgot to make kicks, but the fact that he is currently listed as questionable with a knee injury makes me wonder what the Bears plan is moving forward should he not be able to go tonight. Chicago released Elliott Fry in week 3 of the preseason after losing the job to Pinero. That left Pinero as the only kicker on the roster.
Should he not be able to go with his knee injury tonight, that would put the Bears in a tight spot as punter Pat O'Donnell would be the only other active kicker on the roster. O'Donnell would be trusted with extra points, but could you trust him with Field Goals, especially with the game on the line?
I fully expect the Bears to monitor Pinero very closely today even if he is active for tonight's game. If that knee is bothering him at all, don't expect him to take many long kicks as the Bears mindset maybe a touchdown or nothing? Should Pinero be too hurt to play, look for the Bears to possibly call in Fry for this week or someone else to handle kicking duties depending on the severity of Pinero's knee. Whatever the decision, Chicago needs to handle it right as they need to keep pace with everyone in the division this week.
Prediction: I think the Bears will have an easier time on both sides of the ball as Washington is still searching for their identity as a team. With the status of their kicker in the air for tonight, look for Chicago to go for more fourth-down situations instead of potential longer field goals. I expect the offense to be more fluid in this one, but the defense will take charge down the stretch with the Bears improving to 2-1 with a 24-13 win.
Upgrade Your Account
Unlock premium boards and exclusive features (e.g. ad-free) by upgrading your account today.
Upgrade Now