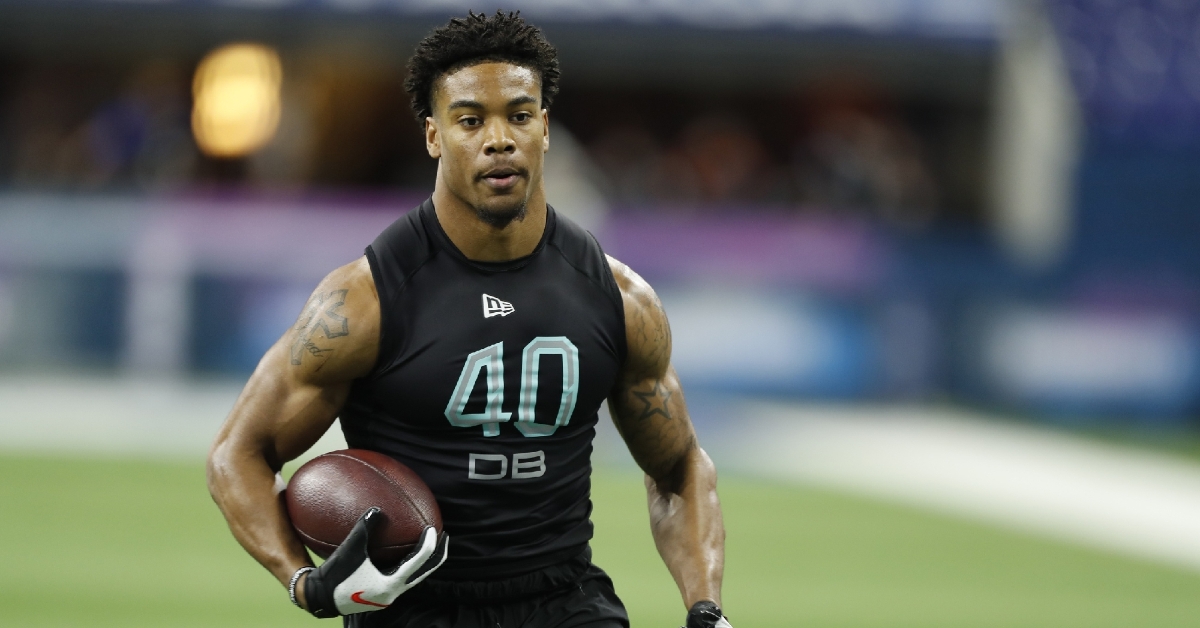 | | |
| --- | --- |
| Prospect spotlight: Athletic safety hopes Bears come calling | |
---
As we are in the lull of the football season minus free agency, now is the time when you will start to see more mock drafts being put together as teams begin to put their pieces together for the draft. The other day, BearsHQ posted an article about a potential mock draft that could help the Bears out in different positions.
Today, while we are not digging into a ton of prospects, we will be focusing on one that has said he would love a chance to join the Bears and play with Khalil Mack. That prospect is safety Jeremy Chinn who would be considered a home state boy hailing from Southern Illinois University. While scouting during this COVID 19 time has been extremely challenging, teams are fortunate enough to make phone calls and have a ton of film to watch on whom they would like to acquire.
With in-home visits and pro days no longer happening, the power of technology becomes that much more critical as teams are starting to conduct face to face interviews over skype and other video outlets during this time. The Bears are one of those teams that held a video meeting recently as they indeed talked to Chinn about potentially coming to Chicago.
Not only that, it was Chinn's second meeting with the team proving there is real interest from the Bears front office personnel, but it was his first since they met with him in person at the senior bowl. A second interview is certainly something to note, not because he played ball in the state of Illinois, but ever since his performance at the senior bowl, his draft stock has continued to rise.
Once looked at as a mid-round pick in day two or early day three, Chinn now appears to be a lock to be taken on day two with tons of reports having him listed as a potential second-round selection. Outside of his stock continuing to rise, Chinn also sounds as if he would love to play along with Eddie Jackson and behind Mack to go with the rest of the Bears' tough defense.
When a player comes out and states how much they would love to play for this defense, there is no question they do their homework and knows just what a good defense is. Despite his stock rising and now with many scouts thinking he could challenge for a starting spot right away, Chinn is still a prospect, and making the jump to the NFL isn't all that easy. However, Chinn did crush it at the combine this season, earning a 99 for his athleticism score.
That score was aided by a 41-inch vertical and 11'6" broad jump, putting his athletic ability on full display. Even before he wowed scouts at the NFL combine, Chinn was drawing great reviews from fellow coaches and players at the senior bowl. At 6'3 219 pounds, Chinn is not only a big safety, but his athletic ability sets him apart from most and is drawing tons of recognition from both NFL and College insiders at this point so much so that he has been listed as one of the top 5 sleepers in this year's draft.
The Opportunity ?? thank you, @NFL pic.twitter.com/WhNV5teSw6

— Jeremy Chinn (@ChinnJeremy2) March 2, 2020
With all his abilities and the fact that so many people are taking notice and raving about him at this point, there is no surprise that he continues to rise on draft boards. Bears GM Ryan Pace has had success drafting safeties outside of the first round and has shown the desire to select athletically gifted players during his tenure. Given that Chinn checks off a lot of the boxes that Pace looks for, he was bound to end up on the Bears radar regardless of where he went to school.