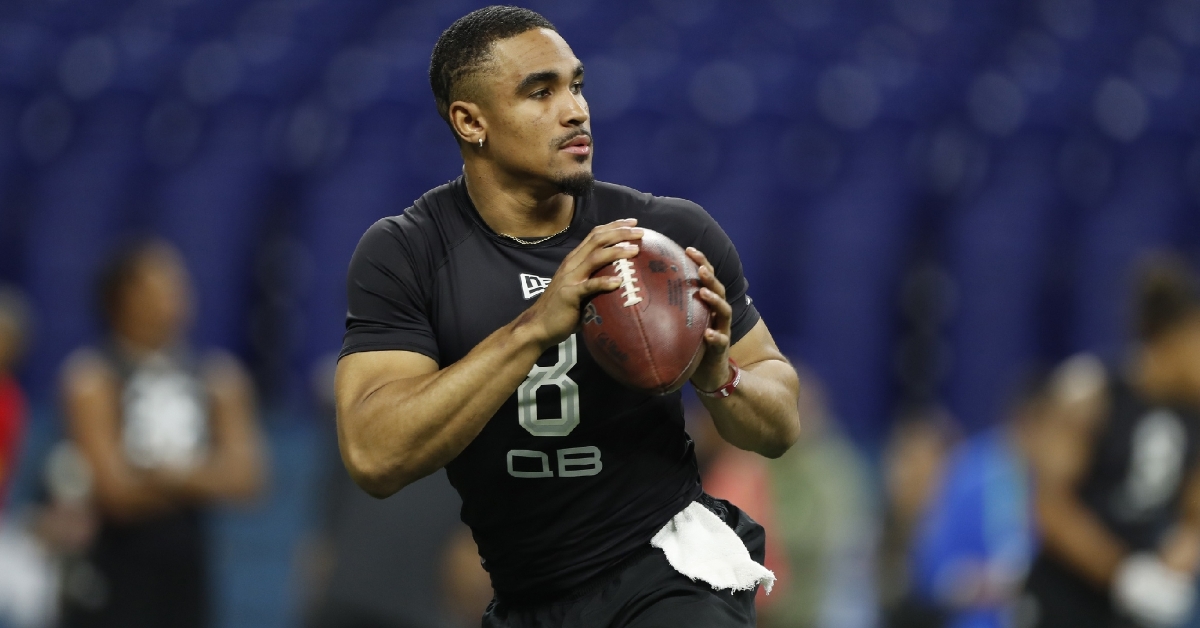 | | |
| --- | --- |
| Quarterbacks the Bears could target in NFL Draft | |
---
| | | |
| --- | --- | --- |
| Friday, April 10, 2020, 9:58 AM | | |
Throughout the offseason so far, I have dug into different needs and prospects that the Bears should dive into before the draft. I have also talked about the need for competition at many positions and continued to discuss a lot of their free-agent signings. While one position certainly added some intrigue this season, that doesn't mean the Bears shouldn't look for more in this year's upcoming draft.
That position happens to be the QB position where the Bears are in better shape today than they were a few weeks ago. Despite adding Nick Foles to pair with Mitch Trubisky, both to me are only short-term options, and at some point, unless either one of them plays at an elite level, the Bears need to be thinking about the future of this franchise under center. Could that be this year's draft as there are lots of great fits at that position.
Let's face it unless the Bears pull off some miracles, Joe Burrows, Tua, Jordan Love, and Justin Hebert will not be walking through that door come draft night. Going as far as next year, unless the Bears end up with the top pick, you won't see Trevor Lawrence in Chicago either. That means the Bears need to do their homework on the draft this season as there are several decent QB's that could fall to Chicago in the middle rounds.
While not quite as talented as the top arms in the class, make no mistake about it that these middle round QB's have a chance to shine if they are put in the right system and are given proper time to develop. That is what would happen in Chicago as unless two injuries happen, don't look for a rookie QB to see much time this season should the Bears choose to take one on draft weekend. Here is a list of names I would watch once the Bears are on the clock.
Jalen Hurts (Oklahoma): Hurts may not be the prototypical QB that the Bears have become accustomed to over the years, but his athleticism may be what they need at that position. Matt Nagy is said to be a quarterback guru and a great offensive mind that can create the perfect offensive system. With the Bears spending a ton of money in free agency on the offensive side of the ball last year, they need a QB who can utilize those weapons to their max potential.
Hurts could be that guy. Not only is he accurate with a better than expected arm, but his legs can be used as a weapon which would give the Bears another wrinkle in their offense. He projects to be a third-round pick at this point and could be had by the Bears on Day 2.
Jake Fromm (Georgia): One of the most decorated passers in Georgia High School history, Fromm chose to stay home and attend the University of Georgia, where he became a three-year starter for the Bulldogs. Throughout his career, Fromm played in several big games, including the SEC title game and National playoffs as a sophomore.
While his accuracy, arm strength, and athleticism are less than to be desired, Fromm knows how to get the ball to his playmakers, getting the ball out quickly and letting them do the work. If there were ever a definition of a pocket passer, Fromm would be it even though he can move if needed. If the Bears can figure out a way to beef up the offensive line, Fromm would be worth kicking the tires on for a day two selection.
Jacob Eason (Washington): Another mid-round QB that has had his name circle around the Bears is the University of Washington quarterback Jacob Eason. The Lake Stevens High School and Washington native also chose to stay close to home as playing for the Huskies was always his dream as a kid. The funny thing is, Eason didn't start his career at Washington playing one season at Georgia, where he threw for 2430 yards, 16 TDS, and 8 Int before transferring back home following his sophomore season.
After sitting out in 2018 due to transfer rules, Eason had a great junior year for the Huskies, where he threw for 3132 yards, 23 TDS, and just 8 INT. I honestly thought he would come back for one more season, but he is undoubtedly an intriguing pick. Standing at 6'6 and 231 pounds, Eason is certainly a Bonafede NFL QB size wise and is even bigger than most in this league. He is fast rising on the boards and may end up being selected in round 2.
Anthony Gordon (Washington State): Moving across to the other side of Washington State and you will find the next QB prospect in Anthony Gordon. While I have seen his projections anywhere from the fourth round to the sixth round, Gordon is a guy I would love the Bears to look into as I feel he would have success given the type of system the Bears use.
The California native started his career at a Junior College in San Francisco before transferring to the Cougars after one year. Gordon didn't play his first two seasons in Pullman as he served as Gardner Minshew's backup but got a chance to start this season and indeed showed some promise. Not only did he throw a ridiculous 689 passes, but he completed 71.1% of those throws showing how accurate he can be.
Along with that accuracy, Gordon flung it for 5579 yards, 48 TD and 16 INT, which was the only concern in his game at this point. Keep in mind, the 16 INT could be contributed from not starting for two years, but Gordon certainly showed promise as an elite arm talent. Working with a great QB coach in college, Nagy is also known as a great QB mind, which could be the perfect man to pair with Gordon. If Nagy can tone down the turnovers and gunslinging mindset, Gordon could be the best passer the Bears have had since Jay Cuttler.
Other names to keep an eye on during the draft should the Bears choose to take a QB late include Nate Stanley (Iowa), James Morgan (FIU), Steven Montez (Colorado), Josh Love (San Jose State), and Cole McDonald (Hawaii). All would be intriguing names to add to the Bears roster and could be long term options under center.