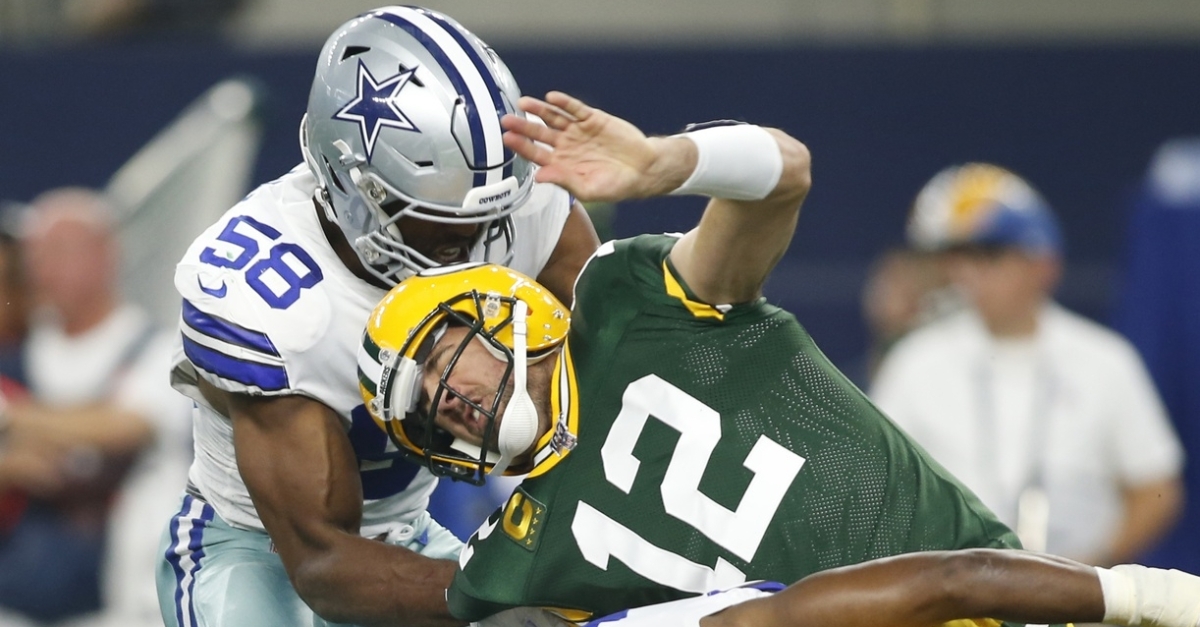 | | |
| --- | --- |
| Robert Quinn brings a lot to the table for Bears | |
---
A day after releasing Leonard Floyd and losing Nick Kwiatkowski to the Raiders, the Bears defense continued to take a hit as the early portion of free agency has been much more upbeat than expected. Knowing they needed to do something to at least add back to that unit of the ball and hopefully improve Chicago made a huge splash by signing former Dallas Cowboy DE Robert Quinn to a five-year 70-million-dollar deal. The contract comes with 30 million guaranteed, so that is a significant investment for Chicago.
It is no secret that the Bears wanted to and needed to improve their pass rush, mainly since Khalil Mack didn't duplicate his 2018 performance in 2019. A lot of that had to do with injuries across the board, which allowed teams to double up and focus on Mack, but the entire unit as a whole couldn't get to the QB or force turnovers as they had in the past. That has forced the Bears into making some tough decisions this offseason, but one choice was clear, and that was that they needed to get better at getting to the QB.
Ideally, Vic Beasley was the player that most people expected to join Chicago, and after releasing Floyd, that fit would be all that much more perfect. Instead, the Bears went DLine and added one of the top edge rushers in the game in Quinn to not only take the sole focus off Mack but to improve the defense in the pass-rushing department.
Now at 29 years old, Quinn has been around the league for a long time as this will be his 10th season. After spending his first seven years in the Rams organization, Quinn has moved around a lot over the past three years, spending time in Miami in 2018, Dallas in 2019, and now Chicago. Adding a piece like Quinn is a pickup, but does come with a bit of risk also.
Let's focus on why this is good for the Bears. Not only do you know what to get with Quinn, but he was one of the top pass-rushing players on the market and better in terms of what the Bears were looking to spend. You get a guy who as been in winning organizations before, playing for great coordinators that helped bring out the best in him.
Through his first nine seasons, Quinn has tallied 80.5 sacks or nearly a nine sack per year average. That includes four seasons of double-digit sacks, including his 11.5 last year, which was his highest total since his career-high 19 in 2013. Quinn is also a durable player playing 14 games or more in all but two seasons with 2015 and 2016, the exception where he saw action in just 17 total games. This is precisely the kind of addition the Bears needed to add to the defense as he will bring a lot to the team, desperately needing more impact players.
The bad that comes with the deal is the amount of money the Bears spend and the length of the contract they are tied into. Sure, when you look at what Beasley got and other players, this is a bargain price, but you need to take his age into account where the concerns rise for me. Quinn is 29 and will be 30 soon. Add that to now ten years of NFL experience, and there is plenty of hits and mileage on his body.
Yes, he has been healthy for most of his career, but how long can that continue. He will be 34 or 35 when this deal is done, and your body doesn't get healthier with age. I have a terrible feeling the back end of this contract is what is going to hurt them in the long run. What I do expect, however, is for Chicago to milk at least three solid seasons from Quinn in which he can hopefully add eight-plus sacks a year to the Bears front seven.
More details on this contract and Quinn's deal will be coming our way shortly, but for now, all we can say is kudos to the Bears for making the tough decision to let some key pieces go, in return to bring in what they hope is a new key piece for the foreseeable future in the Windy City.