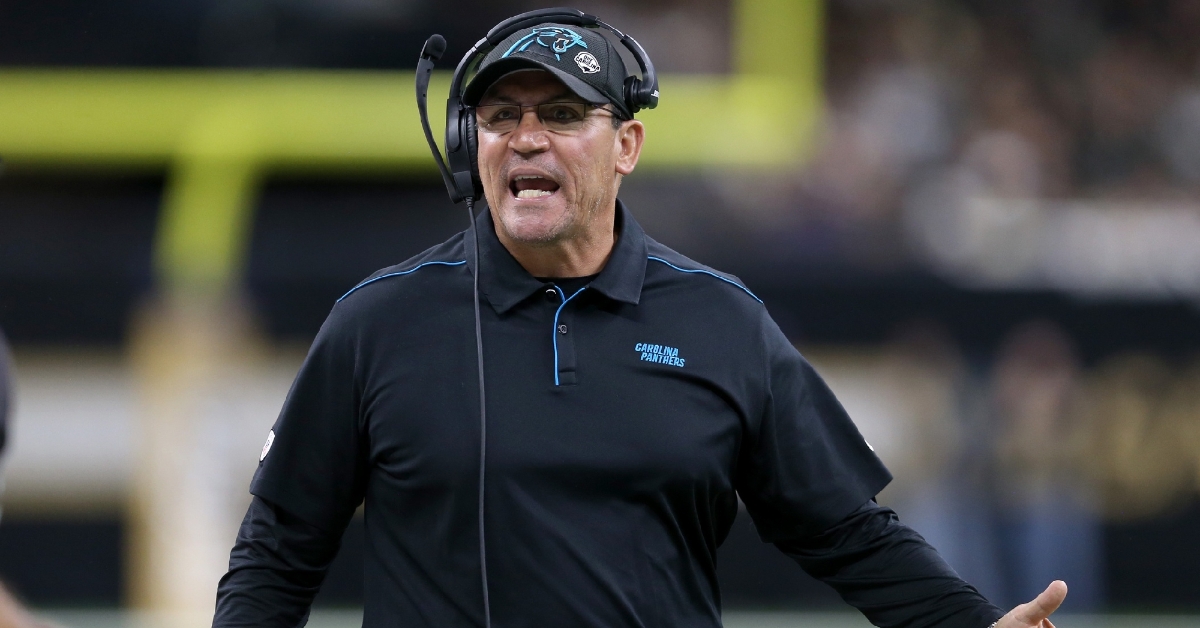 | | |
| --- | --- |
| Bears News: Ron Rivera will be a hot commodity in 2020 | |
---
| | | |
| --- | --- | --- |
| Wednesday, December 11, 2019, 11:42 AM | | |
Ron Rivera had quite a nine-year run in Carolina, as the Panthers head coach as he took them from a bottom feeder and turned them into consistent contenders up until the past few seasons. He even made a Superbowl a few years back, but injuries, especially to franchise quarterback Cam Newton set the franchise back the past few seasons, leading to his midseason firing just one week ago.
Although the move at the time was surprising given his track record with the team, it was something that had to be done considering the direction the Panthers were heading. With the Panthers moving on, Rivera has a few extra weeks to think about another coaching opportunity, and it appears that Rivera has already moved on from Carolina and is thinking about his next duty in life.
Not only was Rivera the winningest coach in Panthers franchise history, but he had long been a successful defensive coordinator for the Chargers, which should make things easy for him to find another gig, especially getting a head start over everyone else. The problem is that the jobs that Rivera has reportedly shown interest in currently have no openings as with the Bears being one of them and Chargers the other.
Should a team come calling, you know Rivera will listen, but as of now, the two jobs that seem most appealing to him reportedly are those in Los Angeles and Chicago. Both destinations make sense, as both organizations know him very well.
Starting with the Chargers, Rivera has southern California roots, so it would be like a sense of homecoming for him to return to his home state. Not to mention, he was the defensive coordinator for nearly a decade with that organization and tremendous success, and you can see why fans would love to have him back despite the job Anthony Lynn has done before this season.
On the other side, you have a Bears team that appeared dead to rights a month ago only to turn things around. What brings Rivera interest in this job is not only did he play for the Bears back in the '80s, but they are a defensive-minded team, which is something Rivera would love to build around and hang his hat on. However, as mentioned above, none of these are open positions as of now, so what gives with his interest in these organizations.
Well for one, it makes almost too much sense that Rivera not only wants to get back into coaching, but doing so by returning to a place where he has roots in the past. The problem with neither of these jobs being open is that it would be a tall hurdle for Rivera to clear even if he opted to take a coordinator role to re-establish himself as a head coaching candidate.
As good as a coordinator as Rivera has been, Chicago is just one season into Chuck Pagano following a five-year run with Vic Fangio, so I find it very difficult that the Bears remove him after just one season. On the other side regarding the Chargers, not only is Lynn, an offensive-minded head coach, but former Jaguars head man Gus Bradley is running the show on defense for the third season and has the Chargers pass rush playing at a high-level right now. Both these preferred destinations don't appear to be working for Rivera, but the good news for him is that he has other options out there.
Two more teams that have been linked to Rivera have been the Giants and now the Falcons. For New York, the Giants are desperate for some life as things haven't taken off as expected under Pat Shurmur. Regarding the Falcons, Dan Quinn has now been around for eight years himself, but with an aging core that hasn't done much in the last three seasons, Atlanta may elect to go with more of an experienced coach to lead the way for the aging group in hopes of avoiding a rebuild.
The Cowboys also appear to be on the list of good fits for Rivera, as Jason Garrett's days are indeed numbered. Whatever interest Rivera has in returning to the sidelines next season, he will undoubtedly have some options to choose from, and good ones too.
The one thing that stings a little bit is that Rivera was rumored to be out the door last season, which could have benefited the Bears this year. Had Carolina parted ways with him last year, then Rivera would have been the perfect choice to replace Fangio as defensive coordinator this season. Even if Chicago was just a temporary stop to get his name back in the head coaching ranks, handing Rivera the keys to defense would have been met with a ton of praise as I think this defense would be top 3 under him.
There is a ton of love for Rivera around this franchise given what he has done for this organization, but I don't think much will come of it unless Pagano feels he wants to become a head coach once again. Should that happen, you can bet Rivera will be welcomed into Chicago with open arms once again.