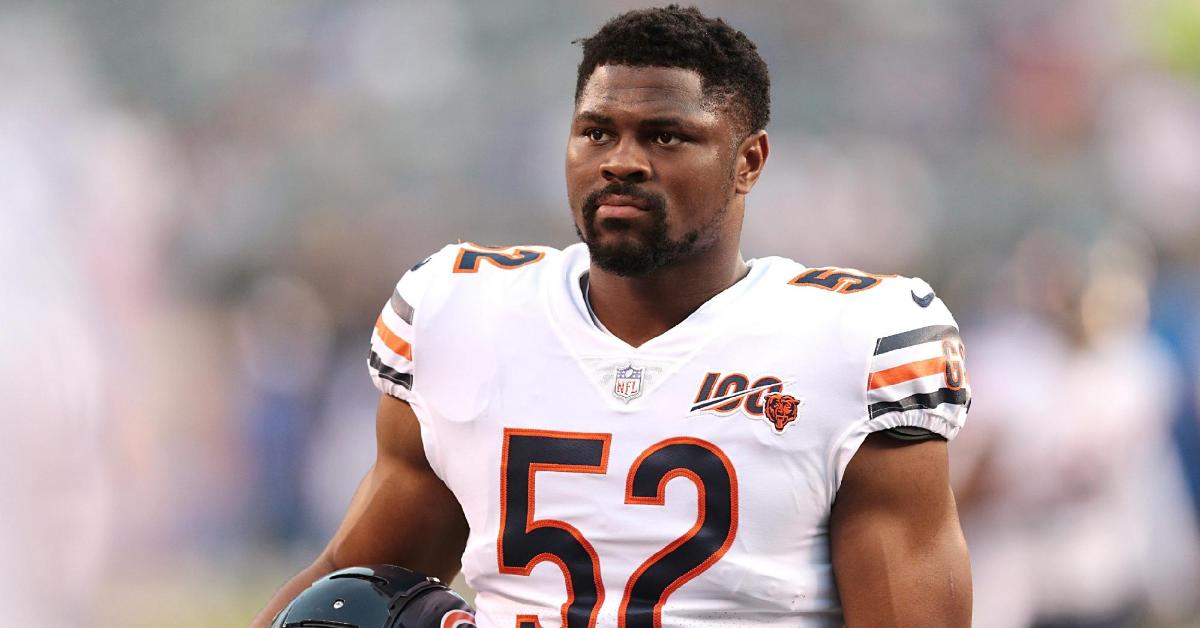 | | |
| --- | --- |
| Season in Review: LB Grades for Chicago Bears | |
---
We move through the defensive side of the ball as we reach the heart and soul of the Bears defense. Although not as dominating as in the past, the linebacker group for Chicago continues to be the center of attention for the Bears as they did a decent job disrupting offenses all year long.
Even this season as injuries and underachieving players were on the field; it proved to be a blessing in disguise for Chicago as new players emerged as possible long-term fixtures in what should be another loaded defense moving forward. This is how I would grade the linebacker core following this season's production.
KHALIL MACK: Perhaps the most feared player on defense outside of Aaron Donald and J.J. Watt may be Mack. When you look at what he accomplished with the Bears in 2018, and you have a very good argument as to why that is the case. However, 2019, was a rather quiet season for Mack as his numbers were nowhere near what they previously were.
Yes, he remained healthy, playing in all 16 games. Yes, he was still a force on defense, but with so many injuries on the Bears defense, teams began to key in on him, which limited his overall success. His 47 tackles were slightly down from his career average, but it was his 8.5 sacks that were alarming coming off a season in which he registered 14.5. Maybe that was just a one-year fluke given the injuries Chicago dealt with this season. That is what the Bears are hoping for as they need his production to increase once again.
Season Grade C: Normally, an 8.5 sack season would register a much higher grade than this. Maybe I am a little harsh on Mack here, but considering what we saw from him last year, his production was a far cry from that which deserves some hit. I know teams focused on him more this season than in the past, but he needs to figure out how to be that dominating presence while capitalizing on his opportunities. If Mack is in Chicago, teams know where the pressure will come from. Let's see if Mack and Pagano get a little more creative next season.
ROQUAN SMITH: Coming off a fantastic rookie season, many people believed Smith was on the verge of instant stardom in this league. However, Smith had to deal with his fair share of setbacks in 2019, including a personal issue that caused him to miss a few games early in the season. Even with that, Smith still went on to have a solid season leading the team with 101 tackles to go with two sacks and an interception. He was the lone player with 100 tackles or more showing just how busy he was.
Season Grade B: Smith produced at a high level once again, but certainly not at the level he did as a rookie. Granted, no one should have expected that type of production every year, but the early personal struggles that Smith went through may have affected his play early on, but he did finish with a flourish to prove once again he is a force to be reckoned with. Smith will be the leader of this defense for years to come.
NICK KWIATKOWSKI: Perhaps the unsung hero of the defense this season was none other than Kwiatkowski. Not only was it a rarity that he played in all 16 games, but his reserve role on this team will undoubtedly be a question mark next season as he performed as a starter should. Once stepping into a full-time role, Kwiatkowski picked up 76 tackles, three sacks, and one interception. Those are some impressive numbers for someone who was struggling to find playing time early in the season. That is certainly not an issue anymore.
Season Grade: A+: Without question, this man receives an A+ for what he did this season. Not only was he called off the bench multiple times to fill in for Injured players, but once he was trusted to be a starter long term proved to everyone that he is more than capable of handling that position. Kwiatkowski now leaves the Bears with a tough decision moving forward in terms of his status with the organization. Chicago would be very wise to hang onto him.
DANNY TREVATHON: Another considerable part of the Bears defense, Trevathan, was limited to just nine games this season dealing with several injuries throughout the year. Even with playing in only over half the team's games, he continued to deliver when on the field. His 70 tackles would have been near 100 had he stayed healthy, and his one sack showed that he does get pressure on the QB, just not as frequently as he would have liked.
Season Grade B: Once again, injuries took care of another promising season on the Bears roster as Trevathan may have put up better numbers than Smith had he stayed healthy. That alone is worth netting a B grade despite playing in just nine games. With his age now getting up there, Trevathan may be playing for a considerable payday this season, which could be either a good thing or a bad thing for Chicago.
LEONARD FLOYD: Another healthy linebacker was Floyd, who also played in 16 games this season. Much like Kwiatkowski, Floyd was not a starter to begin the season but emerged as a starter as the year went on. That allowed him to finish with 40 tackles and three sacks, giving the Bears another weapon long term.
Season Grade B: Floyd, much like Kwiatkowski, is an exciting piece going forward for this team. Yes, if everyone is healthy, Floyd would be a reserve or back up piece on this team. However, he has shown the ability to produce when called upon. Does Chicago view him as starting material long term, or do the Bears look to move him before his deal is up and maybe get something back?
KEVIN PIERRE-LOUIS: Another impressive reserve player was Louis, who also emerged as a substantial presence at linebacker. Another depth piece to the Bears vaunted defense, Louis saw action in 14 games this season getting put to the test in everyone. His 37 tackles was a solid addition to the unit, but his lack of quarterback pressure (0 sacks) was his only downfall as the Bears needed more pressure from him.
Season Grade B-: Anytime we talk about reserve players stepping into more prominent roles, we need to look at the overall body of work compared to what they have done in the past. Louis certainly improved as a player this season but does get a little knock for lack of QB pressure. Had he gotten to the QB a few times, this grade would increase. Still, Louis is another strong depth piece for the Bears as they continue to feature an elite defense.
Isaiah Irving, Aaron Lynch, Josh Woods, Joel Iyiegbuniwe, and James Vaughters all saw some action at linebacker this season but receive an incomplete for a grade due to limited action.
Position season grade B+: Once again, the backbone of the Bears defense was the linebacking unit, which proved to be even more so this season. With Mack's production nearly half what it was a season ago and injuries taking their toll all season long, the Bears needed to focus on their overall depth, hoping to plug holes as needed.
Not only did they plug those holes, but the backup now turned starters showed everyone in the organization that they are starter worth themselves, giving this organization plenty to work with moving forward. The big question now is how much more can everyone improve should this unit remain healthy long term.
Upgrade Your Account
Unlock premium boards and exclusive features (e.g. ad-free) by upgrading your account today.
Upgrade Now