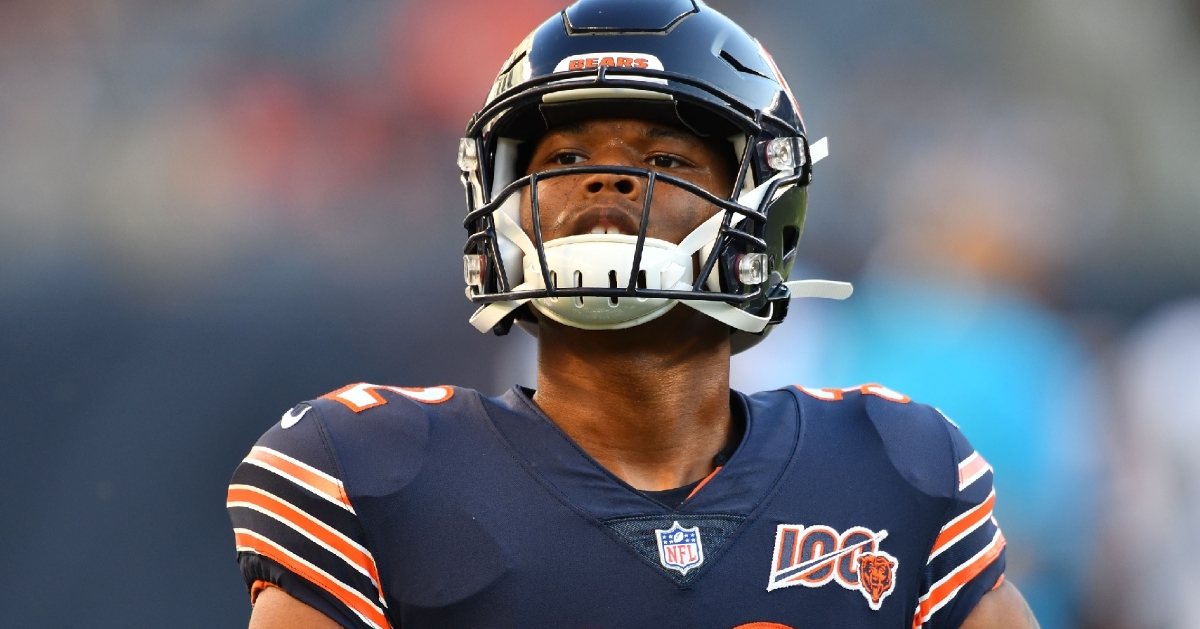 | | |
| --- | --- |
| Season in Review: RB Grades for Bears | |
---
Perhaps the biggest transition position-wise this season was at the running back position where the Bears needed to replace Jordan Howard, who was dealt to Philadelphia during the offseason. Despite several inconsistent performances during the season, and yards per carry that ranked near the bottom in the league, the Bears running game got going as the season went on as it appears, they have found the running back of the future.
After being drafted with the Bear's first selection of the 2019 NFL Draft, third-rounder David Montgomery was viewed as one of the steals of the NFL draft as he had the potential to be a front-line starter for any team this season. After finishing the preseason third on the depth chart, Montgomery had to work his way into the lineup but saw his reps increase every week until he ultimately took over the starting role around week 5 of the NFL season. Here is how I would grade the running back unit this season as they have an excellent piece moving forward.
David Montgomery: No one knew what to expect in the running game this season with Howard no longer there, but I think we can safely assume that the Bears are excited about Montgomery. After somehow falling to Chicago in the third round, the Bears pounced on him as he was viewed as one of the steals in the steals in this year's draft.
After a minimal role early in the season, Montgomery showed every why he was regarded as one of the top backs in last year's class and exactly what the coaches saw in him moving forward. Despite his less than stellar 3.7 YPC, Montgomery finished the season 889 yards rushing and six touchdowns to go with 135 yards receiving and another score.
Looking more like a running back instead of all-purpose back, Montgomery very easily could have had a 1000-yard rookie season had the Bears started him from the get-go. Regardless of the situation as to where he was on the depth chart early, Montgomery will be the man for the Bears going forward as he could be in the Windy City for years to come.
Season Grade B+: You couldn't ask for much more from Montgomery this season in terms of production as he delivered in big ways all season. Yes, his YPC was very low, but that once again falls on an offensive line that struggled to hold their own this season. When given holes and or blocking, Montgomery showed a great mix of vision and power, which is something you need to last in the NFL.
The more touches and experience he gets, the better he will become, even if the blocking isn't where it needs to be. Yes, blocking is a significant role in how successful a running back is, but so is the overall vision of being able to create something out of nothing. Once he can do that more frequently is when you will really see what he is all about.
TARIK COHEN: Looked at as a change of pace back that could do it all behind Howard, Cohen entered 2019 as the top back on the team with hopes of proving he was very capable of starting long term. With his pass-catching ability, tough running, and just smart on-field sense, Cohen has all the tools necessary to be the leading back in Chicago and was hoping this season would allow him to put that together.
However, that was far from the case as Cohen struggled all season to get things going. Despite posting his usually good receiving numbers of 456 yards and three touchdowns, Cohen couldn't seem to find his footing on the ground, rushing for just 213 yards on the season with no touchdowns. The decline in his rushing numbers was mainly because of a 3.3 yards per carry average that can be blamed on the offensive line partially, but also Cohen for not taking what the defense gave him. That needs to improve moving forward.
Season grade C -: Normally, when your starting running back loses his job four weeks in and posts that low of numbers rushing wise, he would receive a grade of a D or worse. The lone thing that saved Cohen a little bit continues to be his ability to catch passes out of the backfield, proving his value on this team. Yes, the Bears would like more production on the ground from him, but if he can continue to give year close to 500 yards in receiving, Chicago can use him in different ways moving forward to get the most out of him.
MIKE DAVIS: Signed as a free agent last offseason, Davis was an intriguing piece for the Bears rushing attack given what he has done in the past. Never a starter unless injuries occurred, Davis has found success as a back up for several teams and has proven he could deliver when called upon. The Bears certainly felt that way also as he was named the NO. 2 back ahead of week 1 beating out rooking Montgomery in the preseason.
His brief stretch of success in the preseason was short-lived as the numbers didn't translate into the regular season. In seven games that Davis saw action in, he carried the ball 11 times for 25 yards to go with seven catches for 18 yards. That is certainly not the production the Bears expected from him, which is why he was demoted to third-string two weeks into the season and saw his playing time slip as the season went on.
Season Grade F: To say Davis was a bust this season is an understatement as the Bears never got what they expected from him. The Bears were not expecting him to be a stud of any kind but had he put up the numbers Cohen did on the ground; they would have been happy. I would not be surprised to see Davis searching for a job next season as Chicago will look to improve on all facets of the offense next year.
RYAN NALL: I am going to make this short and sweet regarding Nall as he receives an incomplete for his grade. Yes, Nall played in one more game than Davis, but he recorded just two carries for eight yards with both coming in week 17. It is hard to grade anyone when they don't touch the ball until the final week, so he receives no grade for the year.
Upgrade Your Account
Unlock premium boards and exclusive features (e.g. ad-free) by upgrading your account today.
Upgrade Now