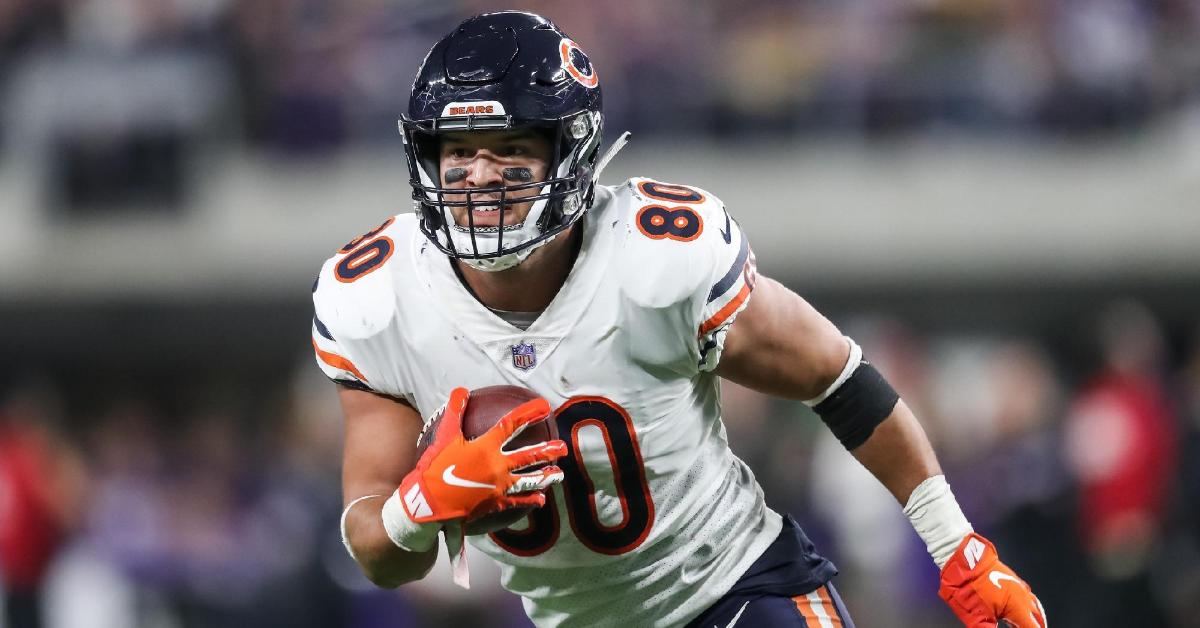 | | |
| --- | --- |
| Season in Review: TE Grades for Chicago Bears | |
---
Part five of the season of review series looks back at the Bears tight ends this season, or should we say lack thereof. A position of strength over the past few seasons turned into a nightmare in 2019 as a series of injuries, and a complete lack of production caused this unit to be one of the most seldom used groups in all the NFC.
That is not a good thing when you have a quarterback who looks for check-downs and short passes to the tight ends as part of his game. The tight end position was not good this season, and it cost the Bears on the offensive side of the ball all season. The one positive that can be taken away from it all is that there were a lot of injuries last season, and plenty of FA tight ends will be available this offseason. Those two things alone should make for a much better unit in 2020 as we reflect on what we say this season.
Trey Burton: Coming off a solid season in 2018, the Bears had high hopes for their 2018 FA pickup as he was looked to be a focal point in the Bears offense. Unfortunately, Burton was stopped almost before he got going as a hip injury, which ultimately landed him on the IR with surgery limited him to just eight games after playing in all 16 a season ago.
Even though he played in just eight games, you would have expected Burton to put up the best TE numbers on the team given what he did the year prior. Well, that was far from the truth as he finished the season with a team-high 14 catches for just 84 yards and no touchdowns. That is following a season in which he hauled in six TD receptions and nearly 600 yards so you can see where the lack of production hurt the Bears.
Season Grade F: Injuries aside which there is nothing you can do about that; Burton was not having a good year. Coming off his best season as a pro in which he nearly doubled his career total in receiving yards while equaling his career total in touchdowns, Burton never got going as a calf injury early in the season and a hip injury later really slowed him down.
In 2018, Burton was a huge part of the Bears passing game, which was essential to Mitch Trubisky's growth as a player. With his production completely gone and no one in the TE group picking up the slack, you can see why Trubisky struggled at times last season. Although Burton is under contract for next season and expected to be ready by training camp, it wouldn't shock me to see him bumped to the backup spot should the Bears find a better option in FA.
ERIC SAUBERT: A fifth-round pick a few seasons ago, Saubert has seen limited game action and hasn't been given much of a chance to produce on the field. His seven career catches for 69 yards is a clear indication of that, and that was aided by two catches for 21 yards this season. A bigger TE size-wise, Saubert is more of a blocker instead of a pass-catching threat.
Season Grade: N/A: When a player plays in two games and has little to nothing to show for it, you can't grade him on anything. The main reason he saw any time was because of injuries, and that was it.
BEN BRAUNECKER: Going back to the injury bug that plagued the TE position, Braunecker found himself, a victim of that, as he finished the season on IR after playing in 11 games during the year. For the season, Braunecker managed to bring in six catches for 59 yards to go with one score. That is minimal production for a guy who played in nearly 75% of the teams' games this season.
Season Grade D: The production was limited despite much more playing time, but Braunecker was the fourth TE on the roster out of the preseason, so to see him even appear in 11 games is a feat in itself. Braunecker was not someone who was going to set the world on fire, but he did manage to make a few plays here and there.
ADAM SHAHEEN: At a massive 6'6 257 pounds, Shaheen would be a dream tight end for a team looking for a big target. Unfortunately for the Bears, they were able to get just eight games out of him this season as a foot injury sidelined him the rest of the year before hitting IR. He is expected to be with the team next training camp, however.
In his eight games, Shaheen was targeted more than at any point in his young career, coming down with nine catches for 74 yards. Again, limited production and small sample size, but when you are that far down on the depth chart, consistent snaps are hard to come by.
Season grade D: Once again, the injury bug hit Shaheen this season, and that is starting to become a glaring concern. Last year this was the man Chicago expected to be their starting TE only to get hurt in the preseason before losing the job to Trey Burton. Fast forward to this season, and another injury derailed his season. Shaheen must stay healthy if he wants to see the field consistently.
J.P. HOLTZ: The TE who saw the most action this season was indeed Holtz. Not only did he play in 14 games this season, three more than any TE on the roster, but Holtz led them in receiving yardage with 91 on seven catches. Yes, you saw that right 91 yards receiving were the leading TE numbers that will not get it done in the NFL. At least the Bears could count on his durability.
Season Grade F: Whenever you play 14 games and eventually see your snap count increase, you better be able to produce on the field. Unfortunately for Holtz, production was never there, and the Bears offense desperately needed that from the TE position. Of the four men mentioned so far, Holtz has the best chance of seeing significant playing time next year, but that all remains uncertain with impending free agency.
Jesper Horsted: Perhaps the TE with the most significant upside on the team is that of Jesper Horsted. Playing in only eight games, fans never got to see a whole lot of him, but they did like what they saw at times. For the season, Horsted hauled in eight passes for 87 yards to go with one touchdown. Not good numbers by any stretch of the imagination but something the Bears can work with in terms of his development.
Season Grade C -: Horsted is the lone TE that will receive anything better than a D grade, mainly because of his potential as a player. His numbers were limited as were the numbers of every TE on the roster, but the Bears liked what he brought to the table as the offense flowed much better with him on the field even if he wasn't making plays.
Chicago will be looking for an offense-first TE like Erik Ebron in FA, but Horsted did show things this season when he made plays. This is one player to watch going forward as to what the Bears plans are with him in 2020.