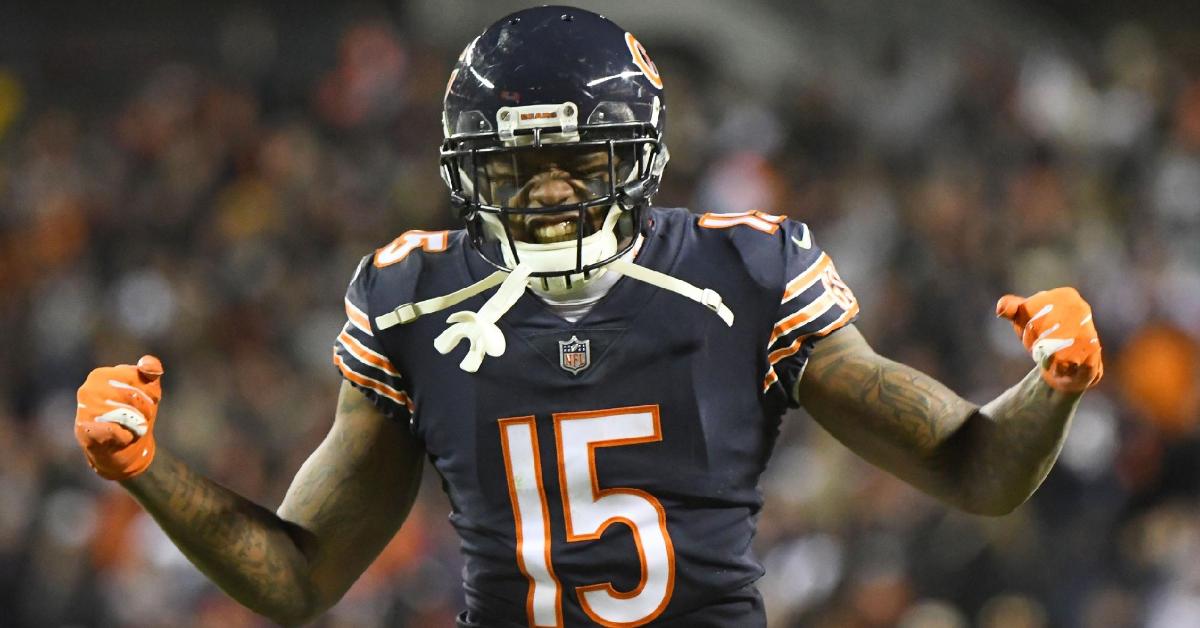 | | |
| --- | --- |
| Season in Review: WR Grades for Bears | |
---
Part four of the season in review series moves on to the wide receiver core. This unit has shown a ton of bright spots the past few seasons and may have been the most consistent unit on the field. Despite battling through some injuries to a couple of their key pieces, the Bears receivers often delivered when they were given a chance to lead by the team's No. 1 wideout Allen Robinson. Here is how I would grade them out this season.
ALLEN ROBINSON: Without question, the real No. 1 on this team is Robinson, and it isn't even close. Finding an elite receiver in Chicago has not been easy, especially since both Marshall and Jeffrey left the team more than four seasons ago. Since then, Chicago has been trying to find a legitimate No. 1, and they finally have their man in Robinson.
Signed as a free agent in 2018, Robinson led the team in catches (98), Yards (1147), and touchdowns (7), proving to everyone why he was a pro bowler in Jacksonville. Those numbers could very easily put him in the pro bowl again this season, but Robinson doesn't care about that as he has bigger goals in mind long term. His contract is up following next season, and he has already expressed his desire to remain in Chicago. Let's see if a deal gets done.
Season Grade A: Finding a true No. 1 receiver doesn't come easy, but when you have one, don't let them getaway. Chicago has that in Robinson, and when you watch him play, you can see the trust everyone has in him. No matter the situation, the Bears believe that they can find ways to get Robinson the ball as he made the passing game go last year. Chicago needs to extend this man before it is too late as he continues to help Trubisky thrive in the role.
RILEY RIDLEY: The fourth-round pick out of Georgia in Last year's draft; Ridley didn't see much action early on despite a solid preseason and great practices. With how deep the Bears receiving unit was to start the season, it was going to take a lot for Ridley to see significant unless he could flat out wow someone every day.
Once the injuries began to pile up is when Ridley started to see his chance as he finished the season playing in five games. Despite his limited production of six catches for 59 yards in those games, it was his clutch catch against the Vikings in week 17 that set the team up for the game-winning field goal. That would most likely be the signature moment for him this season.
Season Grade C: I am going to be generous on him mainly because we haven't seen enough of him to grade him thoroughly. He was not a part of the offense much of the season, and when he was, he was very limited in terms of game action. He did flash some signs of growth in potential, which could be huge for him moving into next season. He could be one to watch next year.
JAVON WIMS: Another Georgia product himself, Wims was the seventh-round pick for the Bears in 2018 as he struggled to see the field as a rookie. This season, a lot of talks surrounded Wims regarding his ability and what he could do on the filed, and that helped him earn a 53-man roster spot out of the preseason in which he played in all 16 games this season.
The numbers weren't spectacular, 18 receptions for 186 yards and one touchdown, but the Bears are fully confident in his abilities moving forward. Wims is still young and developing, so there is still a ton of potential left to be untapped.
Season Grade C: Much like Ridley, we don't have a large enough sample size to give him a high or low grade, so keeping him in the middle seems right. When Wims was given a chance, he showed that he could bring something to the table with good route running and hands. However, consistency was hard to come by as he was often the fourth or fifth option for Trubisky, which limited his catches. With the injuries to some of their receivers this season, look for Wims to get more of a look next year.
CORDARRELLE PATTERSON: One of the most under the radar signings in the NFL last season was the Bears prying Patterson away from the Patriots. Drafted as a first-round WR in 2014, Patterson has made a name for himself as a kick returner, but also as a swiss army knife on offense, allowing coaches to put him anywhere on the field.
Once again, the kick return game was his strong point, as he was limited to just 83 yards receiving and 103 yards rushing. That is a meager total for a guy that can change the game with one play, and the Bears need to figure out how to use him more should he return next season.
Season Grade D: This grade is not on Patterson himself as the offensive play calling failed in terms of getting him more involved. However, when he was involved, Chicago didn't see the type of production they expected, which may have taken confidence from the coaching staff in trusting him. Regardless, Patterson is a big play waiting to happen, and you need to involve him more in the offense. He isn't going to be a 1000-yard receiver or 1000-yard rusher, but he has the potential to score every time he touches the ball, so get him in space and watch him have fun.
TAYLOR GABRIEL: Another free agent offseason acquisition ahead of 2018, Gabriel was the Bears go-to receiver early in the season and had four touchdowns in the team's first five games. That is when the wheels fell off as a concussion, and other nagging injuries held him to just nine games even though they were very productive games.
In his name games, Gabriel was fourth on the team in yards with 353 and second in touchdowns with four even though three came in one game. Before his injury he was on pace for a 750-yard, seven touchdown season, which would be great numbers from a No. 2 receiver. The question going forward will the Bears retain him or part ways.
Season grade B-: When it comes to injuries, you can hardly blame a player, so I always look at the body of work put in before injuries happen. Make no mistake about it, that in just half of a season, Gabriel was playing well and putting up good numbers before missing time with that concussion. Had he played the full 16 games, this grade would have been higher, but for now, I am content at giving him a B- because he did miss half the year.
Anthony Miller: Perhaps the biggest rising star on the Bears roster is second-year man Anthony Miller out of Memphis. Given that Chicago used a second-round pick on him, it shouldn't come as a surprise that the Bears are seeing the rewards of that each week as he continues to get better with more playing time.
Playing in all 16 games a season ago, Miller hauled in 52 catches and was second on the team with 656 yards receiving and two touchdowns. Ideally, the Bears would like the touchdown number to increase, but Miller is the only one on this roster that isn't afraid to go over the middle and get hit to keep possessions going. With the injury to Gabriel this season, look for Miller to take over the permanent No. 2 spot in 2020.
Season Grade B+: The more I watch this kid play, the more impressed I am with him. At just 5-11, he may not be the biggest WR in the world, but he plays much bigger. His speed, no fear attitude, and overall will to catch the ball was a pleasant surprise for the Bears last season, which is something they will continue to build on going forward. With him and Allen Robinson most likely as the teams 1 and 2 next year, Chicago has a chance to have two 1000-yard receivers for the first time since Brandon Marshall and Alshon Jeffrey.