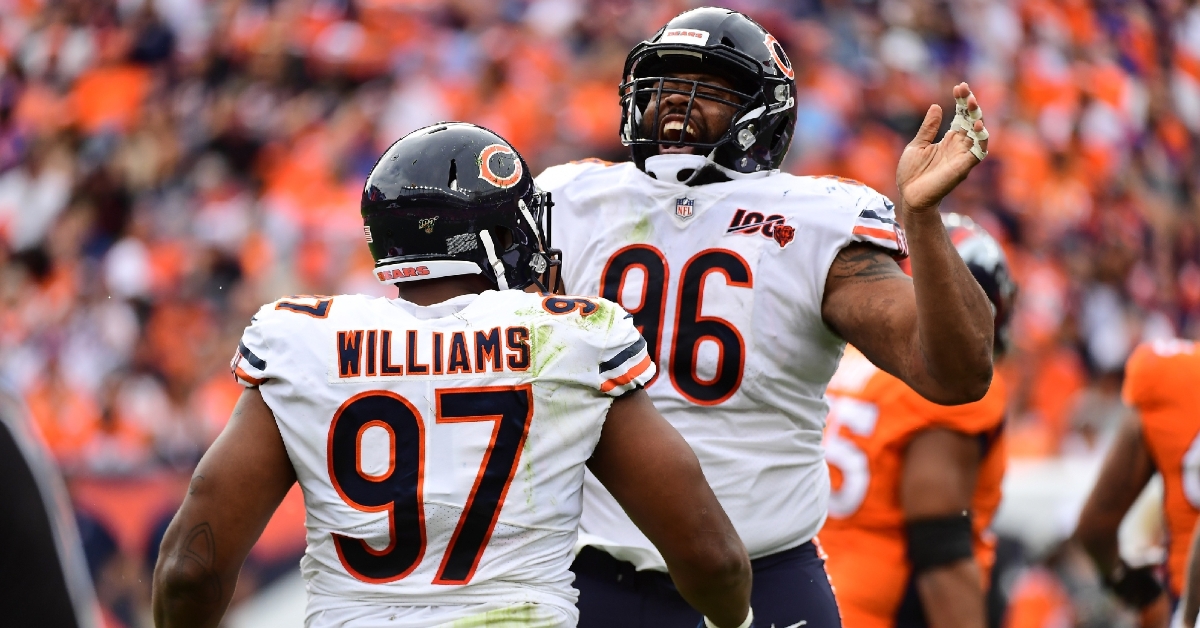 | | |
| --- | --- |
| Should Bears be concerned with Hicks' knee issue? | |
---
| | | |
| --- | --- | --- |
| Wednesday, September 25, 2019, 2:13 PM | | |
For the past two seasons, the Bears have relied heavily on their elite defense to win games and for an excellent reason. Not only do they have elite playmakers on all three defensive levels, but they still have a young man at quarterback still trying to find his way as to who he is as a player.
One of the many defensive standouts for the Bears happens to be defensive end Akiem Hicks. Along with Khalil Mack, Hicks is one of the two best pass rushers for the Bears and does an excellent job at stopping the run also. That will be essential in week four as the Bears are taking on the top running back in the game in Dalvin Cook.
What happens if Hicks were to go down? Who fills in for him and how much different would the defense look as a whole? That is precisely what the Bears may be facing on Sunday as Hicks is one of few players that are nursing an injury currently. For Hicks, his injury is a knee issue which the Bears will, of course, be monitoring the severity of the injury.
Hicks left the second half of Monday's game against Washington with a knee injury. Fortunately, at this time Head Coach, Matt Nagy doesn't think the injury is too severe.
"I don't think it is anything too serious," Nagy said to the media. "He's a pretty big dude, so his knees -- these guys, their knees can get messed up a little bit here and there and wear and tear -- but it just was getting sore on him, so we'll kind of see where it's at in the next couple days."
The Bears have already lost defensive end Bilal Nichols due to a broken hand so their depth is already being tested, but should Hicks miss time on Sunday or at the very worst multiple games, their depth on the line will even be thinner upfront.
Let's move aside from the depth proponent of things and focus on why Hicks will be so crucial to the Bears this weekend. Over the past three seasons, Hicks has proven to be not only one of the better leaders on the defense but a huge disrupter on the line of scrimmage. Both are great commodities to have when anchoring an elite defense like Chicago has put together.
Hicks is very athletic for his large frame and can not only get after the quarterback with reckless abandonment but can blow up plays before they even happen. That makes his availability all that much more important this week. With a huge game against the Vikings set for the game of the week Sunday, Chicago will need all hands-on deck defensively as Minnesota comes into Soldier Field turning back the clock on offense.
What has been known as a passing league over the past decade, Minnesota has had the privilege of riding Adrian Peterson for ten seasons before parting ways with him before 2017. Minnesota hasn't missed a beat offensively as they now have another great running back in Cook who may be the best back in the league this year.
After battling through an ACL tear his rookie season, and a hamstring issue early on last season, Cook entered 2019 with 18 career games under his belt in two seasons. With no real threat in the backfield for nearly two years, Minnesota lost their identity and turned into a passing offense that didn't work well in their favor last season.
2019, has not only seen the Vikings get back to where they want to be but has them turning back the clock with Cook looking like the old AP days. Not only does Cook lead the NFL in rushing through three weeks, but he is doing so averaging six yards per carry. Not to mention his ability to catch passes out of the backfield and it comes to no surprise why he is regarded as the best or one of the top three backs in the league right now.
That is what makes Hicks so valuable to the Bears on Sunday. No matter how good you are defensively, you're not going to stop Cook given his versatility completely. However, you can contain him to limit his rushing attack which does make Minnesota one dimensional. If Hicks is available on Sunday, you can bet that the Bears are going to stack eight in the box and make Cook earn every inch of his yards. However, should Hicks be out, an already thin defensive line will be even thinner as Cook may be licking his chops at a chance to slice through the Bears shorthanded line.
As of today, we do not know the status of Hicks heading into Sunday as the Bears will continue to monitor him all week. All signs are pointing that he does play, but even if that is the case, Bears fans should worry a little bit should he not be 100%.