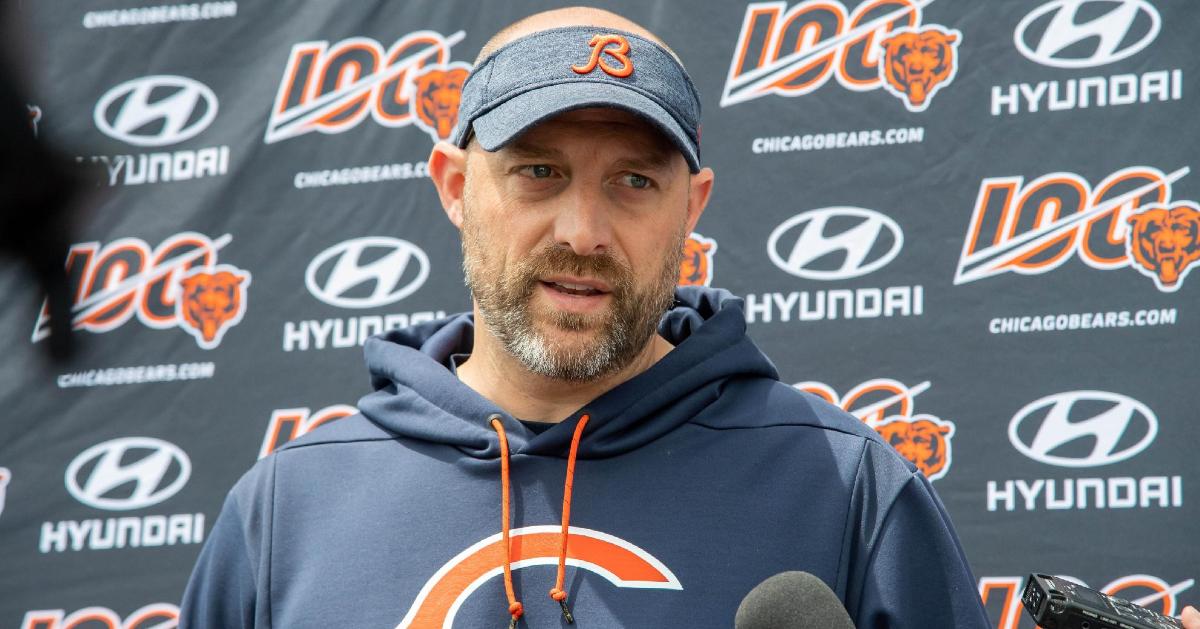 | | |
| --- | --- |
| Bears News: Should Matt Nagy be on the coaching hot seat? | |
---
The Chicago Bears won the NFC North in 2018 and are sitting at 5-3 this season. They struggled last season, going 8-8, but have been successful under Matt Nagy for the most part. Despite the winning record this season, the team shows zero signs of life offensively, which is surprising when you look at Nagy's offensive-minded pedigree.
Usually, this wouldn't be a discussion to be had when you look at the direction the Bears are heading, but if things don't change soon offensively would the Bears consider moving on from Nagy even if they make the postseason. When Ryan Pace hired Nagy, it was assumed that he could turn Chicago into an offensive prowess to join that elite defense.
Known as an innovative play-caller during his one season as offensive coordinator in Kansas City, Nagy appears to be in over his head in Chicago, and the results show. Granted, the Bears do not have the weapons the Chiefs have, but it is on Nagy to develop an offensive game plan that best suits his team as a head coach.
So far, in three seasons, he hasn't done that, and fans are starting to grow extremely frustrated with this team because of it. While firing him would be a little harsh, I do think he should give up the play-calling duties and let offensive coordinator Bill Lazor give it a whirl. Lazor was brought in this offseason from Cincinnati, where he called plays for five seasons. He can't be much worse than Nagy at this point, so anything is worth a shot.
Nagy said that he isn't opposed to giving up the play-calling duties, but he still hasn't done it, and the offense continues to go nowhere. Unless things change across the final eight games, he could be on the hot seat as the Bears may look for someone else to lead this team next year. If that is the case, there are many coaches out there to pick from, but in reality, only three options if you ask me.
Coaching retreads: Every year, when a new coaching position opens up, former head coaches immediately look to get a gig. This offseason, expect a lot of former head coaches to throw their names out there once again. If the Bears hope to stay offensively minded, Jason Garrett and Josh McDaniels could consider options. Granted, neither of them has had tons of success; Garrett has been a decent head coach with the Cowboys in the past and could help the Bears offense.
Should the Bears want to go back to defensive-minded head coaches, there could be many options. Both Todd Bowels and Raheem Morris didn't do well as head coaches their first time around, but both are turning heads right now. They both are great defensive minds and seem to be gaining momentum once again. Gregg Williams showed great poise in his brief run with Cleveland, and I think he would bring a ton of toughness to the Bears. Steve Spagnuolo could be another man looking for one more crack at a head coaching gig.
Up and coming assistants: Retread coaches will always get chances, but I don't think the Bears will ever go that direction again under Pace. If they move on from Nagy, the most likely option would be an up and coming assistant, and two names stand out immediately. Once again, you can look at the mindset the Bears want to go with, and we will start with a defensive mindset this time.
Robert Salah is undoubtedly a name to watch this offseason as he nearly accepted the Cleveland job this year. Salah was the former Seattle Defensive coordinator and is now making waves with San Francisco in the same position. It is only a matter of time before he is offered a job. Given how much the Bears rely on defense, Salah could fit nicely in Chicago as I think he would bring in a great play caller with him.
With the Bears defense being so good, Chicago may feel they need to be more innovative in the future. That's where Eric Bienemy comes into play. The offensive coordinator for the Chiefs is a genius, but a lot of that has to do with Andy Reid and the system. Remember, Nagy came from the same system as Reid, and his success hasn't carried over. The thing about Bienemy is that he has multiple years of play-calling experience and the Kansas City offense is one of the most dynamic offenses in football.
The weapons are not the same in Chicago but given a chance, and I think he could succeed immediately. Both him and Salah will get a lot of looks this offseason once again, and the Bears could be in the running if they move on from Nagy.
College Head Coach: The least likely direction the team would go to is the college tree, but it has to be discussed. The league has already seen Kliff Kingsbury and Matt Rhule enter the league the past two seasons, and both of them have done an ok job thus far. Could more college coaches be in line to make the jump soon?
For the Bears, if that is the direction they choose, they shouldn't have to look any further than Lincoln Riley of Oklahoma. Riley was rumored to be in on the Packers job last season before ultimately staying in Norman. Riley took over for Bob Stoops, and the program hasn't missed a beat.
Not only is he a great offensive mind, but he is excellent with quarterbacks as Oklahoma is becoming Heisman U under Riley. During his tenure, Riley has worked with Baker Mayfield of Cleveland, Kyler Murray of Arizona, and Jalen Hurts of Philadelphia. Mayfield and Murray won the Heisman, and Hurts taking second. Spencer Rattler is now the man in charge, and it looks like he has the potential to be a Heisman candidate.
Riley is good with quarterbacks, and one of the Bears most significant issues the quarterback position. It would be curious to see what his mindset is and what he can do with that team when deciding what direction to take long term.
The last name I will look at is the hometown college man Pat Fitzgerald. Much like Riley, Fitzgerald nearly had a head coaching job last season but elected to return to Northwestern, where he had one of his worst years as a coach. It seems that was a fluke because Fitzgerald has rebounded nicely this season and is off to a 2-0 start with the Wildcats.
Fitzgerald has been in the Chicago community for the past 14 years, winning 100 games with the Wildcats to make them relevant again. A defensive-minded coach first, Fitzgerald, I certainly think would entertain the idea to remain in Chicago if the Bears came calling.
Nothing at this point is being discussed about Nagy's job, and when you look at the position, the Bears are in his job shouldn't be in jeopardy. However, this is a results-driven league, and if things don't change offensively for the Bears soon, Nagy will be on the hot seat.
Upgrade Your Account
Unlock premium boards and exclusive features (e.g. ad-free) by upgrading your account today.
Upgrade Now