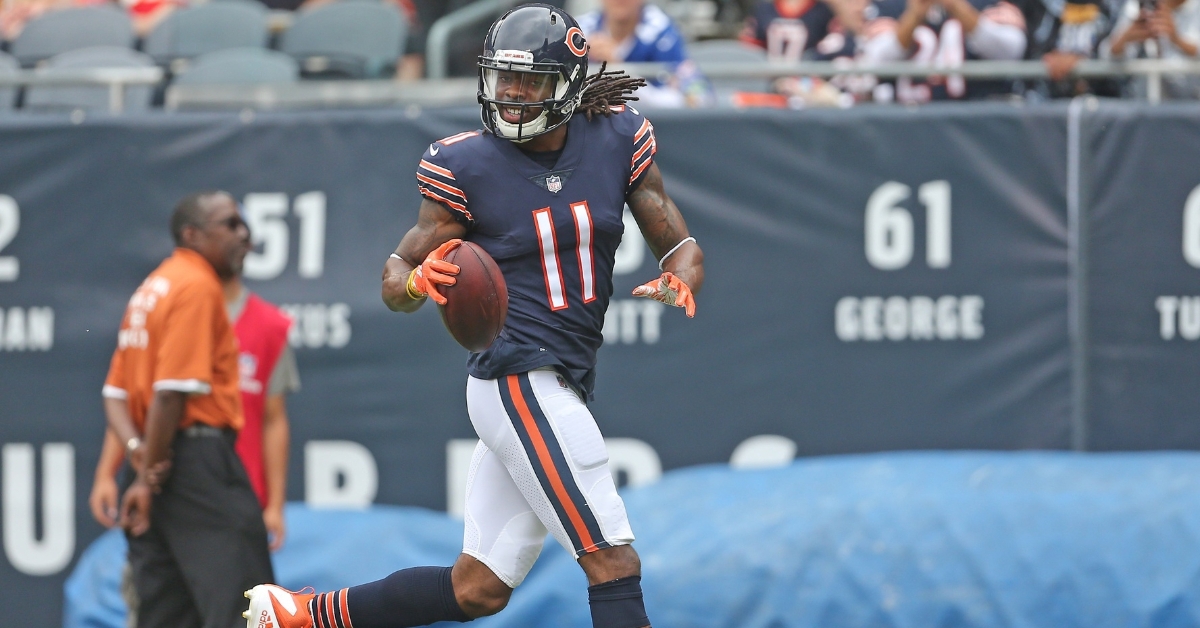 | | |
| --- | --- |
| Bears News: The draft bust of Kevin White | |
---
The NFL Draft is one of the most exciting moments for NFL fans as one pick could drastically alter the fate of your team's future. While the Bears have had their share of success and busts, no bust may have been higher than former first-round pick Kevin White.
The year was 2015, also known as Ryan Pace's first year as teams GM. Chicago was coming off a rough season in which they landed a top 10 pick in the upcoming draft. Looking for a spark to restore some magic to Chicago, Pace chose to take West Virginia WR White with his first pick as the sky was the limit for him coming out of college.
Not only was he a legitimate No. 1 receiver with a 6-3 215 pound frame, but he could take the top off of a defense with a 4.35 40, which would have come in handy for the good ole gunslinger Jay Cutler toward the end of his career in Chicago. The White pick signified the Bears' mission to improve the offense as he was supposed a big piece of that puzzle.
Unfortunately, draft picks are not set in stone, and White fell into that category of someone who had some of the biggest potential in the world, but never materialized as injuries derailed his career before it even got started. White came in as one of the fastest rising prospects in the draft and had all the talent in the world. However, an injury his rookie season was just the beginning of the end for White as injuries derailed his career.
After showing tons of promise during his first rookie camp with the team, White suffered a stress fracture in his foot, which sidelined him for the rest of the season. Worse than that, the Bears tried to rush him back, which may have made things worse for him, which is something White still thinks the Bears did a lousy job of handling his situation.
White not only went through the mental struggles of the NFL world but had to deal with so many health-related struggles that most players only dream about in their nightmares. Whenever it looked like he was about to turn a corner, something happened, which proved to be even more of a setback than what he dealt with before as he played in fewer than 30 games over his four-year stint in Chicago.
White was a prime example of what can happen to a pro athlete without a reasonable explanation as to why it is happening, and it was a gut punch to him and a reality check to the organization. Although that is the nature of the beast when playing pro sports, it is hard not to feel for a guy like White who had all the tools to be great and put the work in the right way. He was supposed to be the starter, thought to be the team's No.1 receiver, and was supposed to be the piece that jumpstarted a stagnant offense.
The skillset of White was undeniable, especially when you look at what he did for the Mountaineers. In two seasons, he hauled in 144 receptions for 1954 yards and 15 touchdowns. That included a 109 catch, 1447 yards and ten touchdowns in his senior season. Those type of stats took him from a day two talent to a top 10 pick with the Bears and plenty of other teams expecting some sort of elite WR numbers over time.
One the injuries started, they never ended, and White finished his four years in Chicago with just 25 catches for 285 yards and zero touchdowns. Those numbers would have been bad for him as a rookie, but when that is your four-year total with a team, Chicago had no choice but to part ways with him. Before his release, White linked on with the Cardinals practice squad for the 2019 season but never was able to crack the roster leading to his retirement from the league after just five seasons.
While I don't like to associate bust with injured players, White was one of the biggest draft busts in the last decade, but for reasons, he couldn't control. It is crazy to think about the receivers the Bears have now and what the offense could have looked like if White stayed healthy and remained in Chicago. He was one of my favorite players coming out of college, and I was so excited to see him come to Chicago. I would love him to get another chance somewhere, but that will never happen.