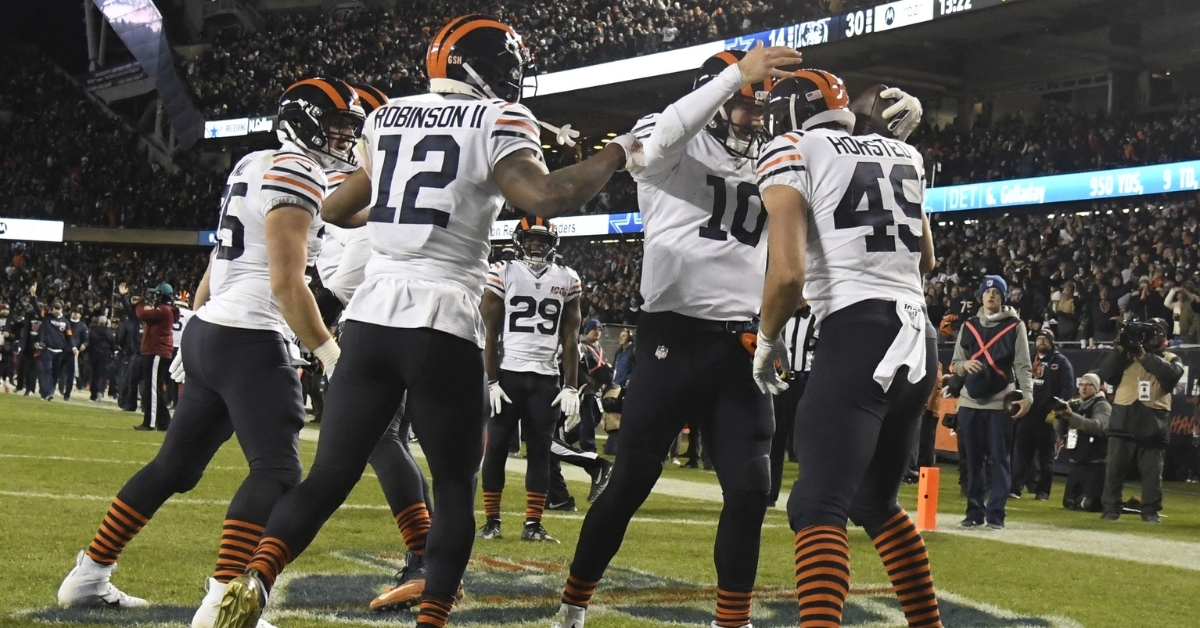 | | |
| --- | --- |
| Three Bears' Takeaways from win over Cowboys | |
---
The Bears suddenly look like a postseason team, downing the Cowboys 31-24 for their third straight win to move to 7-6 on the season. Not only do they keep themselves alive in the postseason hunt, but they will now have an extended week of preparation to get ready for their seasons defining game at Lambeau next week. Here are three takeaways from last night's game.
1. Where has this Mitch Trubisky been?
I don't know what has gotten into Mitch Trubisky the past month or so, but after posting a 4-1 record over his last five starts, could this be the Trubisky expected to see when they decided to take him No. 2 overall three years ago.
Not only has his accuracy greatly improved as of late, reaching a career-high in completion percentage, but his decision making has also begun to get fans to notice. Against an outstanding Cowboys defense, Trubisky went 23-31 through the air for 244 yards, three touchdowns, and just that one first-quarter interception. He also utilized his legs for 63 yards and a touchdown on 10 carries capping off a four total touchdown night.
Yes, the Bears would still like him to cut down on his turnovers, but if you average one a game for the season, it wouldn't be the worst thing in the world depending on the situation. The one aspect of Mitch's game that has been lacking has been his scrambling ability ever since he suffered his shoulder injury in week 4. As the season has gone on, Matt Nagy has continued to preach to him about using his legs as that is a huge part of his game. He showed that last night and proved he can be a dangerous QB in this league.
2. Dallas still can't beat a good team
Say what you want about the Cowboys as they are a complete enigma of an organization. On paper, the feature one of the most talented rosters in all the NFL and even entered last night with the top offense in the league. Yet, they now sit at 6-7 following their loss, but somehow remain in first place in the dreadful NFC East.
The thing that holds the Cowboys back is undoubtedly the coaching as they have yet to win a game against a team with a winning record and or currently in the playoff standings. That doesn't bode well for a team that is battling for a postseason spot, but that may not be an issue for Dallas because their division has been so horrible this season.
Dallas should be an 11 plus win team given the amount of talent that they have on their roster. However, ultimately, it comes down to coaching, and Jason Garrett hasn't prepared them well enough for big games. Should some drastic shuffling occur the rest of the way, the Cowboys will be on the outside looking in unless they manage to sweep the Eagles later this season.
3. The Players only meeting worked
A few weeks ago, the Bears were frustrated as they fell to 4-6 on the season. Knowing that they are more talented than their record shows, Bears players held a player only meeting to get back on track, and it has worked.
When a team is going through issues, it is good to keep those issues in house. That is precisely what the leaders of the Bears did as they wanted to hold this meeting to get everyone on the same page while telling them to relax. I think we can safely say that the meeting the Bears decided to hold was exactly what this team needed.
Not only have they gone 4-1 in their last five games, including a three-game winning streak to bring them back to 7-6 on the season, but Chicago also remains just two games out of the postseason and is playing their best football of the season. This is precisely the time that you want to be playing your best ball as teams tend to take this momentum into the postseason. Chicago still has a lot of work to do, but you can see a sense of confidence creeping into this roster each week.