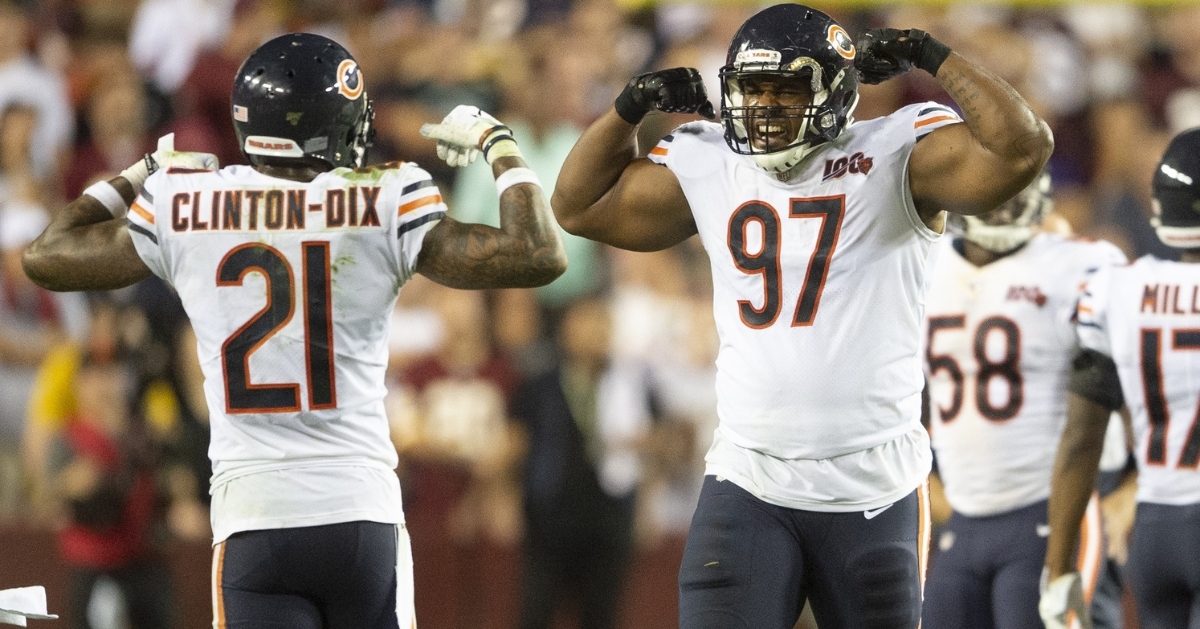 | | |
| --- | --- |
| Three Keys to victory for Bears over Vikings | |
---
| | | |
| --- | --- | --- |
| Friday, September 27, 2019, 12:37 PM | | |
To say Sunday's contest is a big one is an understatement as this is the definition of a swing game. With a win, the Bears would move to 3-1 on the season and 1-1 in the division which would tie them with the Packers for first or second place depending on the Lions result earlier. With a loss to Minnesota, it would be the Vikings moving to 3-1 while the Bears would slip to 2-2 but 0-2 in the division.
Overcoming a 2-2 start may not be the toughest thing in the world, but an 0-2 start in the division will make things near impossible for the Bears to overcome to win a division as they may have to settle for a wildcard depending on how the final four games would go. It is safe to say; Sunday against Minnesota is a must-win as the Bears look to keep pace with the teams ahead of them in the division.
Although the Vikings have not had the best of luck at Soldier Field in the past, this will be a tough task as Minnesota has turned back the clock to win by playing physical football. Here are three keys to the game that will help Chicago emerge victorious on Sunday.
1. Contain Dalvin Cook: Notice I said contain and not stop because I don't think there is a real way you can stop him. The NFL's leading rusher heads into Sunday with 375 yards on the ground and near 100 yards receiving also. Chicago enters the contest with one of the best run-stopping defenses in the game so this will indeed be a battle won in the trenches.
Ideally, I would love for the Bears to stop Cook making the Vikings much more one dimensional. Given the versatility that Cook presents for Minnesota's offense, I don't think you can entirely stop him, but containing him is certainly something that can happen. Part of the reason Cook has been able to rack up three consecutive 100-yard games has been his ability to rip off long runs that account for around 50% of his total yards.
For the Bears, they have yet to allow a runner to get more than 20 yards on a single carry which has allowed the Bears to stop the run frequently. Keeping Cook in check will be vital for Chicago because if he gets in the open field, watch out. Should Chicago hold him to 85 yards or less, I like the Bears chances in this one.
2. Make Kirk Cousins beat you: By now it is well documented about the career struggles Cousins not only has in primetime games but against teams with winning records. Sunday will be no exception as the Bears do post a winning record and a 3:15 Kickoff is considered a prime-time game.
Cousins has all the tools to be an elite quarterback, but his mental state and pocket awareness has always presented that from happening. Add in the fact that he struggles in big moments and you can see why he only has yet to win a playoff game despite posting great numbers year in and out.
If the Bears can shut down the focal point of the Minnesota offense, that will put all the pressure on Cousins to beat you with his arm. Frankly, I don't think he can do it, especially not against this defense. Chicago needs to shut down the run early and put pressure on Cousins in the passing game. Once that happens you know turnovers will follow, and that alone will be enough to kill most Viking drives.
3. Do what you do best: This week will feature some old school black and blue football as both teams love to play defense. With that being said, the Bears need to forget about getting cute and creative this week and worry about what they do best to pick up the win.
They know Minnesota loves to run the ball. Chicago also likes to stop the run, pressure the quarterback and force turnovers. That should be the focus once again for Chicago this week as leaning on that defense will only help the offense in the long term.
I am not saying the Bears need to force a ton of turnovers, but if they can continue to play great defense, they should be able to win the field position battle which will help a slowly improving offense find their rhythm. The Bears can then lean on the running game themselves as it may create some play-action chances for Mitch Trubisky and company.
Prediction: This is what football is all about. Two of the fiercest defenses coming together to turn football back 50 years. Don't expect a high scoring blowout in this one as neither quarterback is good enough to rip apart these defenses. Instead, expect a hard-hitting, low scoring battle that will come down to Special Teams once with Eddy Pinero connecting for a game-winning field goal 20-17.