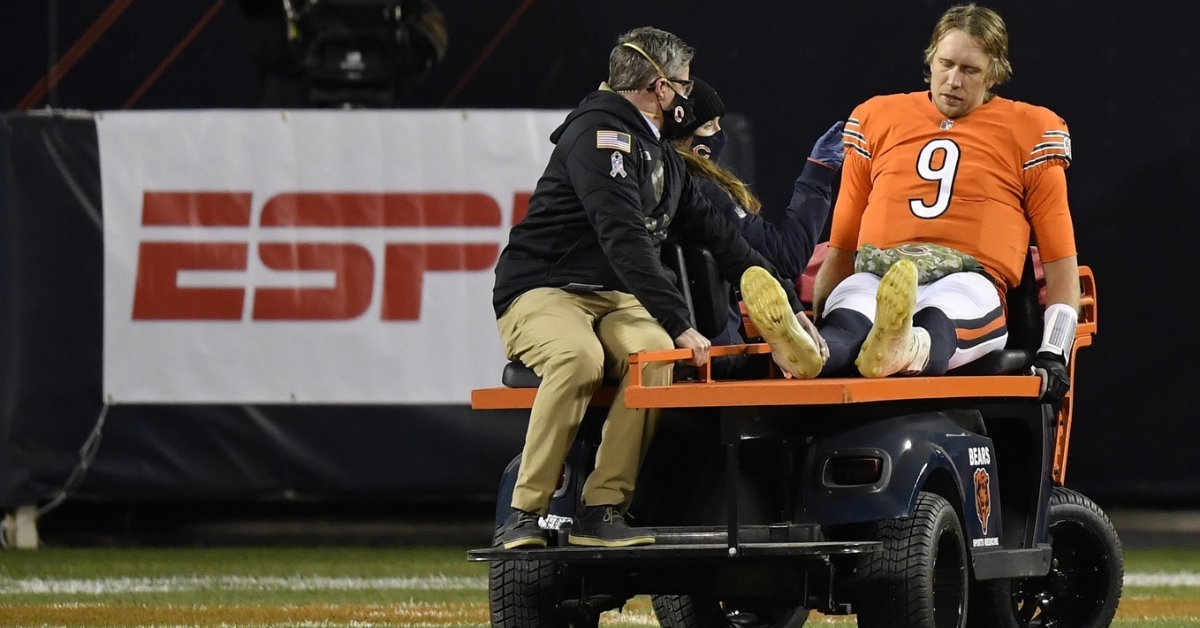 | | |
| --- | --- |
| Three Takeaways from Bears' loss to Vikings | |
---
It was another ugly game by the Bears' offense last night as things are getting out of hand. Despite starting the season 5-1, many fans questioned how good this team was. You had a defense that continues to play well paired with an offense that can't score. Yet, they somehow found themselves 5-1.
All those question marks fans had four weeks ago are getting answered in the worst possible way as the Bears have now dropped four-straight to fall to 5-5 and are limping heading into the bye week. To make matters worse, the Vikings' loss gives Minnesota the tiebreaker meaning should the Vikings beat Dallas next week, they would overtake the Bears for not only second in the division but the eighth seed in the NFC. Chicago has some serious soul searching to do across the next week with these three takeaways from the game.
We witnessed history: Some history is good, and some history is bad as fans were treated to a little bit of both. Starting with the good and look no further than Cordarrelle Patterson. Coming into the game, Patterson said he wanted to step up in place of the injured David Montgomery. Despite his best efforts, the Bears rushing attack was non-existent, which changed the game's dynamic.
However, Patterson did step up, returning the second-half kickoff 104 yards to the house for the Bears only touchdown of the night. It was also his eighth career kickoff return score, which ties him with Joshua Cribbs for most all-time. It is just a microcosm of how the Bears season has gone.
Also, is Cordarrelle Patterson the best aerial camera view kick returner of all-time? #BearDown ????@ceeflashpee84 @ChicagoBears #MNF pic.twitter.com/02n538gm8S

— E.J. Luna (@EJ1una) November 17, 2020
Switching over to the wrong side of history and you will find both Matt Nagy and Kirk Cousins. Nagy entered this game with a perfect 4-0 mark against Minnesota and had he won, it would have been the best start by a Bears head coach against a team.
On the other hand, Cousins entered the game not only 0-4 against the Bears as a member of the Vikings, but an NFL all-time worst 0-9 on Monday night. Outside of the interception that wasn't his fault, Cousins played the best game of his life against the Bears, and that was enough to give Minnesota a colossal division win.
New play-caller same results: Many fans and media alike were curious to see what the Bears offense would look like under new play-caller Bill Lazor. During the first quarter, it seemed as if the offense had more energy and continuity as the play-calling seemed more creative. However, that is about the most exciting fans got, as once again, the offense couldn't do anything.
At this point, Nagy is the problem as his system is not working. Ryan Pace can shoulder some of the load as he is the one that brings in the personnel, but Nagy is the coach and puts the system in place. Although he wasn't the play-caller last night, his strategy was still in front of Lazor, and the plays are still the same. Whatever offense this team wants to run can't be done with the current personnel, and things need to drastically change before next season.
#Bears HC Matt Nagy: "Obviously we struggled mightily on offense. We had field position, we couldn't convert on that. It overshadows how well our defense played. It's been a constant theme. It's been the same stuff over and over."

— Larry Mayer (@LarryMayer) November 17, 2020
Things went from bad to worse: No team could use a bye week more than Chicago, so this season it is coming at the perfect time. From limping into the bye on a four-game skid to dealing with countless injuries, the Bears need time to regroup and refocus as things are going south in a hurry.
To make matters worse, the quarterback position took another big blow as Nick Foles left the game late in the fourth after taking a hard hit. While the injury is undisclosed now, it does appear his future for week 12 is in doubt. That poses a problem to a team struggling to score points and already down one quarterback.
Initial tests on #Bears' QB Nick Foles did not show anything significant, per @MikeGarafolo. Matt Nagy said after the game that it's a back/hip injury, but tests did not show any fractures. Chicago has a bye coming up.

— NFL Update (@MySportsUpdate) November 17, 2020
With Mitch Trubisky and now the possibility of Foles out, Chicago may have to turn to Taylor Bray or Kyle Sloter against the Packers. That would be the worst possible outcome for a team not only struggling to score but a team that is fading in the standings. Things could get slightly better before their next game as Trubisky is said to have nothing structural wrong with his shoulder, meaning he is day to day.
Let's say the Bears take the week off and come back next week and he feels rejuvenated. Well, that gives the Bears at least something to work with, as Trubisky will be back as the starter even if it isn't the way he had hoped. Regardless of his play early on, the Bears can't be in worse shape than they are now. Hopefully, it isn't too late for them to turn things around.