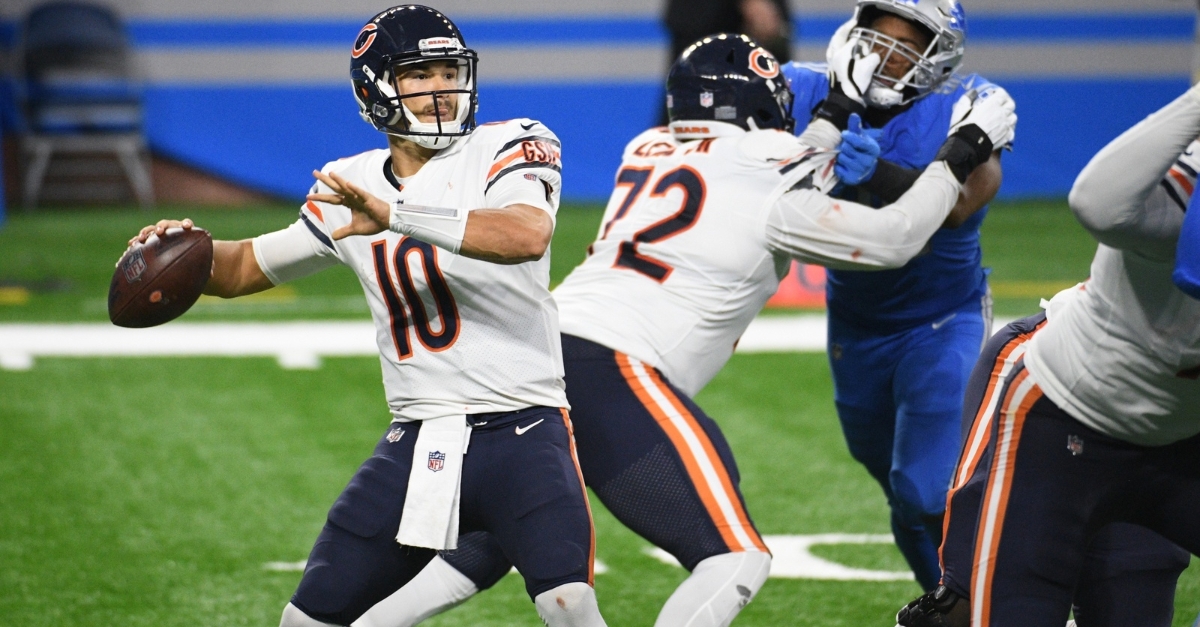 | | |
| --- | --- |
| Three Things to watch, Prediction: Bears-Lions | |
---
Who would have thought that when the Bears started the season 5-1, week 13 could ultimately decide their fate this season? Well, here we are, and the Bears season rests on the results from this weekend's game with Detroit. After that 5-1 start, things have not only gone south but have spiraled out of control to the point of possible no return.
The Bears are now sitting at 5-6 with their playoff hopes quickly fading off their fifth consecutive loss. They are on the outside looking in as we speak, and just one more loss could ultimately seal any hopes of making the postseason. The Bears need to be ready to go and come in with the playoff mindset win or go home as that seems to be what could happen.
Fortunately for them, the Bears are facing off with a reeling Lions team of their own who recently fired both GM Bob Quinn and Head Coach Matt Patricia. In steps Darrell Bevel from the offensive coordinator role to head coach the rest of the way, he looks to have the Lions finish on a positive note of their own. Should the Lions find a way to win, they would pass the Bears in the standings, so this is a big game for them. Here are three things to look for in week 13.
What Lions team will we see? For the most part, the Lions are the Lions and have been that way for quite some time. Under Patricia, the team showed moments of greatness, but at the same time showed moments of a team going nowhere fast. With Bevell now into coach, it will be curious to see what kind of Lions team shows up.
Bevell has been viewed as a head coaching candidate for some time but has never been given the opportunity. Not only is this his opportunity, but an audition to show what he has. Chicago needs to be ready and can't look past the Lions this weekend. Look what happened to Atlanta when they made the move from Dan Quinn to Raheem Morris. The Lions are talented enough for a similar outcome.
#Lions WR Kenny Golladay (hip) is officially out for Sunday's game vs. the #Bears, his fifth straight game missed. QB Matthew Stafford (thumb) and RB D'Andre Swift (illness) are questionable.

— NFL Update (@MySportsUpdate) December 4, 2020
Will history repeat itself: The one telling stat leading into Sunday's contest is the overall success that Trubisky has had against the Lions. He orchestrated a game-winning drive with Anthony Miller catching a perfect pass with less than two minutes to go back to week one, and Trubisky is now 4-0 against Detroit in his career.
Not only that, but the numbers also he has put up against the Lions are the best stats among any opponent so starting him this week is the right decision. I know Trubisky needs to do a lot more than just beat the Lions to earn the fans' trust, but a win to put an end to the losing streak will be a huge confidence booster going forward. Chicago has a very favorable schedule for the rest of the way and can quickly get hot at the right time. The question is, will they?
Mitch Trubisky vs. the Lions since 2018:
4-0 record
69.3% completion rate
12 touchdowns
1 interception
8.7 yards per attempt
124.4 passer rating

— Kevin Fishbain (@kfishbain) December 2, 2020
The return of Akiem Hicks will be crucial: As of now, I believe Hicks is set to play, but nothing has been determined as of yet. That could be good news or bad news, depending on what happens. Should he play, that is excellent news for the Bears defense as he may be the MVP of that defense without getting the recognition.
If he is forced to sit out again, the Bears defense certainly needs to rise to the occasion as they have not been the same team in his absence. Since his departure in the second half against the Vikings, the Bears defense has been a shell of who they are, and the results show. Not only are they giving up way more points, but they have not been able to contain them consistently, which leads to longer opponent drives.
Remember, it's not just Akiem Hicks. Bears are also without Eddie Goldman and Roy Robertson-Harris. Their DL is missing 3 of their top 4 guys.

— Johnathan Wood (@Johnathan_Wood1) November 30, 2020
Hicks may not get the recognition of Roquan Smith and Khalil Mack, but I would argue that he is a more critical piece than both. He is the heart of that defense and the anchor up front who stops the run. When he plays, the Bears are a much better team, and the results prove that. When he is out, the defense struggles to do much, and that causes a problem. He needs to play for the Bears to have any glimpse of hope at the postseason.
Prediction: This is a game the Bears should win, especially when you consider it at home. I firmly believe Chicago does win this week, but it won't come easy. The Lions are in a similar position to the Bears, but they elected to make a coaching change in season with hopes of giving the team a spark.
Detroit has talent on both sides of the ball, even if their record doesn't show. They tend to be competitive in most of their games, but for some reason, do not know how to close out a contest. I expect the Lions to give one of their better performances this season, but it still won't be enough as the Bears defense comes up huge in the 24-17 win.