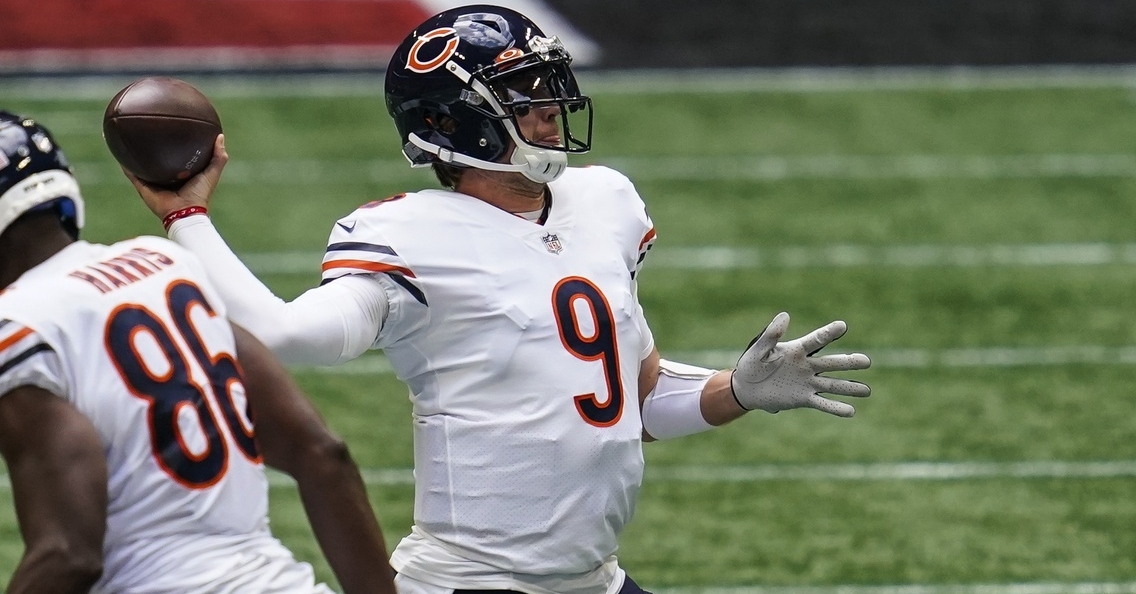 | | |
| --- | --- |
| Three things to watch, Prediction: Bears-Colts | |
---
| | | |
| --- | --- | --- |
| Saturday, October 3, 2020, 8:58 AM | | |
Week four has gotten off to an eventful start more ways than one. You had the Denver Broncos win their first game of the season against the winless Jets last night, but that wasn't what took center stage so far this week. Instead, we knew it was all coming, but just a matter of when as COVID finally made its way through an NFL locker room, forcing the Tennessee Titans and Pittsburgh Steelers matchup to get postponed later this season. It looks as if the NFL will take a similar approach to the MLB and try to get this season played at all costs.
This week the undefeated Bears welcome a 2-1 Colts team riding a two-game winning streak. Nick Foles will be the starting quarterback, and the Bears are looking to keep things rolling to start the season. Although Indianapolis may be slightly favored in this game, don't expect the Bears to go down without a fight as this will not only be a home game but a chance for Foles to prove his worth in Chicago.
Here are three things to look for ahead of their matchup.
Nick Foles' team now:
It only took two and a half games, but Matt Nagy has seen enough of Mitch Trubisky, at least for the time being. After leading the team to a come from behind win last week, the Foles team moved forward as Nagy committed to him as the starting quarterback.
Many people saw this coming for a while. It was more of a case as to when it would happen. Now that the move has been made, look for the Bears offense to be more consistent as Foles knows what he is as a signal-caller. Look for Nagy to design the offense around his strengths and put the players in the best position to succeed. He did that on Sunday, and it looked as if the team responded in a big way during the fourth-quarter comeback.
How @NickFoles and the @ChicagoBears led an improbable comeback in Week 3. (via @BaldyNFL) pic.twitter.com/7E6bGxInuV

— NFL (@NFL) October 2, 2020
Contain Jonathan Taylor and force Phillip Rivers to beat you:
This may not be the smartest statement in the world, but it is true. Through three games, the Bears have uncharacteristically been bad when it comes to stopping the run. They will have another challenging task this week as rookie sensation Jonathan Taylor is looking like a topflight back in this league.
The Bears need to focus in on him early and often and force the Colts hand to beat them with the pass. Typically when you face a quarterback of Rivers talent, you want to keep the ball out of his hands. However, with one of his weapons in Paris Campbell out and his knack for throwing interceptions, I tend to think the Bears will want the ball in his hand more often than not. Rivers is going to get his yards, but he will also make mistakes. It just comes down to how many mistakes the Bears can force him to make.
Philip Rivers on the mic is gold. ??@Colts pic.twitter.com/CJZETdh63G

— NFL Films (@NFLFilms) October 1, 2020
One game at a time:
Right now, the Green Bay Packers appear to be the crop of the division, but the Bears have managed to stay unbeaten and stay even with them atop the NFC North. Chicago has not had the toughest of schedules thus far, which will get much more challenging this week.
The key for the Bears is to take things one game at a time and let everything else take care of itself. It is hard not to watch what other teams are doing, but right now, there is still a lot of season left, so Chicago needs to focus on the task at hand. They know what is at stake and what they are playing for at this point.
If Chicago were to lose this week or next week, it wouldn't be the end of the world if they stay focused. They can't get too high with each passing win, and they can't get to low if they lose. They need to focus on the present moment and do what they need to do to keep the train rolling.
Prediction: Bears win in overtime 27-24
No game is easy when you look at an NFL season, but this will be the toughest task for the Bears thus far. Through three games, Chicago has managed to go 3-0, but most feel like they should be 0-3 given the inconsistencies we have seen. Against a Colts team with a winning record and is starting to play well, those inconsistencies can't continue.
The Foles era began with a bang last week, and it will transfer over to this week as he makes his first start in Chicago. Chicago is hoping the offense can pick up where it left off during the second half in Atlanta. As many experts have touched on so far, the Bears defense hasn't played up to their standards so far, and they know that.
However, it seems as they step up whenever they need a big play. For the sake of a pure confidence booster, this side of the ball needs to bring a complete-game effort to the table to limit the big plays from the Colts offense. I look for another highly contested game between two good teams, but I think the Bears pull one out 27-24 in overtime to improve to 4-0.