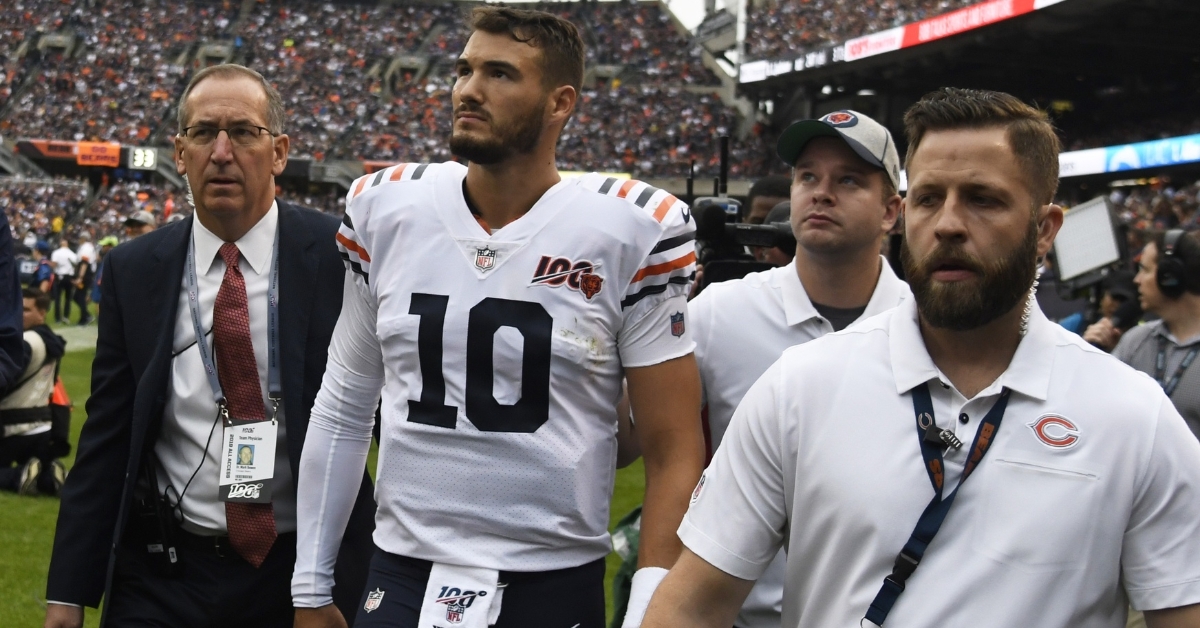 | | |
| --- | --- |
| Bears News: What if Mitchell Trubisky is hurt for an extended time? | |
---
The Chicago Bears won a sluggish game Sunday against the Minnesota Vikings while missing several key starters. Of those injured players, Mitchell Trubisky's departure due to an injury in the first quarter has raised the most alarm. According to Adam Schefter, the injury is a dislocated shoulder, and the bears starting quarterback should be back "sooner rather than later." But if the young signal-caller is out for an extended time, what are Chicago's options at the quarterback position?
The top of their answer sheet is their current starter, Chase Daniel. Daniel is a veteran and has had success coming in for a few games and being average enough to win. Including last Sunday's win, Daniel is 3-2 in his career with a 5:3 touchdown to interception ratio. He is the definition of average.
Despite that, Daniel knows Matt Nagy well. It's the main reason he was brought in to be Trubisky's backup when Nagy arrived. Daniel was a backup on the Kansas City Chiefs every year that Nagy was the quarterback coach there. Familiarity may not directly win football games, but it certainly helps when it comes to putting a backup quarterback into a game.
While the Bears don't have the assets to trade for a quarterback, trading for a one-year rental while Trubisky heals would not be a terrible idea. Of possible trade candidates, Tyrod Taylor emerges as the best available. Taylor was solid in Buffalo before being traded and eventually let hit free agency by the Cleveland Browns. He is now backing up future Hall of Famer Phillip Rivers in Los Angeles.
Through his 46 starts from 2015-2018, Taylor compiled a 23-21-1 record with 53 touchdowns and 11 interceptions. His running ability makes him a versatile threat as well, with 15 rushing touchdowns in that same span. Taylor would be able to step in and make smart enough decisions to keep the Bears in contention. The only downside to getting him would be the trade package the Bears would have to put together with their already limited draft capital.
Another non-trade option for the Bears would be the much-maligned Sam Bradford. Bradford is best known for being immensely overpaid despite his performance on the field. His career earnings are nearly $130 million despite a 34-48-1 record as a starter and touchdown to interception ratio of 1.69 touchdowns to every interception.
Bradford would not be the most anticipated or celebrated pickup in the event the Bears need a long-term starter. However, the move would be likely if they wanted someone who was a perceived upgrade over Daniel. The move would also not cost the Bears any draft picks, which could mean Bradford would be the frontrunner in this race.
A final option the Bears could consider would be a combination of the last two quarterbacks. Ryan Tannehill is a player the Bears could consider if they wanted a slightly better Bradford while giving up a small trade package. In a vacuum, Tannehill's numbers aren't terrible. Across six full seasons, the former eighth overall pick averaged 3405 yards, 21 touchdowns, and 13 interceptions.
What needs to be remembered is how his average play produced less than average results. In those six seasons, Tannehill started games, and there was only one year in which he produced a winning record. In that season, Tannehill was injured and missed three games that season and all of the next season. While Tannehill wouldn't be the worst secondary option, the Bears would undoubtedly like to avoid that scenario.
While these quarterback options aren't terrible, the Bears would certainly like to have Trubisky back "sooner rather than later," as Adam Schefter reported. With the defense playing well and the schedule starting to become more difficult, the Bears hope to get more clarity around their quarterback situation soon.