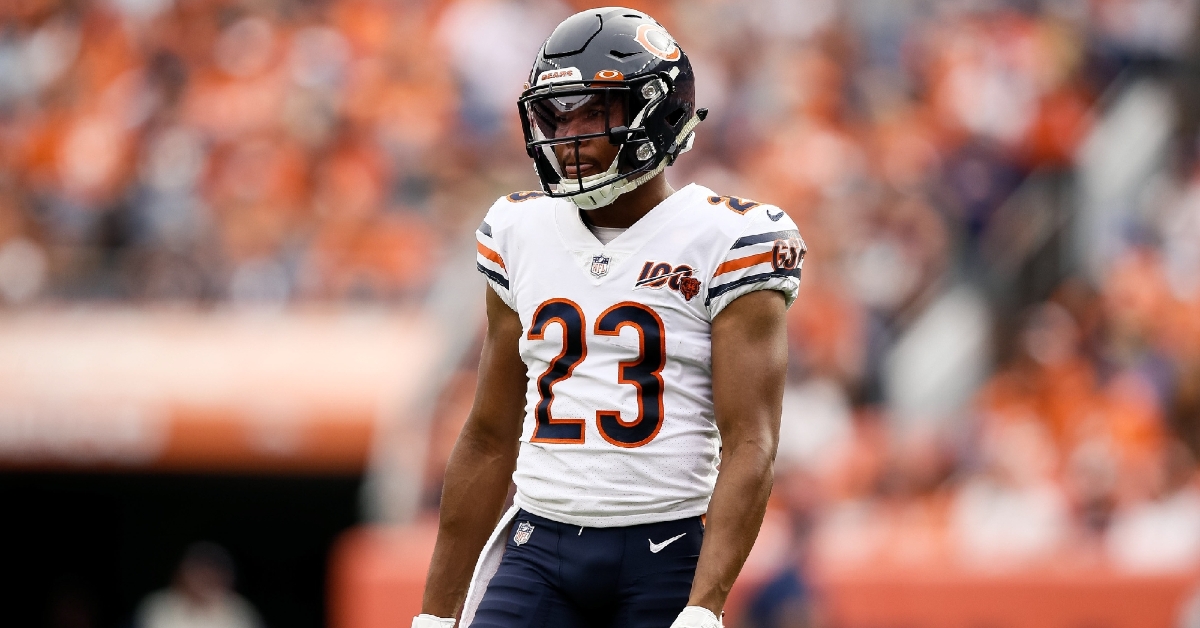 | | |
| --- | --- |
| Where are they now? Re-grading the 2014 Bears draft class | |
---
Throughout the early part of the 2010 decade, the Bears struggled to find quality talent in the draft. When they did find talent, however, those players didn't last long in the league as injuries seemed to derail their careers. With eight picks in 2014, would this year be different?
Round 1 Kyle Fuller (CB Virginia Tech): Needless to say, the first-round selection of Fuller was a big move for this team as he has become one of the better corners in the game. Now entering his seventh NFL season, all with the Bears, Fuller has done nothing but impress as he has been selected to two pro bowls, an All-Rookie team and a first-team all NFL selection back in 2018 when he was the co-leader in NFL interceptions.
Fuller continues to be the definition of a lockdown corner recording 325 tackles, three forced fumbles, 74 pass breakups, and 18 career interceptions. He has yet to score a defensive touchdown, but that doesn't take away what he has done on defense. Fuller remains the top defender on the Bears roster and will continue to be that man for the foreseeable future.
Round 2 Ego Ferguson (DT LSU): Apparently defense was the focus early in 2014 as the Bears added Ferguson in the second round. A 300-pound run-stopper in the middle, Ferguson didn't emerge until his junior season at LSU before a strong combine and pro day showing elevated his draft stock. Once arriving in Chicago, he had a tough time seeing the field as injuries and suspensions derailed his tenure in Chicago.
After making his NFL debut in 2014, Ferguson played in just four games in 2015 before being placed on IR. Later that season, he was busted for performance-enhancing drugs and was hit with a four-game penalty. Things went from bad to worse as he suffered a season-ending shoulder injury in the final preseason game of 2016 and was later released from the team.
That would be the final chance at an NFL roster for Ferguson as he spent part of 2017 on both the Packers and Lions practice squad, but hasn't appeared since. He recorded 27 tackles, two sacks, and three pass knockdowns in his career.
Round 3 Will Sutton (DT Arizona State): Defense remained the focus in round three as Sutton was now headed to Chicago. Unlike Ferguson, Sutton had a much better career and showed the potential to be a starter long term. Although he never recorded a sack in three seasons with the Bears, he accumulated 60 tackles as he showed the ability to make plays on the field.
An ankle injury midway through the 2016 season winded up being the final appearance he would make for the Bears as he finished that season on injured reserve and was later cut by Chicago. Following his stint with the Bears, Sutton inked practice squad deals with the Vikings in 2017 and the 49ers in 2018, but zero games came from it. He spent the last two years attempting a league comeback playing for the Arizona Hotshots of the AAF in 2019 before joining the Seattle Dragons of the XFL this season.
Round 4 Ka'Deem Carey (RB Arizona): Not many people remember Carey, but that doesn't come as a surprise as he lasted just three years with the Bears. The Former Arizona University back who accumulated more than 4200 yards on the ground in three seasons, spent three years in the Windy City where he played sparingly at best.
During his time in Chicago, Carey picked up 443 yards on the ground to go with a pair of scores. Add in his 131 yards receiving and one touchdown, and there was potential there, but just not enough balls to go around. An injury in 2017 saw his NFL career come to an end as the Bears released him before the start of the season.
While his NFL career may be over, Carey is currently making a name for himself in the CFL as he has been a member of the Calgary Stampeders for the past three years. Although he hasn't done much with 72 carries for 422 yards and two scores, the CFL is a passing league, so any type of rushing production is a bonus.
Round 4 Brock Vereen (S Minnesota): Earning a second fourth-round pick in a trade with Denver, the Bears went back to defense adding Vereen. Like a lot of the Bears picks to start the decade, Vereen's tenure was short and sweet, lasting just two seasons in Chicago before being shown the door.
During those two years in Chicago, Vereen played minimal snaps but did have some success when on the field. He picked up 39 career tackles to go with one forced fumble, one pass breakup, and one interception. After being released by the Bears, Vereen spent time on the Vikings and Patriots practice squads in 2015 before inking a practice squad deal with the Chiefs in 2016. He never played a down since.
Round 6 David Fales (QB San Jose State): The Bears were still searching for a backup this season as the sixth-round selection of Fales looked to be a good move. In just two years as a starter in college, Fales put up 8362 yards through the air to go with 66 TD's and 22 INT. The Bears obviously saw some talent and took him in the sixth round.
Fales began his NFL career by sitting on the bench for two seasons in Chicago before being cut and later resigned in 2016 after his practice stint with the Ravens didn't work out. After not seeing any action his first two seasons in Chicago, Fales saw action in week 17 that season going 2-5 for 22 yards before the Bears released him again.
Following his time with the Bears, Fales went on to play two seasons with Miami and is currently on the Jets roster as he is expected to compete for the third-string job in New York. For his career, Fales has thrown for 287 yards with one score and 1 INT, but 265 of those yards came in his lone start with Miami.
Round 6 Pat O'Donnell (P Cincinnati/Miami, FL): The first special teamer that the Bears drafted this past decade was that of punter Pat O'Donnell. With Robbie Gould handling the place-kicking duties, the Bears were set on that side of the ball and needed to add a punter to their special teams.
O'Donnell has undoubtedly played a vital role for the Bears since they drafted him as he is going to be entering his sixth season with the team this year. Although he has yet to make a pro bowl, he did make the all-rookie team in 2014, so he has shown greatness on the field. His stats should also prove that as he has averaged 44.9 yards for 416 career punts landing 144 inside the 20 and a long of 75.
Round 7 Charles Leno Jr. (OT Boise State): speaking of trading with Denver, this was the second pick acquired in that deal as the Bears made Leno JR their final selection. At that time, this looked to be more of a depth pick, but as time went on, this pick has become so much more.
Leno Jr. has not only spent his entire career with the Bears but has turned into a stable force on the offensive line playing in 86 career games across six seasons, with 78 of those games being starts. Entering the 2020 season, Leno JR will once again be one of the starters on the O-line as he will look to reach 100 career starts in the next few seasons. That alone is a big accomplishment from a seventh-rounder.
Draft Grade B: Yes, once again, the Bears did struggle with some of their picks as injuries, and other factors did them in, but this was the best draft to date of the decade. Not only did their first-round pick in Fuller pan out to be a legitimate star, but the Bears added several other pieces that not only contributed but remain on the team.
Leno Jr. has to be the biggest surprise of them all in the seventh round as he has blossomed into much more than anyone expected. Add the O'Donnell pick in the sixth round, and nearly half of the Bears picks remain with the team seven years later and are still starting.
Upgrade Your Account
Unlock premium boards and exclusive features (e.g. ad-free) by upgrading your account today.
Upgrade Now