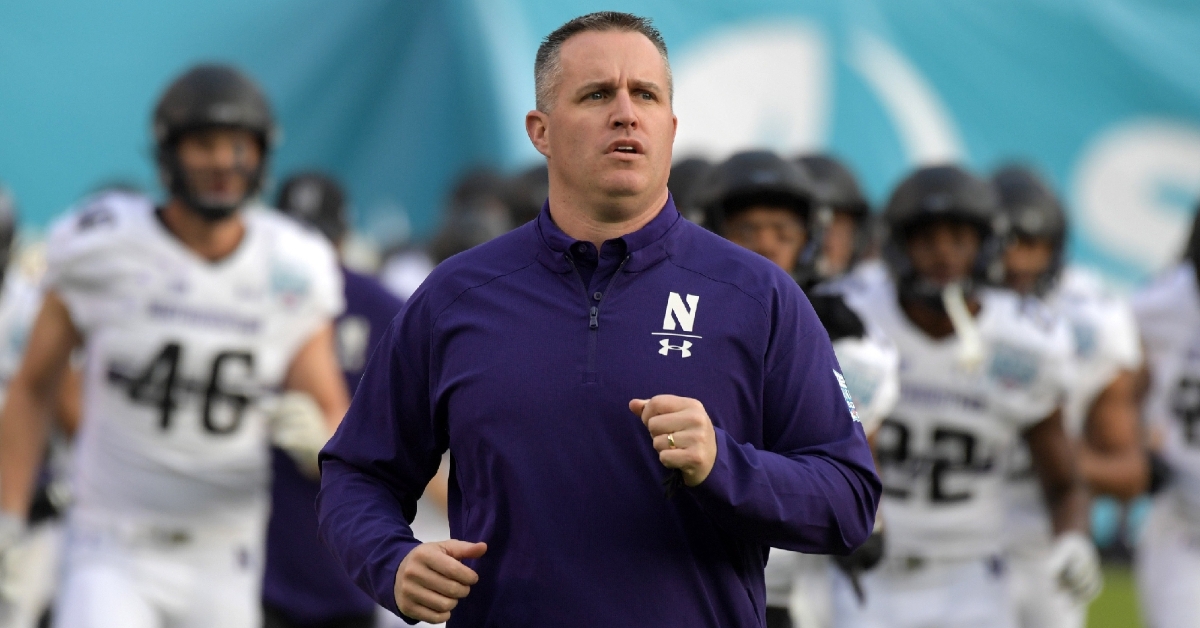 | | |
| --- | --- |
| Will Bears eventually go after Northwestern's Pat Fitzgerald? | |
---
When both the 2020 NCAA and NFL season started, many folks thought the Chicago Bears would be the best team in the greater Chicago area. After starting 3-0 and 5-1, that argument was very valid until their recent five-game skid dropped them to 5-6. With Notre Dame sitting at 9-0 and No. 2 in the country and Northwestern at 5-1 and on the verge of reaching the BIG 10 title game, it is clear who the best teams in the Chicago area.
What if the Bears could ultimately land someone who knows all about success and just so happens to be currently coaching in the Chicago area? Well, for the second year in a row, Northwestern Head Coach Pat Fitzgerald has had his name come up as a possible Matt Nagy replacement. With Nagy firmly on the hot seat the rest of the season, it is only a matter of time until potential names are abundant, and Nagy could be out of the Bears organization.
Fitzgerald to the Bears sounds like a crazy idea, but it isn't that crazy when you think about it. Last season, Fitzgerald was considered for the Packers gig only to return to Northwestern. Now, after becoming one of the more improved teams in the nation, Fitzgerald is sure to have his name mentioned in NFL talks once again, and the Bears are a job he would strongly consider.
While these are just rumoring now, Sports Illustrated's Albert Breer listed the Bears as a potential landing spot for Fitzgerald and that Chicago would be the only team he would be open to leaving Northwestern for in the short term. Whatever the reason for that may never be known, but when you have three kids in high school and middle school, staying close to home is ideal.
Fitzgerald certainly isn't a name that many would expect in head coaching candidates, but he has had connections with both the Bears and Packers in recent offseasons. The difference in the rumors this year as opposed to just interviewing in the past is that Fitzgerald would strongly consider taking the Bears job if it was open and offered to him and quite possibly could be the only NFL job he considers.
When you watch the Wildcats play, their style of play is very similar to that of the Bears. Northwestern prides themselves on a tough defense-first while their offense does just enough to get by. Ultimately, Fitzgerald wants his offense to pick things up a little bit, but given what we have seen with Chicago this season, it would be a similar style of play to take on this challenge.
Chicago is close to Evanston's current hometown, and Fitzgerald has done a fantastic job in his 14 seasons with the Wildcats surpassing 100 wins. He is also on the verge of his second BIG 10 West Title in the past four seasons after winning just two games a season ago. The vast turnaround will almost certainly put him in the coach of the year conversation, and a promotion to the NFL could soon follow.
While most fans roll their eyes or shrug these rumors off, this may be a time to take them a bit more seriously. Given the Bears' position, I find it very difficult to believe that Nagy will be back next season. As tough as it may be to believe, the Bears job will be a highly coveted one that many coaches will interview for.
Expect Fitzgerald to be one of those candidates as Chicago would be his dream job. It is the one place where he wouldn't hesitate to leave Northwestern because it would allow him to coach in the NFL and remain close to home. Last offseason, Fitzgerald's name was mentioned purely as a possibility if Nagy ever went on the hot seat. Now that we have reached that moment, the possibility seems a lot more likely than ever before.
Fitzgerald is a great college coach who has a way to develop not only players but teams. He has his dream job coaching at his alma mater and leads the BIG 10 West while sitting in the top 25. He may be a college coach first, but when it comes down to it, an NFL job is extremely tough to pass up, leaving his chance at the Bears a real possibility.