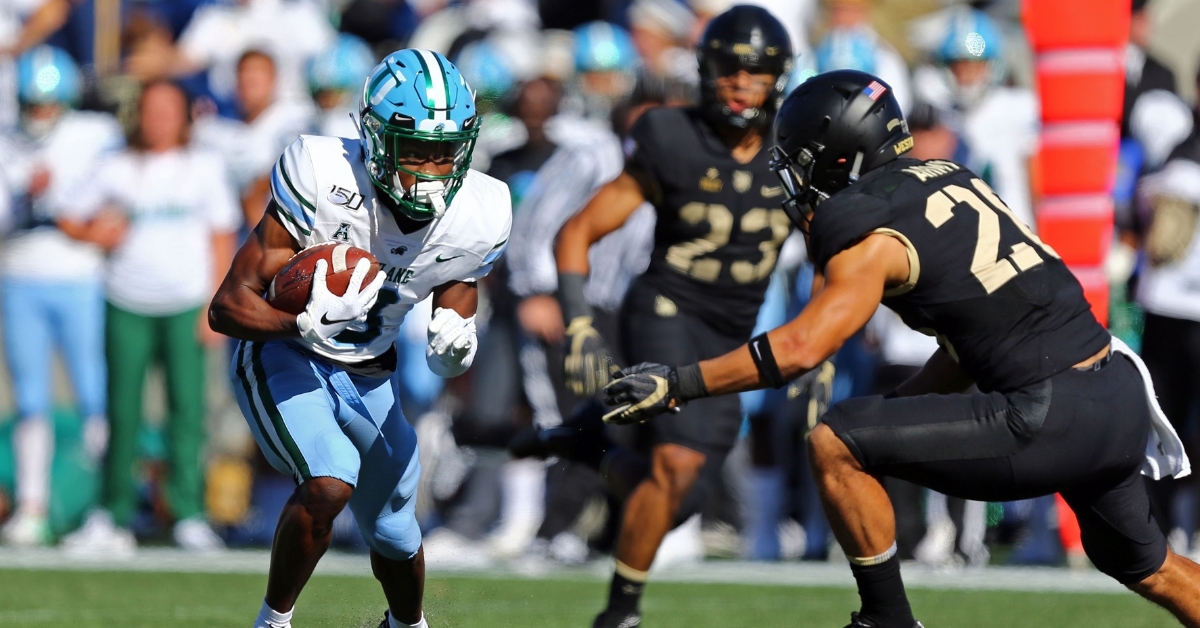 | | |
| --- | --- |
| Bears select speedy WR with No. 173 pick | |
---
The Chicago Bears traded back into the fifth round and selected Tulane receiver Darnell Mooney with the 173th overall pick in the 2020 NFL Draft.
Mooney is an athletic and speedy receiver that can fly around the field. At the NFL combine, he ran an impressive 4.38 40-yard dash.
In 2019, he caught 48 passes and had five touchdowns.
NFL Draft analyst Dane Brugler had the following take on Mooney.
"Mooney is tougher than he looks, but he must better control his dynamic athleticism to make it in the NFL as a consistent weapon."
.@MattForte22's going to like this one...

From Tulane, welcome to Chicago, @Darnell_M1!@MillerLite | #BearsDraft pic.twitter.com/QZTZJ4KZd1

— Chicago Bears (@ChicagoBears) April 25, 2020
With the 173rd overall selection in the 2020 NFL Draft, the Chicago Bears have selected...

Darnell Mooney, WR, Tulane pic.twitter.com/oTg5cEDShm

— PFF (@PFF) April 25, 2020
With the 173rd pic of the NFL draft the @ChicagoBears select @Darnell_M1! #RollWave???? pic.twitter.com/F7RmI98MLq

— Tulane University Football (@GreenWaveFB) April 25, 2020
#Bears use 5th rd pick at No. 173 overall to select Tulane WR Darnell Mooney, who I am told by one scout "can fly." Figured speed would fit profile of what team was seeking at receiver.

— Brad Biggs (@BradBiggs) April 25, 2020
Bears get their field stretcher and burner In WR Darnell Mooney. The most underrated WR in the draft. If you wanted K.J Hamler. He gives you the reason why you wanted him. In space he can house call it at any time.

— Mike Brez (@mikebrez5) April 25, 2020
Another trade ?? This time for WR Darnell Mooney.@MillerLite | #BearsDraft pic.twitter.com/7ir7yk30Zx

— Chicago Bears (@ChicagoBears) April 25, 2020
.@Darnell_M1 is bringing his 4.38 blazing speed to the Windy City and the @ChicagoBears. #AmericanPow6r pic.twitter.com/lS3nqsxBw5

— The American (@American_Conf) April 25, 2020