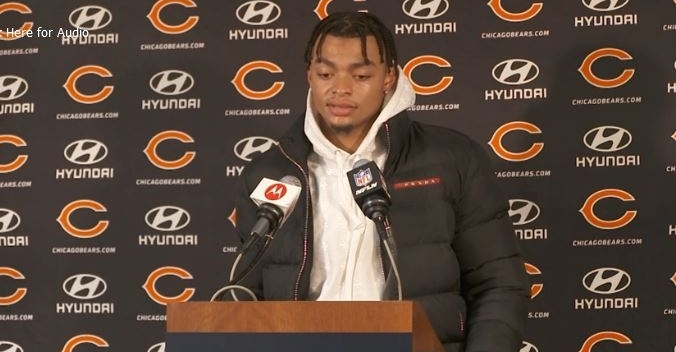 | | |
| --- | --- |
| Bears News: Justin Fields reacts to all the late hits on him | |
---
The Bears have an elite QB1.
However, if gets injured from running him too much or from a late hit, it would be terrible to see such a talented player in Justin Fields out of any game.
Fields spoke to the media Tuesday about his frustrations with all the late hits that seem to happen to him throughout the course of the season.
"It's been like too many times this year where I felt like I've gotten hit late or something like that and there's been no flag," Fields said Tuesday. "So, I mean, I'm going to be on the refs looking for a call. But when I think it's a flag, I'm going to ask the ref and on Sunday he said he didn't think it was a foul. Yeah, I'm going to be begging for those calls and just hope I get one in the near future."
His head coach Matt Eberflus is worried about protecting the franchise quarterback too.
I mean, that's the franchise quarterback," Bears coach Matt Eberflus said. "That's a big issue, always. We're always looking to protect him and do a better job of that."
Fields has 143 carries for 1000 yards with eight touchdowns in 13 games this season. He is only the third quarterback in NFL history to reach 1,000 yards in a single season.
If Ndamukong Suh did this to Tom Brady and not Justin Fields he might be leaving the game in handcuffs.

I understand he was a runner but there has to be more consistency with these calls. #DaBears #Bears #ChicagoBears pic.twitter.com/9Hx5prLkHR

— Clay Harbor (@clayharbs82) December 19, 2022