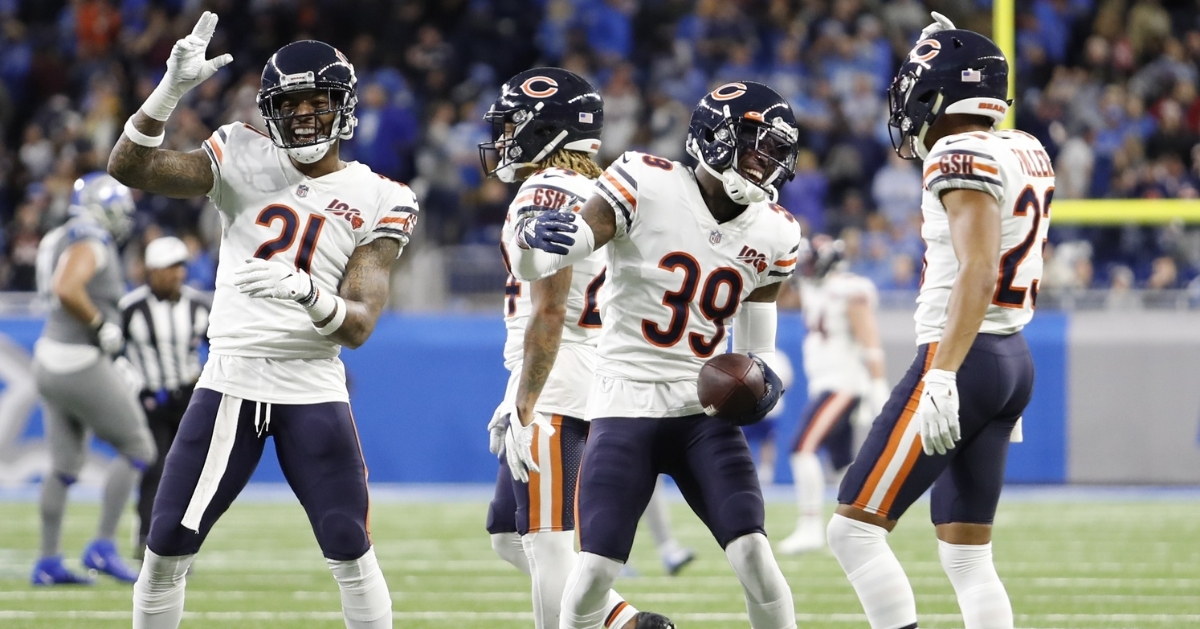 | | |
| --- | --- |
| 2020 Offseason Review: Chicago Bears | |
---
In the 2020 NFL draft, the first-ever to be done virtually was both a smashing success for the NFL as a whole and a much smaller, but certainly positive success for the Chicago Bears.
The Bears were still without a first-round pick but still managed to draft what most experts rated around a B grading. The Bears traded for an additional fifth-round pick. The Bears drafted seven players, two in the second round, three in the fifth and another pair of players in the seventh.
Here were the Bears picks:
Round two (pick 43): Tight End Cole Kmet, Notre Dame
Round two (pick 50): Corner Back Jaylon Johnson, Utah
Round five (pick 155): Outside Line Backer Trevis Gipson, Tulsa
Round five (pick 163): Corner Back Kindle Vildor, Georgia Southern
Round five (pick 173): Wide Reciever Darnell Mooney, Tulane
Round seven (pick 226): Offensive Lineman Arlington Hambright, Colorado
Round seven (pick 227): Offensive Lineman Lachavious Simmons, Tennessee State
Heading into the offseason, the Bears had a few glaring needs. First of all, they needed either a new starting quarterback or a reliable backup to Mitchell Trubisky. They acquired that player in Nick Foles, who will battle Trubisky for the starting spot in 2020 and potentially beyond.
Another pretty significant issue was the tight end spot, and although the Bears rostered almost ten such players last season, not one was able to make a big impact or receive over 100 yards in the entire season. Trey Burton was released, and the Bears addressed this by signing veteran Jimmy Graham. Graham does not block particularly well, but he is a big body and has good hands. However, I believe the Bears overpaid for Graham. The Bears also address tight end in the draft by selecting the top overall tight end in Notre Dame star Cole Kmet, who is from the Chicagoland area himself. The hometown kid will look to be a hometown hero for the Bears.
Another issue that was ever so prevalent last season was the offensive line. The Bears did not do much to address this in the offseason, as they did not go after any big offensive lineman. The Bears signed a few undrafted free agents ad drafted Arlington Hambright and Lachavious Simmons both in the seventh round to add depth, but with a few big-name offensive linemen out on the market, don't completely count the Bears out.
Those were the three biggest holes, but there were other areas to improve. The Bears secondary was solid but rather thin, especially after letting go of Prince Amukamara. The Bears drafted corner Jaylon Johnson in the second round, and many experts love this pick. On top of that, the Bears signed safety Tashaun Gipson to counter Eddie Jackson as well as adding depth in other places in the secondary and even drafting another corner in Kindle Vildor.
Although the defensive line and pass rush did not need much help, the Bears signed a dominant pass-rushing linebacker in Robert Quinn to oppose Khalil Mack as well as drafted Trevis Gipson from Tulsa.
After releasing Taylor Gabriel, the Bears receiving options were a bit thin. Aside from the tight end acquisitions, the Bears signed veteran speedster Ted Ginn Jr. who can stretch the field. The team also drafted speedster wide receiver Darnell Mooney from Tulsa, who many experts adore. It will likely be a lot of two-tight end packages, with Allen Robinson on one side, Ted Ginn Jr. on the other, and Anthony Miller in the slot — not to mention David Montgomery in his sophomore season and hopefully a bounce-back campaign for Tarik Cohen. The Bears also could use Riley Ridley, Javon Wims, or Mooney to catch passes — although drops were a huge problem for this team a season ago.
The Bears also signed 11 undrafted free agents, some offensive linemen were included in that 11, but the biggest name of the group was Khalil Mack's younger brother, Ledarius Mack. What a scary thought it would be to have two Macks on the same defense.
Ryan Pace could also look to sign pro-bowler Larry Worfard or Kelechi Osemele to help bolster up an improved but still-shaky offensive line or look to add even more depth to the weapons that Foles or Trubisky will have at their disposal. Nonetheless, I don't think the Bears are done just yet.
Whether it's Trubisky or Foles under center, the Bears at the very least seem poised for improvement in 2020 — but there still might be some room to improve some more.

Tags: Bears Football
,
Mitchell Trubisky
,
Trey Burton
,
Prince Amukamara
,
Eddie Jackson
,
Khalil Mack
,
Taylor Gabriel
,
Allen Robinson
,
Anthony Miller
,
David Montgomery
,
Tarik Cohen
,
Riley Ridley
,
Javon Wims