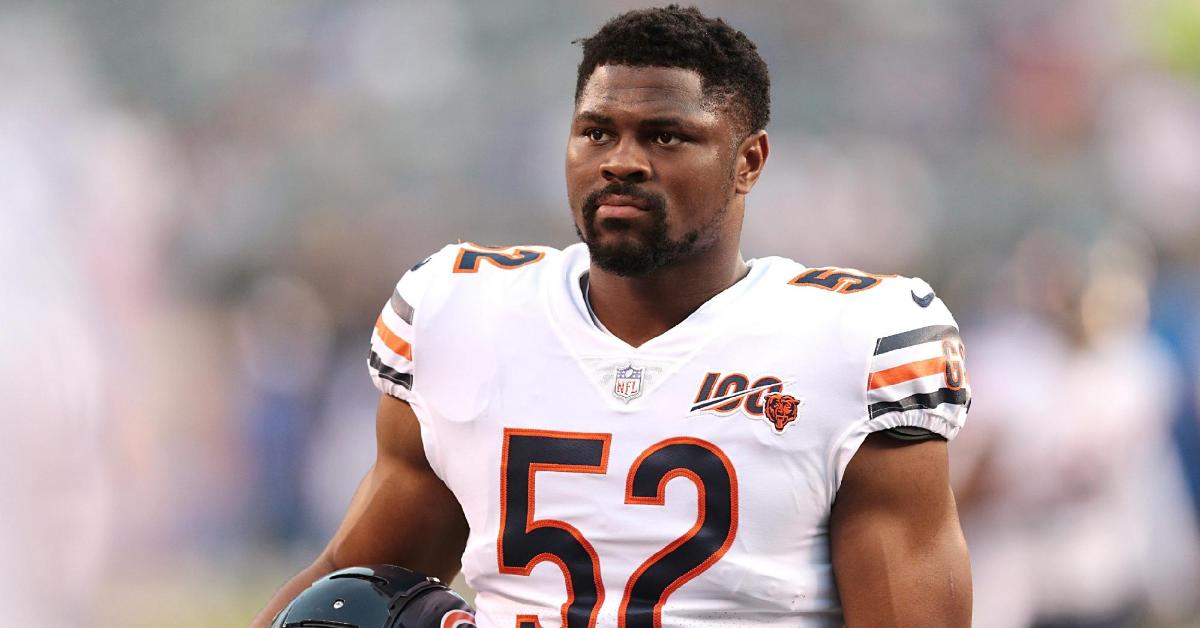 | | |
| --- | --- |
| 2021 Projections for Bears LBs: Mack, Quinn, Smith, Trevathan | |
---
| | | |
| --- | --- | --- |
| Tuesday, August 10, 2021, 12:13 PM | | |
One of the biggest reasons the Bears were so successful in 2018 was a relentless defense fueled by one of the best pass rushes in the game. Since then, the Bears pass rush has been good, but not quite at that same level, and the results of the defense have shown.
Yes, the Bears typically have a top 10 defense, but they are not nearly as tough as when they have a great pass rush to get after the quarterback. Given that so much focus was put into the offense this offseason, the Bears defense will once again hold the keys to the team's long-term success. If they can do their job and get their opponents off the field, the offense can go to work and try to get points.
KHALIL MACK: When the Bears traded for Mack before the 2018 season, it was a move that shocked the world. The Bears added one of the best pass rushers in the game, who then went on to have the best season of his career. His presence on the Bears defense was immediately felt, and the team indeed rose to the occasion because of him.
In his years since Mack hasn't put up nearly the same numbers, and there were questions about whether he would be back with the team this season. A big reason for his decline was from being double-teamed on every play and then a change in the defensive scheme from Vic Fangio to Chuck Pagano. Still, Mack put up double-digit sacks in 2019 and then backed that up with nine more a season ago to go with 11 tackles for a loss.
Prediction: 15 games, 64 tackles, 15 tackles for a loss, 12 sacks
With Sean Desai taking over as the new defensive coordinator, expect things to look similar to the Fangio-style defense. If that is the case, good things could be on the horizon for Mack as he is eager to get back to his 2018 form. Although he may never reach those sack totals again, he should have an impressive season this year as the Bears defense will once again be a force to reckon with.
ROBERT QUINN: On the other side of the field, you will find the other edge rusher in Robert Quinn. Acquired as a free agent in 2020 to replace Leonard Floyd, Quinn was brought in to compliment Mack and was supposed to give the Bears one of the best pass-rushing duos in the game. Instead, the Bears were left scratching their heads as Quinn was a disappointment in his first year in Chicago.
Not only did he record just 20 tackles, but he only tallied two sacks after averaging six plus a season before getting to Chicago. Add in no additional tackles for a loss, and the Bears forked out a ton of money for no production. He did force three fumbles and six QB hits, but even with that, he was in the bottom third of the league, ranking 67th out of 108 qualified Edge rushers, with his teammate Mack ranking No. 1.
Prediction: 16 games, 50 tackles. 10 tackles for a loss, 6.5 sacks
Year two for Quinn will be a prove-it year, and I think he does just that. He may not put up the numbers he did before arriving in Chicago, but anything will be better than last season. Look for him to compliment Mack very well this season, as teams will not be able to double or triple Mack. That will open things up for Quinn more this season, and I expect him to take advantage of that.
ROQUAN SMITH: Of all the draft picks Ryan Pace has made, Smith may be the tops of them all. Drafted in the first round in 2018, Smith has not only produced since stepping on the field, but has been a tackling machine since arriving in the league. Across three NFL seasons, Smith has surpassed 100 tackles in each season, recording 351 so far. He has also forced a fumble, intercepted four passes, and picked up 11 sacks, all coming on a rookie deal.
That type of production has led to both Smith and the Bears discussing a contract extension as he will be getting a massive deal in the coming years.
While most of the attention is focused on Mack on the defensive side, Smith is the engine that makes that defense go as he is the quarterback of the defensive side. He seems to know where the ball is on every play and always seems to make a tackle. There have been times when Smith appears to have clones on the field because he is around the ball 90% of the time.
Prediction: 16 games, 145 tackles, 12 tackles for a loss, four sacks, two interceptions
There may not be many things certain when it comes to the Bears defense, but Smith's production is one of them. Desai doesn't have to worry about this man's production, which will make things so much easier on the new coordinator. When you look at the top linebackers in the game, Smith certainly is among them and maybe a top 10 defensive player. Chicago is happy to have him, and they hope to retain him his entire career, much like Brian Urlacher.
DANNY TREVATHAN: The old man of the linebacker group, Trevathan, is entering his sixth season with the team and has almost as much to move as Quinn. Across his nine-year career so far, Trevathan has accumulated more than 600 career tackles to go with eight interceptions and three fumble recoveries. He also has 10 sacks which most feel could be a bit higher.
Health has always been the issue for Trevathan as he has played in all 16 games just twice in the last five years, with 2018 being the last time. During that season, Trevathan had 102 tackles to go with a career-high two sacks as he was a massive part of the Bears No.1 defense that season. Take that season away, and you are looking at someone who sees action in about 11 games, so the Bears would love him to stay on the field.
Prediction: 13 games, 81 tackles, five tackles for a loss, two sacks: Entering year two of his three-year contract extension, the Bears would love more from him this season. For the second time in his career with the Bears, Trevathan saw action in all 16 games with two of those games' minimal snaps.
He still managed to surpass 100 tackles picking up 109 total tackles on the season to go with one sack and four tackles for a loss. That is much better production than in seasons past and something the Bears are hoping for again this season.
If any of these players get hurt, the Bears have plenty of linebacker depth on the back as Jeremiah Attaochu, Trevis Gipson, James Vaughters, Christian Jones, and Alec Ogletree have all been added as depth pieces. This may give the Bears the deepest LB core of anyone in the NFL, and it will give offensive coaches fits trying to game plan for them.
Upgrade Your Account
Unlock premium boards and exclusive features (e.g. ad-free) by upgrading your account today.
Upgrade Now