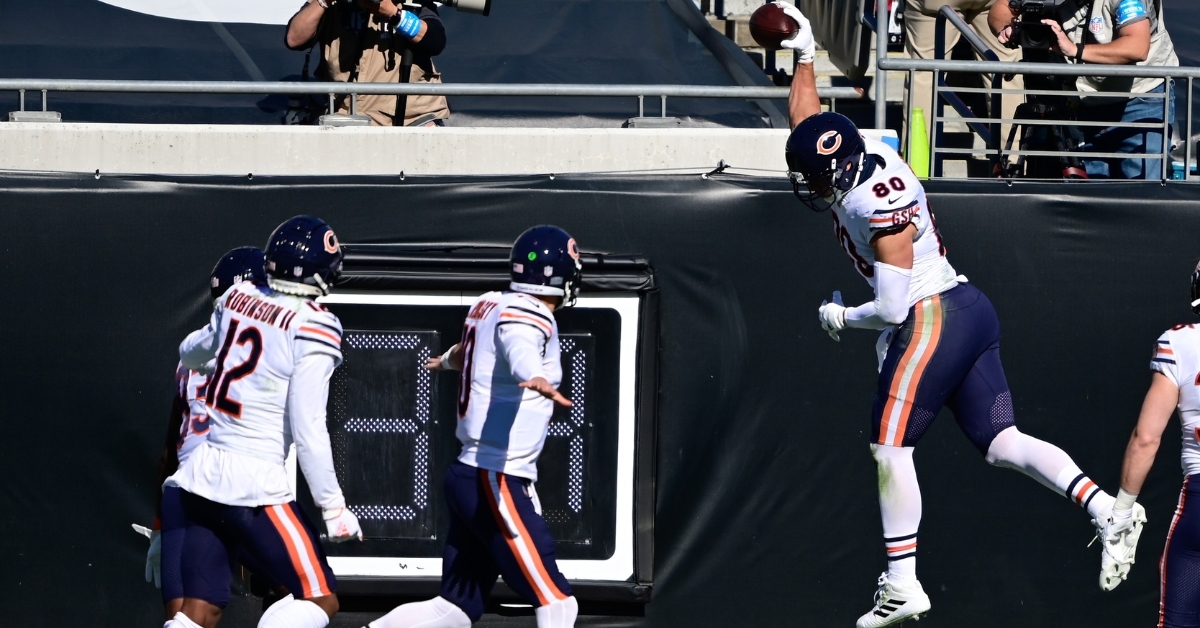 | | |
| --- | --- |
| 2021 Projections for Bears TEs: Jimmy Graham and Cole Kmet | |
---
| | | |
| --- | --- | --- |
| Friday, July 16, 2021, 11:00 AM | | |
As we continue to move down our season projection series, we have reached the final skill position on offense with the tight ends. This is one of the positions that the Bears are looking to get way more production out of than in recent seasons, as Matt Nagy loves to use tight ends much as anyone.
The Bears are set in stone with two tight ends as Jimmy Graham and Cole Kmet will serve as the primary targets for the Bears offense. Chicago has four other tight ends vying for playing time, but the reality is you can't carry six tight ends on a roster.
JIMMY GRAHAM: There was a time when Graham was the George Kittle or Travis Kelce in this league where everyone was trying to be him. Not only was he 6-8 with plenty of size, but his overall speed made him a matchup nightmare, and Drew Brees feasted on that for years. Like all professional athletes, injuries caught up to Graham towards the end of his Saints tenure, and he has been a shell of himself ever since.
Even with the downfall in overall production, Graham continues to be a red-zone threat and one the Bears loved to have in the mix last season. Now entering his 12th season in the league, the days of Graham being a 700–800-yard receiver are over. He no longer has the speed or athletic abilities to be a matchup nightmare, but that doesn't mean he isn't a productive target.
Graham played in all 16 games last season while hauling in 50 catches for 456 yards. The big stat that stands out was red-zone production, where he caught eight touchdowns, which was more than his previous two seasons combined. Even if the yardage isn't what it used to be, the production is still there, which he has no issues with.
After contemplating retirement this off-season, Graham is returning for his 12th season, but some feel this may be it for the 34-year-old. Not only does he rank fourth in touchdown receptions with 82, but he is sixth in catches with 699 and eighth in yardage at 8339. In other words, he is a top 10 tight end all-time, and that is something that can't be taken away from him.
Prediction: 13 games, 44 receptions, 456 yards, nine touchdowns
Graham stayed healthy for the first time in a while, and the numbers backed that up in a big way. Given that he will be 34 this season, it is hard to imagine him staying healthy an entire season again, knowing the number of hits he will take. I think he will miss a few games this season, but look for the production in this offense to be good again.
His yardage and receptions may go down, but he will continue to be a big target in the redzone. Andy Dalton and Justin Fields will benefit from that alone, and Graham should finish among the team leaders in touchdown receptions this season.
COLE KMET: Taken in the second round of the 2020 NFL draft, many people thought Kmet could emerge as the starting TE give his ability to change the game in the open field. Instead, fans got a rookie that went through many struggles early on and barely saw the field the first eight games. After hauling in eight passes for 94 yards and one score through the team's first 11 weeks, the 6-6 Kmet became more of a focal point in the Bears offense bringing in 20 catches for 149 yards and one score across the team's final five games.
With COVID eliminating last year's offseason, the 6-6 262-pound Kmet saw less than 50 percent of the through the first eight games before averaging 82% of the snaps the rest of the way. He had to adjust to the NFL speed on the fly, given his preseason was taken away. Now in year two, Kmet will be used much this season and could emerge as the team's No. 1 tight end before all is said and done.
Prediction: 16 games, 53 catches, 587 yards, 5 TDS
Kmet showed flashes of what he can do when the Bears looked his way more during the second half. Now the key is to build off that success and put that to use for an entire season. Kmet isn't going to be a Kelce type of tight end, but he will be a game-changing tight end that can stretch the field and move the chains.
Those are both critical if you want to have a high-powered offense, and Kmet could be the best tight end Chicago has had since Greg Olson. Hopefully, Nagy gets him involved early and often this season to gain confidence in himself, and Dalton gains the trust in him.
Guys like J.P. Holz, Jake Butt, Scooter Harrington, and Jesper Horsted are all on the active roster, but only one or two will make this team out of camp. Expect these four to see most of the snaps during the preseason, and the best of the best will emerge as the team's No. 3 TE.