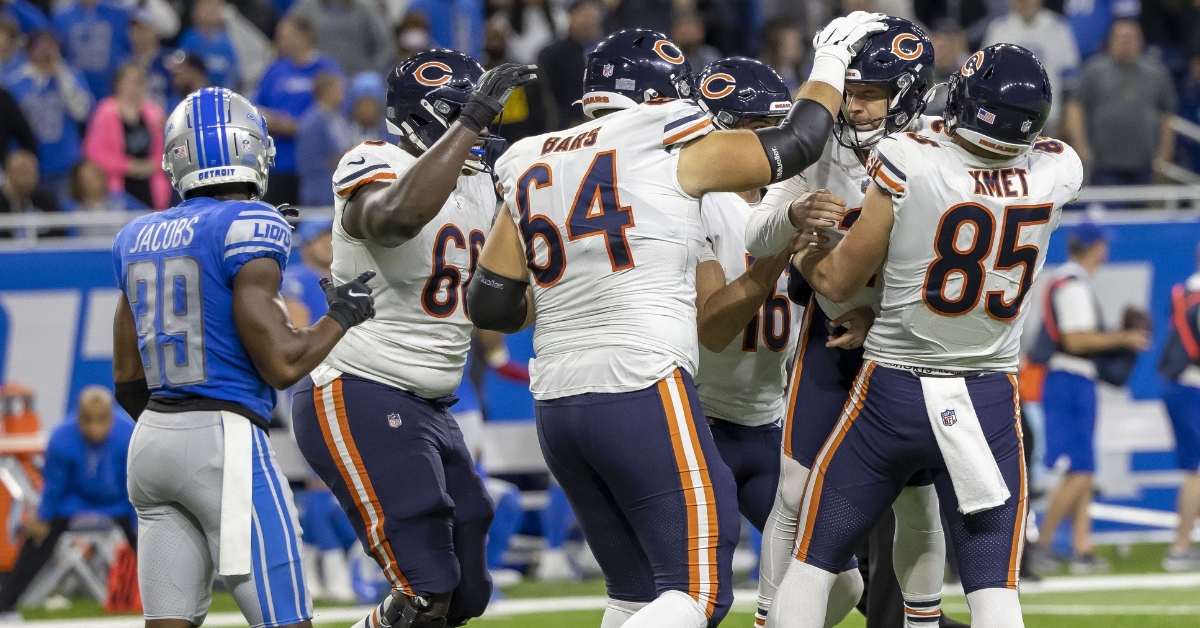 | | |
| --- | --- |
| 2021 Season Report Cards: Bears Special teams | |
---
| | | |
| --- | --- | --- |
| Thursday, February 24, 2022, 11:32 AM | | |
As difficult as it may be to believe, there has been one constant surrounding the Bears roster the past few seasons, and that is special teams. For what it is worth, the Bears special teams unit has been one of the best in the NFL for the last three seasons, and that is a sigh of relief when you look at how the 2018 season ended.
Since the infamous Cody Parkey double doink, the Bears have tried different options at kicker, and it looks like they have finally found their guy. That alone has helped this team win close games, but even when it came to their losses, the special teams group played a significant role in keeping them in most contests.
Ideally, this team would love to score more points, but if that doesn't happen, they have a special teams unit that can help them out. When you look around the NFL, not many teams can say that their special teams unit is solid, which will help this team in the coming years.
There was a time when Cairo Santos was a journeyman kicker who couldn't latch on to a team. Not the strongest leg in the world, Santos has always been consistent, but was never considered a great kicker as he often missed 5-7 field goals a season. Teams can deal with that from time to time, but when you have yearly struggles like that, it becomes an issue.
For whatever reason, Santos has fallen in love in Chicago, and the Bears love him too, which is why he signed a four-year extension last offseason. A career 83.7% kicker, Santos was slightly above average this season, going 26-30, which is 86.7%. He was also 27-28 in extra points to finish the year with 105 points.
Going back to 2020, Santos was even better, making a career-best 93% of his kicks and making 27 straight at one point to lead the NFL. He has been the kicking solution the Bears have been searching for since Robbie Gould left, and Chicago is fortunate enough to have him around a few more seasons.
Season Grade A-: The only knock I have on Santos is his lack of overall leg strength as 54 yards appears to be his max. No one is expecting a kicker to go out and drill a high amount of 50 plus yarders, but the Bears are limited when it comes to attempting long kicks, especially in adverse weather conditions.
Inside 50 yards is a different story as Santos has been near automatic from that range. You will not win a ton of games settling for field goals, but if you have an accurate kicker, you will be in at least most games, and Santos gives them a great shot to come away with points.
Nearing his ninth season with the Bears, O'Donnell is one of the longest-tenured players, and for good reason. Historically, O'Donnell has been at or above the top 10 ranking in terms of punting as he often has to punt the ball away plenty. Good or bad, when it comes to that statement, he can at least change the field position side of things with one good kick.
O'Donnell ranked in the middle of the pack for the season with 62 punts while ranking in the middle with a 46.2 average. Five years ago, that would have been the top five in average yards per punt, but now it sits in the middle as punters are getting better. O'Donnell also had the third-longest punt of the season with 72 yards, but his 19 inside the 20 ranked him 20th. That wasn't his fault as the offense struggled to move the ball.
Season Grade B: O'Donnell has always been reliable and was reliable once again last season. His average was great, but poor field position from his offense made his season look worse than it was. Chicago loves O'Donnell and what he brings to the table as he should be someone this team hangs onto for a few more years.