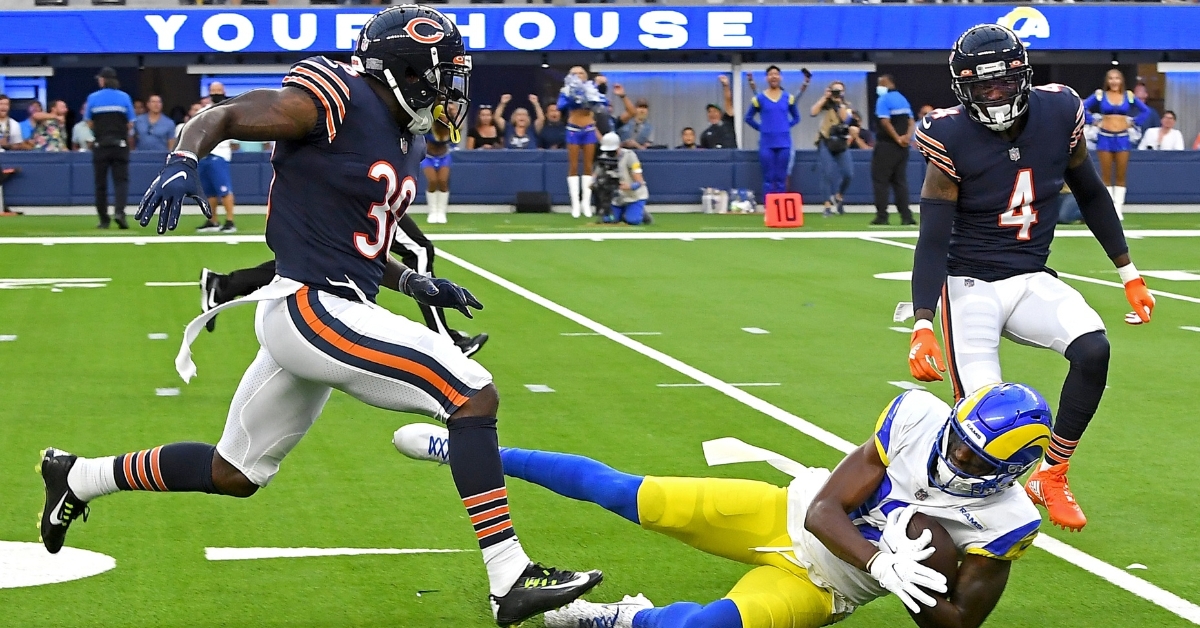 | | |
| --- | --- |
| Bears News: 2021 Season Report Cards: Eddie Jackson, Deon Bush, more | |
---
The final non-special teams position in our season report Series stays in the secondary as we move to the safety position. Known as the last line of defense, the Bears secondary has been skeptical of big plays in recent seasons, and that falls on the play of the safeties. It is hard to believe that a once-all-pro caliber player Eddie Jackson has taken giant steps backwards.
However, that is the case, and his lack of consistent play has hampered the secondary the past few seasons. Add in constant moving parts around him, and it makes it challenging for anyone to get in sync as they tend not to play a ton of games together. Significant changes could be on the horizon for this position as new head coach Matt Eberflus has but several players on notice.
The one constant in the secondary has been Jackson throughout the years. Drafted in the fourth round of the 2017 NFL draft, Chicago loved the play he gave them over his first few seasons and rewarded him by making him the highest-paid safety in the league. At the time, Jackson was an all-pro who led the league in interceptions, so the deal made a ton of sense.
Since that time, Jackson has taken giant steps backwards, and it has really affected the Bears defense, especially from a secondary side of things. When on the field, Jackson was a busy man accounting for 76 tackles with 54 solo. I am not sure if that is a good thing, but he was all over the field. Jackson also forced one fumble and broke up two passes. However, with zero interceptions to his name, that is where the concern lies.
Season Grade D: I will be very harsh on Jackson for a variety of reasons. First off, this was a former all-pro safety who was rewarded by becoming the highest-paid safety in the league. Since that time, he has done nothing to earn that contract, and it hasn't been good. Jackson has been giving up way too many big plays, and that can't happen when you are the safety.
Perhaps the biggest issue right now is his effort, or lack of effort. There were countless times last season when Jackson showed little effort, if any effort at all. Eberflus hasn't even been with the team a month yet and has already called out Jackson for that effort. It will be curious to see how Jackson responds this season.
A surprising star on defense this season was that of safety Deon Bush. A 2016 fourth-round pick, Bush was primarily a reserve safety who thrived in special teams most of his career. Sure, Bush has always seen the field, but not at the level he did this season. Had it not been for extended time on the field, the Bears may have missed out on what they had in him.
This season, Bush nearly doubled his career tackle mark, accounting for 40 tackles and 31 solo. Both of those numbers are career highs as Bush was as valuable as they come. To go with that, he picked up the slack that Jackson left behind, where he defended five passes and came down with two interceptions. That type of play should land him in the running for a starting spot next season.
Grade B+: The effort Bush showed last season was second to none and makes me wonder what took so long for him to get the playing time he did. Now that he has proven to be a reliable asset on defense, look for the Bears to potentially use him more as the featured safety next to Jackson. They better figure out what to do with him because you can bet several other teams will be looking to get his services if the Bears don't make him the starter.
Tashaun Gipson Jr.
Another surprising player was the offseason pickup of Tashaun Gibson Jr. The former Cleveland Browns safety has been around for nearly a decade and has seen significant time on the field as a member of the Browns defense. Signed to be a platoon or particular package player, Gipson lived up to his billing and became an under-the-radar star for this team when needed.
With Jackson struggling on the field and dealing with injuries, he was thrown into more action quicker than anyone expected. Once he saw the field, the Bears were glad he did as he was just as reliable as Bush. His 47 tackles were great, but 33 were solo, showing he knows how to wrap you up and take you down. To go with that comes one fumble recovery, five pass breakups, and two interceptions for a defense that lacked turnovers.
Season Grade B+: Gipson proved to be a steal for the Bears as Ryan Pace did an excellent job filling holes with free agent names. Luckily for Chicago, he is one of those free agents that should be back, which bodes well for this defense. Not only could you pair him with Jackson, but should Jackson be let go, Gipson is more than capable of handling starting duties.
Deandre Houston-Carson
Adding defensive depth was a huge part of the Bears offseason, and Houston-Carson fits that mold. Another guy who was brought in as a depth piece, Houston-Carson, quickly learned that he would be a busy man as he was another one called on during the injury-riddled defensive season for Chicago.
Unlike Bush or Gipson, Houston-Carson didn't produce at a great level, but he was still consistent, which is all that matters. Not only did he account for 51 tackles which were second behind Jackson at the safety position, but he broke up four passes and came away with a pair of fumble recoveries. Add in an interception, and Houston-Carson performed exceptionally well when it mattered.
Season Grade B: It is sad, and you could say embarrassing when your all-pro safety gets the worst grade of the group. That is precisely the case, as Houston-Carson also put up better numbers than Jackson. If it weren't for his contract, it wouldn't shock me to see the Bears move on from him.
However, given what he is getting paid, Chicago may be stuck with Jackson, but he may be forced to take a pay cut. All of that aside, the Bears have several other safeties capable of making plays, and their future could be leaning towards new blood and away from Jackson.