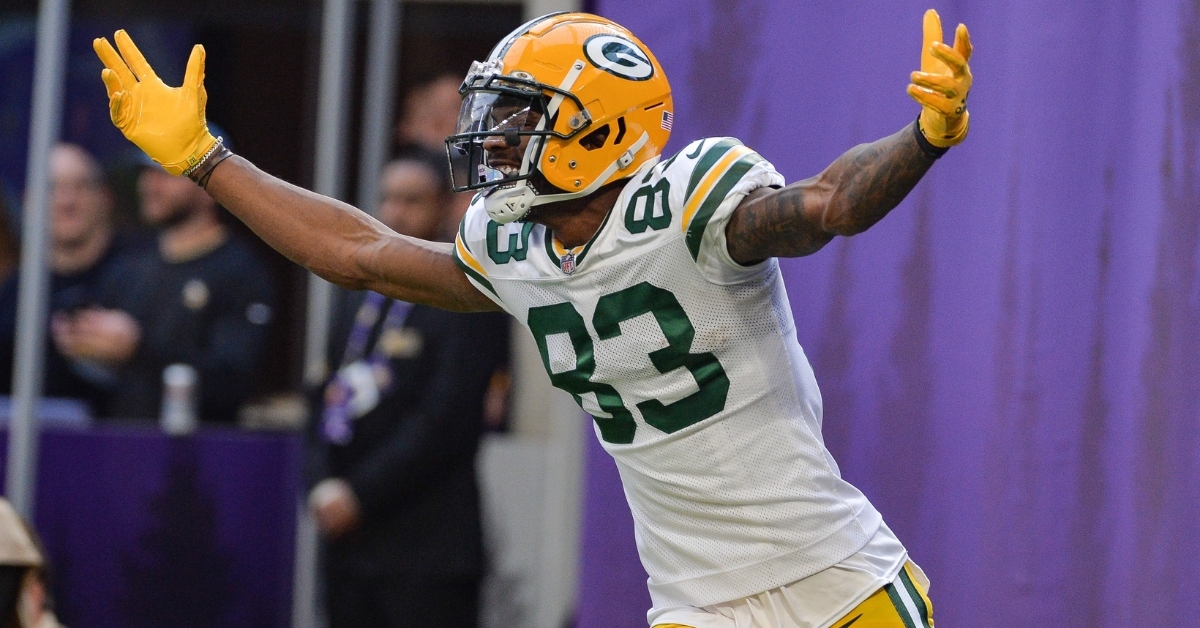 | | |
| --- | --- |
| Bears News: 2022 Free Agent Target: Marquez Valdes-Scantling | |
---
| | | |
| --- | --- | --- |
| Saturday, February 26, 2022, 9:00 AM | | |
Now that the Superbowl is over and the franchise tagging season has begun, the official start to the NFL offseason is underway. This is only the beginning of it all, as free agency begins in roughly three weeks with the NFL draft to follow. That is when we get into the full swing of things, and that alone is a good thing for NFL fans.
Knowing that the Bears have a new GM and have cleared out some extra money to give them more flexibility, it is time to look at some of the needs on this team. One of those needs you would like to think is on the offensive side, more specifically, the WR position. Darnell Mooney looks to be the future No.1 on this roster, but apart from him, Chicago doesn't have anyone else capable of shouldering the load.
Allen Robinson was thought to be that guy, but after his contract situation went south, so did his play, as he endured the worst season of his career last year. He is now a free agent and will not be returning to Chicago, giving the Bears a gaping hole to fill at WR. Ryan Poles knows this and will do what he needs to do to fill that position, whether through the draft or in Free agency.
Should he go the free agency route, there are plenty of intriguing names, and all you have to do is look three hours north for one of those options. No, I am not talking about Davante Adams, but instead his partner in crime that no one talks much about in Marquez Valdes-Scantling.
Known for his speed, which he is a burner, the 28 year Scantling would give the Bears a reliable No. 2 option capable of taking the top off of the defense at any moment.
Sure, he has had issues when it comes to hanging onto the football, but when he is targeted, he often leads the league in yards per catch, showing you how explosive he is. In just 11 games this season, as he did miss time with an injury, Scantling was targeted 55 times and came away with 26 catches for 430 yards and three scores. He now has 123 catches for 2153 yards and 13 scores in his career.
Although his YPC average is excellent, he still ranked 71st out of 115 qualified receivers with a 66.1 PFF rating. That is not great, but it isn't terrible either, which is why he fits well as a No.2. One good thing to take away from that PPF grade was that it was the highest grade since coming into the league and by quite a wide margin. That leads me to believe his best years are still to come.
When you talk about big-play receivers, Scantling is one of those guys you talk about as he has at least one 70 yard reception in each of the past three seasons. Not only did he average close to 17 YPC catch last year, but he had eight catches of at least 20 yards, three of at least 40, and 18 of his 26 catches resulted in first downs.
To go a bit further, Scantling has 82 of his 113 catches resulting in first downs. That means for all the bad that he does, he does more good by moving the chains and making big plays. 51 of his catches have also gone for more than 30 yards, and that alone is something the Bears could use considering the arm Justin Fields has.
In terms of what it would cost to get him, you are looking at someone searching for a three or four-year deal in the 8-10 million dollar a year range. That is a semi-steep price, but you get what you pay for, and he would give you plenty of production. Getting away from Adams may also help Scantling as he would be targeted way more with a chance to show the NFL world what he is capable of doing.
Scantling is the perfect receiver for Fields, given his size and speed combination. The two of them should fit in well together, and if that is the case, Chicago would have two burners on the outside that defenses will have to account for.