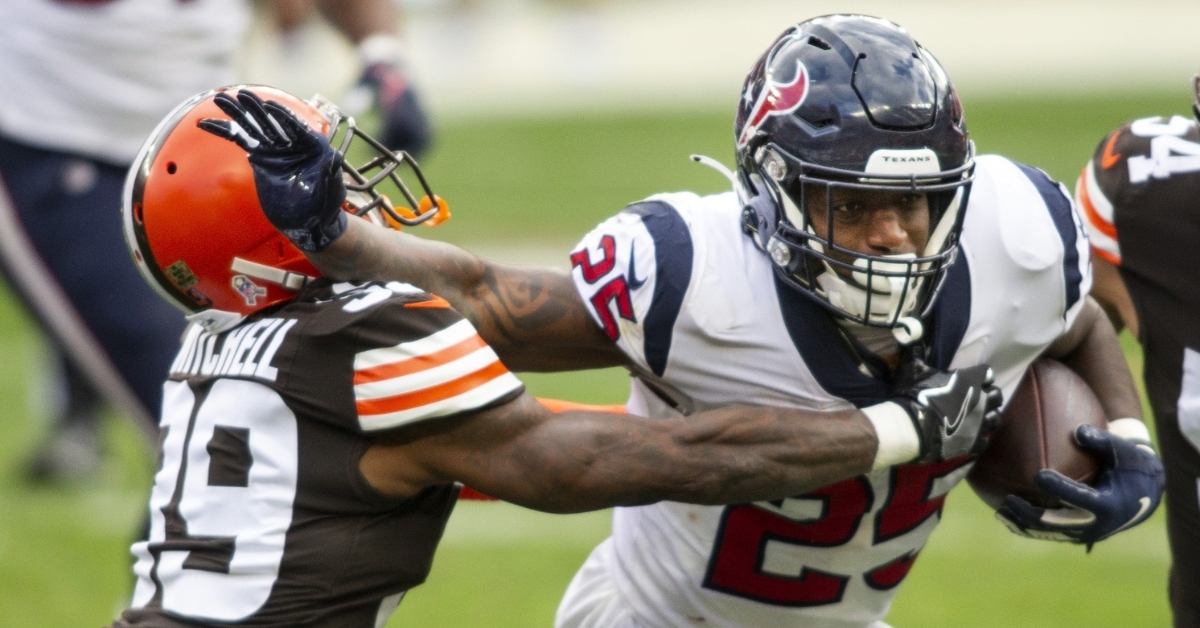 | | |
| --- | --- |
| Analysis of four running backs that Bears worked out | |
---
| | | |
| --- | --- | --- |
| Tuesday, October 19, 2021, 10:14 AM | | |
The Chicago Bears have compiled a 3-3 record, good for third place in the NFC North through six weeks. At times, this team has looked like a contending team, while other times, they looked like a team with no identity. At this point in the season, no one knows what this Bears team is and how good they can be as their consistent play continues to be an issue.
One thing that has been consistent with this team has been the team's excellent rushing attack led by David Montgomery. After being one of the best backs in the league through four weeks, Montgomery went down with a knee injury in week four and will miss a few more weeks before returning. With Tarik Cohen also on the shelf as he works back from his torn ACL, the Bears running back depth was put to the test earlier than they would have liked.
Expecting to use a RB by committee with Damien Williams and Khalil Herbert shouldering the load, Williams was placed on the COVID list before the game on Sunday after testing positive. That left Herbert as the only active RB on the roster, although Chicago did call up Artavius Pierce from the practice squad.
Knowing that Montgomery, Cohen, and Williams could be out another week, the Bears know their depth is being put to the test, which forced their hand to work out four RBs this week.
Duke Johnson
We have seen the Bears work out a ton of players this season, and most of them are not well known. Johnson is not one of those types of players as he has already established an excellent career. At 28 years old, the former University of Miami product has had plenty of NFL experience, logging 91 games as a pro thus far.
Although he has only made 17 starts, Johnson is the definition of a second-string back who does everything you would expect a reserve back to do. One thing he does well is catching passes out of the backfield, which could help Fields out should they sign him. In his four years with Cleveland from 2015-18, Johnson not only averaged 59 receptions, but 542 yards receiving. He also averaged close to 500 yards on the ground, making him a very valuable piece.
Chris Thompson
Just like Johnson, Thompson also fits the mold of a pass-catching RB, which the Bears would benefit from having. Not only has he played 74 games himself, but 60 of those games came in 2015-19 as a member of the Washington Football Team. During his time there, he averaged 55 receptions for 465 yards per season.
Add in his 4.8 YPC average on the ground, and Thompson made plays with the ball in his hand. A few years ago, it would have been hard-pressed to find Thompson sitting on waivers this long. Given the overall depth of the RB position, especially this season, Thompson has indeed been waiting for work, and maybe the Bears can give him some.
T.J. Logan
Unlike the names listed above, Logan doesn't have a lengthy career and hasn't had an opportunity to showcase what he can do in the field. He has done well thus far on special teams, where he has spent time as a return man for the Buccaneers and Cardinals.
When given those opportunities to return kicks, Logan has averaged 9.5 yards per punt return compiled over 13 attempts. Across his 25 kick returns,
Logan averaged around 22.7 YPA. He will be the less likely of the names mentioned to strike a deal, but if he is signed, look for him to fill the void in Special Teams that Herbert had earlier this season.
C.J. Marable
If this name sounds familiar to Bears fans, you would be correct as he was in Bears camp over the summer. An undrafted free agent in this year's draft, the former Coastal Carolina RB spent time with the Bears this summer before being cut before the start of the season.
Marable is an intriguing option for the Bears, knowing what he brings to the table and bringing some familiarity into the mix. He is the one guy on this list that could step in and play immediately because he already knows what the Bears offense is all about. Marable has plenty of potential, and it would be nice to see him have another opportunity with this team.