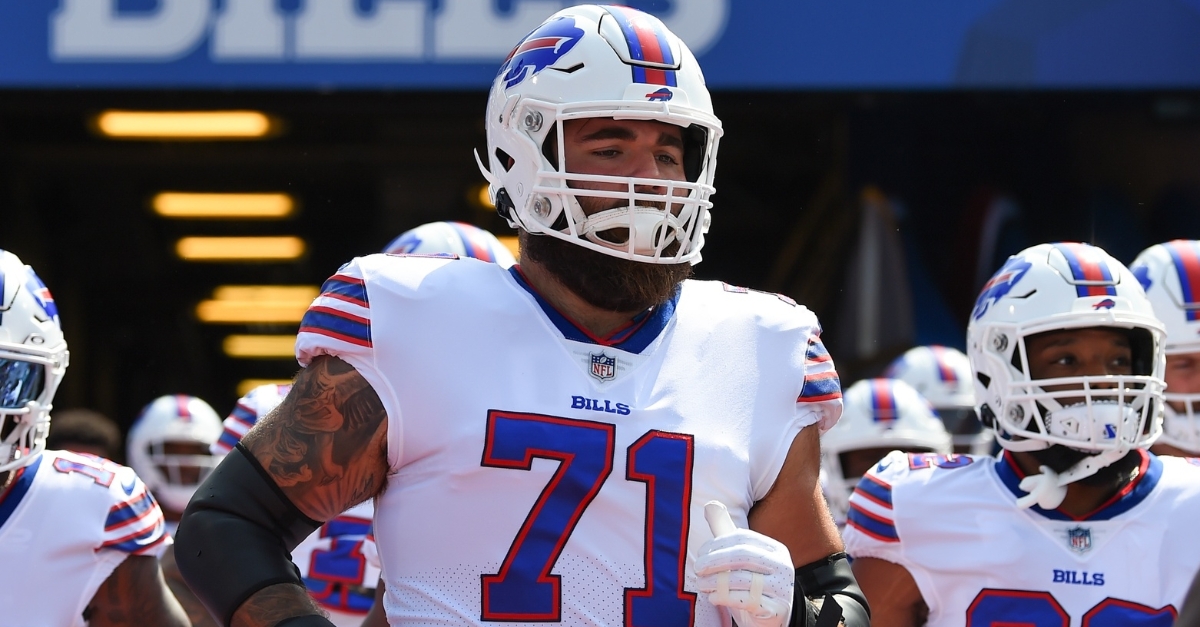 | | |
| --- | --- |
| Bears among interested teams in OL Ryan Bates | |
---
When you look at the NFC North, the Packers are head and shoulders above the pack, with the Bears and Vikings in that second tier. Looking at how things have transpired this offseason, you have had the Packers extremely active retaining their roster, while the Bears have done an excellent job adding players to their roster.
The last week has been especially active for Chicago, and it doesn't appear that they are done quite yet. With reports surfacing that the Vikings are interested in former Bills offensive lineman Ryan Bates, those same reports show the Bears also have interest in him and plan to have him visit Chicago this week. That could be huge for Chicago as that may be what is needed to seal the deal.
Bates is an interesting free agent target for many reasons, and it all starts with his age. He is just 25 years old and hasn't yet entered his prime, so you have that to look for. He also has 41 games of experience under his belt, although only four games as starts. All four of those starts came this past season, which is what many teams are looking at.
Another thing that makes Bates such an intriguing target is that he is a versatile player. He may be listed as a guard, which is where he has spent most of his time, but going back to Penn State, you will note that he has played guard, tackle, and occasional center, showing how versatile he is. The Bears love versatility, especially on the offensive line, so seeing them mentioned in talks isn't a surprise.
That versatility in college paid off as he earned freshman all-American honors and followed that up with third-team honors in 2018. Given what teams saw in college and the versatile side of things, could the Bears be looking to use him as a swing tackle? For those unfamiliar with what a swing tackle is, basically a tackle who you put in for specific packages on either side of the line.
There are other reasons why Bates to the Bears makes sense, and it falls on their assistant GM, Ian Cunningham. During the 2019 season, Cunningham worked for the Philadelphia Eagles as the assistant director of player personnel. During that same year, Bates signed with the Eagles, so he does have a connection to Cunningham and the Bears per say.
Cunningham was a big reason why Bates signed with Philadelphia as he had his eyes on him from day one. Not only that, but Bates left a great impression with the entire Eagles organization, particularly Cunningham, so you better believe he will do what he needs to do to sign him again. Cunningham could be the secret weapon for the Bears to pull off this signing, and should they do that, look for him to be signed to a multi-year deal to ensure they have stability with him.
Looking at the rest of the offensive linemen in the free-agent class, Bates is not the splash move made to set the bar high. Instead, this is one of those low-risk, high-reward moves that teams often do to fill out a roster. Should the acquisition work in the Bears favor if they sign him, you are looking at a valuable asset moving forward.
If not, the Bears won't be out a ton of money as he won't command a high-end salary. This may not be the movie fans want, but it is something worth noting from the connection side of things. If this move does happen, you could see more moves made based on past connections to the new regime, which can have lasting effects.
Upgrade Your Account
Unlock premium boards and exclusive features (e.g. ad-free) by upgrading your account today.
Upgrade Now