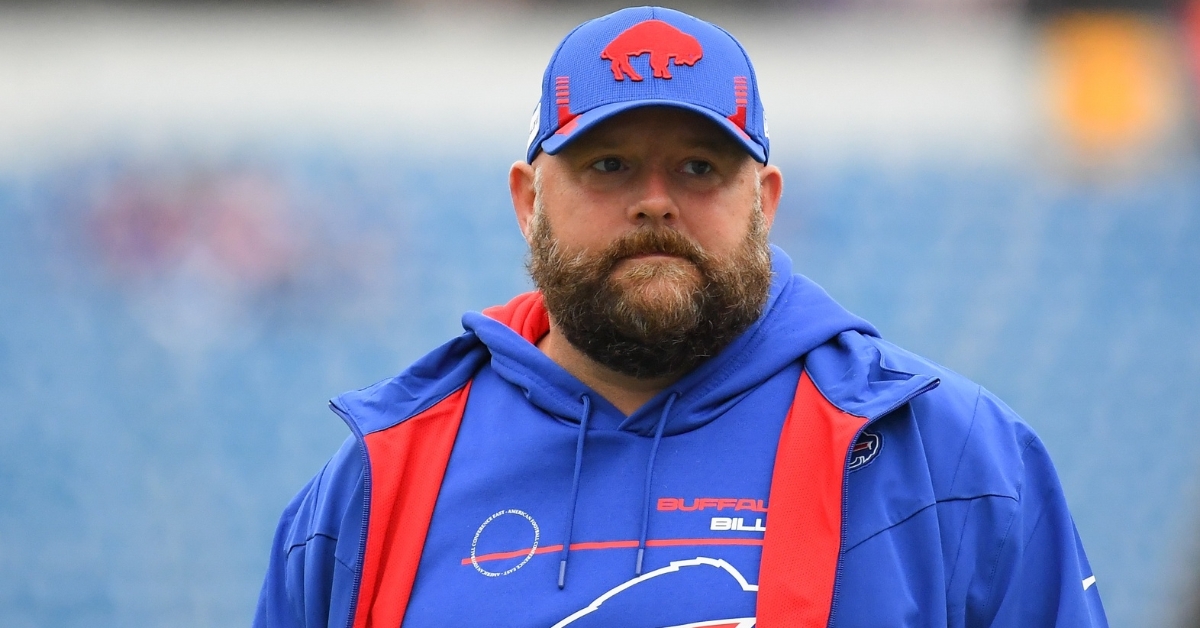 | | |
| --- | --- |
| Bears Coaching Candidate: Brian Daboll | |
---
| | | |
| --- | --- | --- |
| Monday, January 17, 2022, 11:44 AM | | |
Now that Super Wildcard weekend is nearly complete, you should see the head coaching interviews start to pick up. Many teams in the market for new head coaches wanted to interview coordinators, but most of the ones they wanted to interview were in the postseason. Granted, league rules have allowed teams to start interviewing in week 17, but most of those interviews typically don't begin until the postseason starts.
With the playoff field going from 14 teams down to eight by Monday night, plenty more coaches will be available to discuss the Bears head coaching job. With that being said, one team that is drawing the most attention happens to be the Buffalo Bills, and with good reason. Heading into the season, the Bills were many people's Superbowl pick, especially when you looked at their resurgence last season.
Following a rough midseason patch, those talks went away, but the Bills not only put things together the final month of the season, but delivered a 47-17 beatdown of the New England Patriots on Saturday. That was by far the most impressive performance of the weekend, and that could have lasting effects for the Bills and their coaching staff. Offensive coordinator Brian Daboll has had his name surface the last few seasons as a head coaching candidate, but it seems like a forgone conclusion that he will get a gig after his showing this weekend.
The Bears are one of the teams showing the most interest in him and will be interviewing him this week. Now in his fourth season as the Bills offensive coordinator, Daboll has been credited with transforming Josh Allen into one of the better QBs in the game while orchestrating one of the most explosive offenses. Given that the Bears have a young QB in Justin Fields, this seems like a match made in heaven for both sides.
Daboll's coaching history goes back 20 years, and he knows a thing or two about winning. He got started with the New England Patriots in 2000-2006 and then returned to the organization in 2013, spending the next four years there. He was a part of several Superbowl winning teams, which alone is a good thing. Mixed in with those stops with New England came the New York Jets QB coach in 2007-08, Cleveland Browns offensive Coordinator 2009-10, Miami Dolphins Offensive Coordinator in 2011, and Kansas City Chiefs offensive coordinator in 2012. Daboll also had a brief stint in college, working as the Alabama offensive coordinator and QB coach in 2017, where he was part of a National Title.
Looking at his resume, not only has Daboll spent his entire coaching career on the offensive side of the ball, but he has been a part of multiple Superbowl winning teams and a National Championship team in college. A vast amount of his coaching experience came under Bill Belichick, but he also has experience working under Nick Saban. Those are two of the best if not the best coaching minds in the game, so that is not a bad list to work for.
Not only that, but looking at the coaching resume for whom Daboll has worked for, and you will see names like Sean McDermott, Romeo Crennell, Tony Sporano, and Eric Mangini. Outside of McDermott, neither of them have had much success as head coaches, but they are some of the most respected coaches in the game that know a thing or two about what they are doing.
There is one main reason why the Bears want to bring him in, which surrounds their QB Fields. Not only do they feel he could unleash Fields potential, but Daboll has a long relationship with Fields, going back to his college days when Daboll spent time with him and his family during the recruitment process. These two have had a relationship ever since, and you can imagine the kind of relationship they would have if there were reunited in the NFL.
When you look at Fields and compare him to Allen, there are many similarities as a QB. Allen struggled mightily his rookie season, as did Fields, but once Daboll came into the picture, Allen was a completely different QB and is now one of the most feared QBs in the game. Should he do that with Fields, the Bears will have a franchise QB for years to come and someone who will make Chicago relevant again.
Much like every coordinator looking to land an NFL gig, Daboll is far from a sure thing, but that shouldn't shy the Bears away from making a play for him. He is a tremendous offensive mind who has worked under some of the game's best coaches. The Bears are in desperate need of a new direction, and Daboll is the type of person that can point them in that direction and run with it.