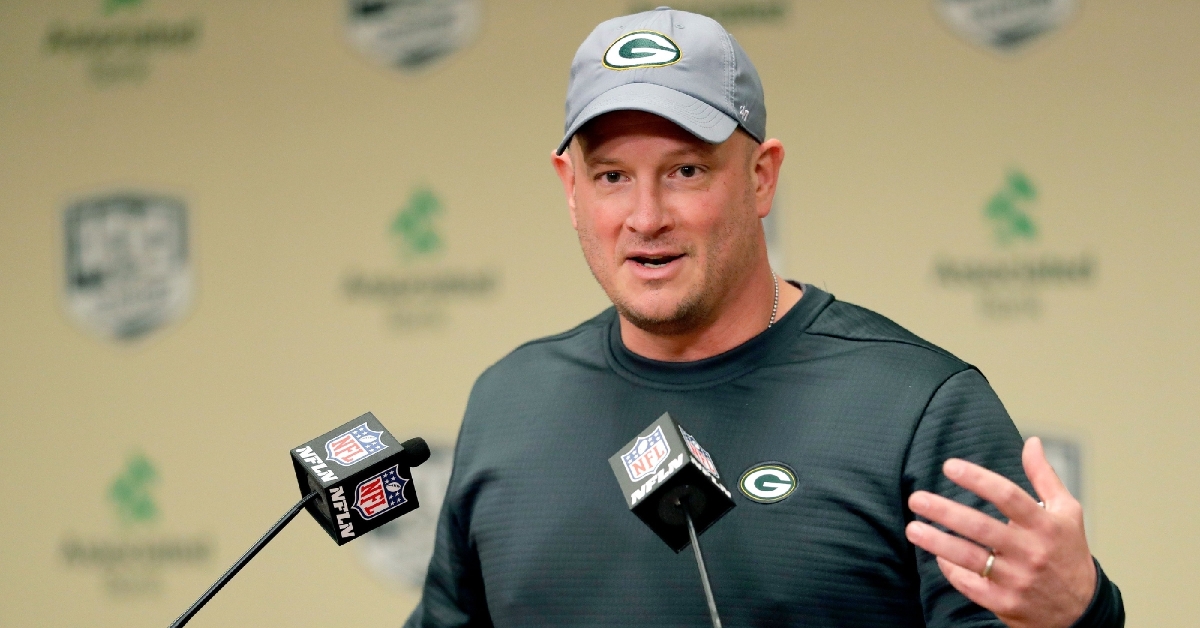 | | |
| --- | --- |
| Bears Coaching Candidate: Nathaniel Hackett | |
---
| | | |
| --- | --- | --- |
| Friday, January 14, 2022, 9:32 AM | | |
Every year following the final week of the regular season comes the dreaded day, Black Monday. That is when coaches and GMs find out their fate if they will be back next season. To date, eight coaches and three GMs have either retired or been let go of their duties, making for the most openings in quite some time.
With the playoffs set to begin this weekend, get ready to hear plenty of assistant coaches starting to get interviews based on their teams being eliminated from the playoff field. Every season you hear some of the same names or the retread names looking for another coaching opportunity. You also have those surprising names you never would expect even to garner consideration for coaching.
One of those surprising names is getting an interview from the Bears this week in Packers offensive coordinator Nathaniel Hackett. Granted, he is not the actual play-caller in Green Bay with Matt LaFleur handling those duties, but he is still someone heavily involved in that offense and someone Aaron Rodgers has endorsed for a Head Coach opening.
Hackett started coaching with the Tampa Bay Buccaneers, working as an Offensive Quality Control coach from 2006-07. The following season he was off to Buffalo to perform the same duties for two years and then was out of football for four seasons. When Hackett returned, he got his first offensive coordinator gig working as the Bills play-caller during the 2013-14 seasons.
The results were mixed, but the Jacksonville Jaguars took notice and appointed him their Quarterback coach in 2015, where he held that position for two seasons. After helping Blake Bortles develop into a serviceable player, Hackett was again promoted to offensive coordinator in 2016 and held that position in Jacksonville for three years, helping the Jaguars reach the AFC championship game in 2017.
His tenure with the Jags didn't end well, and he was fired after the 2018 season when his offense was near the bottom of the league in overall production. Hackett wasn't jobless for long as he was scooped up by the Packers in 2019 and has been the offensive coordinator ever since. During his three years in Green Bay, the Bears have watched the Packers not only take over the NFC North yet again, but reach the NFC title game in consecutive seasons while helping orchestrate one of the most dominant offenses in the game.
Hackett knows a thing or two about having a great offense, as Rodgers will do that for you. Granted, the Bears are not the same offensive juggernaut the Packers are, but the 42-year old Hackett must have some ideas of what works and could implement that into Justin Fields and his strength. Working with Davonte Adams and Rodgers will certainly help you in the rankings, but going back to Jacksonville and having the fifth highest-scoring offense with Bortles is what stands out the most.
Out of all the names the Bears had to choose from in terms of scheduling interviews, Hackett was a name the Bears identified early, needing less than 24 hours to request an interview with him. Although not the best candidate out there, he hails from the team's most hated rival and has had a front seat of what a competent offense looks like and what it needs to keep it rolling.
As good as Green Bay has been this season, the Packers are having their worst offensive season since Hackett arrived, averaging 23.5 PPG, good for 15th in the league. That is coming off a season where they were ranked 1st and 10th the year before that. Scoring aside, Rodgers has completed 70% of his passes for nearly 5000 yards, close to 40 TDS, and just four interceptions, and that falls on Hackett, who spends a lot of time with the QB.
Hackett has plenty of potential, but far less experience given his coaching background. That alone has me thinking that he has to wow the Bears front office to get this job. He has proven to excel with mediocre QB play, but after having Adams and Rodgers the last few years will have to prove he can win without them.
There is nothing bad to say about Hackett, but there is also nothing that stands out either. He feels like a hot commodity because of the weapons he has had at his disposal. Considering he doesn't call the plays in Green Bay, I don't think he is the right fit for the Bears. They tried a similar coach in Nagy, and it didn't work well.