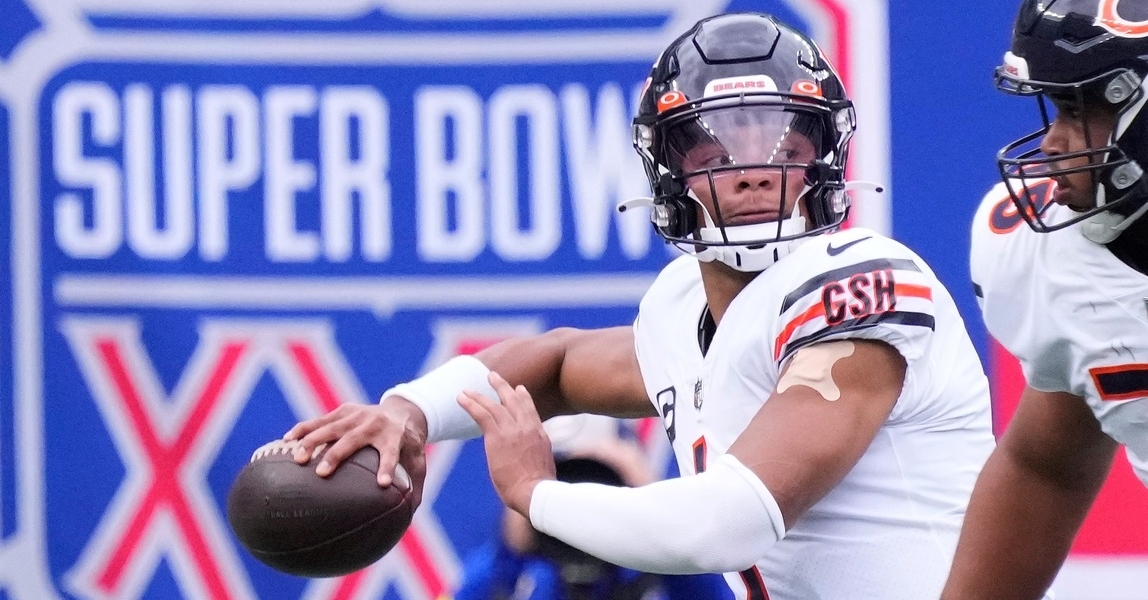 | | |
| --- | --- |
| Bears-Commanders Prediction | |
---
| | | |
| --- | --- | --- |
| Thursday, October 13, 2022, 2:00 PM | | |
I know the loss on Sunday hurts, especially when the Bears rallied from 18 down to take the lead, but there is some hope on the horizon. The best way to get over a loss like that is to move on and play another game, and the Bears get to do that just four days after suffering a painful defeat.
That's right, week six kicks off at Soldier Field on Thursday as the Washington Commanders take on the Bears. Not your ideal primetime matchup when you look at the records, but this has the potential to be one of the better Thursday games of the season.
With both teams struggling to win games right now and falling further behind in the division race, this could be seen as a must-win for both sides. That sometimes brings out desperation play, or at the very worst, some of the best play you will see from a team for quite some time. The Bears hope that is the case for them as they look to remain unbeaten at home and move back to .500.
Here are some things to look for, along with our prediction:
Will Ron Rivera be next?
Typically, during the NFL season, most coaches get fired at the end of the season. Every so often, there is an in-season surprise with Matt Rhule being the first coach out of a job in 2022. When you look at his 11-27 record since taking the job, it doesn't come as a shock, but that now leaves several other coaches on the hot seat a bit more anxious.
Rivera could be one of those coaches, as his 1-4 start to the season certainly has him on the hot seat. A great coach for nearly a decade with Carolina, Rivera came to Washington hoping for the same success, but hasn't seen much since his arrival. Sure, he made the playoffs in his first season, but he only won seven games that season and followed that up with seven more in 2021.
Add in his 1-4 start this year, and Rivera could be coaching for his job. You can't entirely blame him, however, as he hasn't had much to work with in terms of a QB. He had Alex Smith briefly until a severe leg injury threatened his career. Apart from that, we have seen Dwayne Haskins, Taylor Heinecke, Ryan Fitzpatrick, and now Carson Wentz, so he has been pulling straws. Look for Rivera to pull out all the stops, especially if this is his last hooray with the team.
What will N'Keal Harry bring to the offense?
After spending the first five weeks on the IL, Harry is set to join the Bears for this game and should boost the WR core. What kind of impact he will remains to be seen, but he is better than some of their options.
Acquired earlier this offseason for a seventh-round pick, the former first-round pick has yet to live up to his draft status, which is why the New England Patriots traded him for next to nothing. Hoping a change in scenery would do him well, Harry has been hurt since training camp and has yet to prove he is worthy of a starting job.
The potential is there, especially when you look at his 6-4 frame, but consistency has been the issue with him since day one. He will get every opportunity to be a starter once he returns to the field, and hopefully, that will yield the success the Patriots hoped they would get with him.
Build off last week
Granted, this team lost another heartbreaker on Sunday; you had to like what you saw from an offensive side. After looking lifeless through the first four games, the Bears opened things up much more in week five, leading to better offensive production.
Fields threw for 200 yards for the first time this season while also using his legs to his advantage. Seeing their success against the Vikings, it is perfect for Luke Getsy and his offense to get on the same page and build off of last week.
They need to take what worked against the Vikings and continue to use that to help Fields. Once things start to come together on offense, this team will be tough to beat, as their defense is good enough to win the division. It just becomes a matter of how quickly Fields and the coaches can identify what worked and roll with it.
Prediction: BEAR DOWN
We are not even halfway through the NFL season yet, but this is a must-win for either team. When it comes to the Commanders, they are sitting at 1-4 while everyone else in the division is 4-1 or better. That is already a tough uphill battle, and another loss only makes it more challenging.
The Bears are in third place in the NFC North with a 2-3 mark but are three games off the pace set by the 4-1 Vikings. That includes the tie-breaker Minnesota currently has over them, so any more losses could be detrimental to them.
This should be another game that comes down to the final few minutes as both offenses have struggled with consistency, while their defense has had to make several plays. If I had to pick things right now, I am leaning toward Chicago 20-17 as I trust them more than I do Washington.