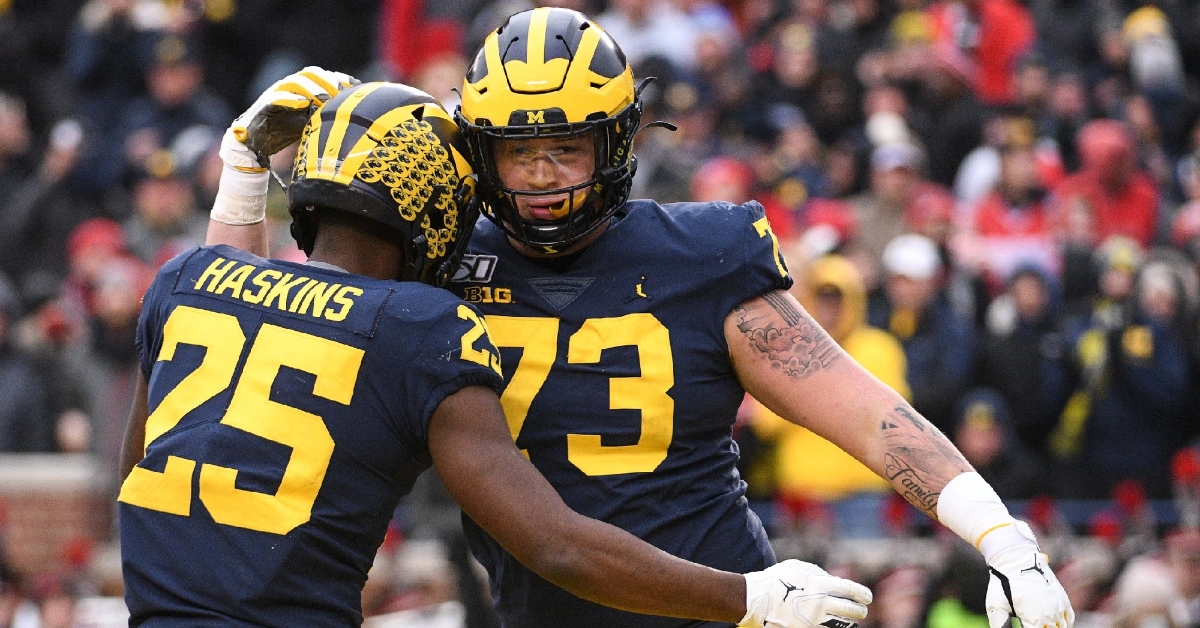 | | |
| --- | --- |
| Bears could boost the OL with selection of Jalen Mayfield | |
---
| | | |
| --- | --- | --- |
| Tuesday, February 23, 2021, 10:06 AM | | |
Chicago Bears fans may be getting their wishes this offseason in more ways than one. Not only does it appear the team is working on an extension with Allen Robinson, but Chicago has moved on from Mitch Trubisky and is now looking for a new signal-caller. E
Even if those moves are made, it all starts up front, which is what Bears fans still feel the most significant need is.
With the 20th pick in the NFL draft, the Bears will certainly have many options to work with, but they need to make sure they hit a home run with that pick. The more I dive into mock drafts and look at the incoming draft class, the more I like many offensive linemen in this group. Experts feel the same way as more reports out there that Chicago will focus on the offensive line first in this year's draft.
One player to keep an eye on with the 20th pick is Michigan OT/G, Jalen Mayfield. Upgrading the offensive line will certainly be a significant point of emphasis this offseason, but with limited cap space to work with, it will be hard to find one on the open market. The Bears could save themselves cap space in that category by drafting one early, and Mayfield could be available.
Mayfield is a versatile offensive lineman who has played both guard and tackle over his college career. Many feel that he can stick on the outside, but if worst comes to worst, you move him inside to guard and build off that. At 6-5 319 pounds, the redshirt sophomore is a massive man on the offensive line and will be a load for anyone to push out of the way.
Viewed as a top 20 prospect in this year's class, Mayfield is a high-quality offensive lineman capable of starting right away in this league. Not only does he have size, but he has the athleticism to play in space and pass protect while having already two years of starting experience under his belt. Not only that, Mayfield continued to get better with more reps, and you could see that from 2019 to 2020.
What makes Mayfield stand out more than most is his worth ethic and drive to get better. When he was recruited out of high school, he was a 245-pound defensive lineman coming off a school-record 17 sack senior season. He played both sides of the ball in high school and ultimately chose the offensive line, thus putting the work in to add plenty of weight to play that position.
In just three seasons, Mayfield added 75 pounds onto his frame, and you can see he is built like an offensive tackle even before putting on his tape. Size is extremely important for offensive linemen, but it isn't everything. For Mayfield, he has ideal size, but he possesses some impressive footwork, which has helped him excel in pass blocking protection. That footwork also leads to strong blocking in the run game, and there is no reason why that shouldn't continue at the next level.
There is a lot to like about this pick. As of today, there aren't all that many concerns. One concern that some teams may have is that he has started two seasons, but realistically only one full season as COVID hampered Michigan's season this year. He was still developing as a player this season and may need to develop a little more heading into the NFL.
Another thing that you notice on fill with him is that he tends to lunge at defensive players. He is sometimes overpowered by bigger defensive tackles pushing him back into the QB or RB in return. This can easily be fixed with more development, and as a talent, he is too good to pass up if he is available at 20.
Listed as the 24th best prospect now, Mayfield could go anywhere between 20 and the end of the first round. The Bears are certainly a team that could use his services, but several other teams with tackle needs may take a run at him also.