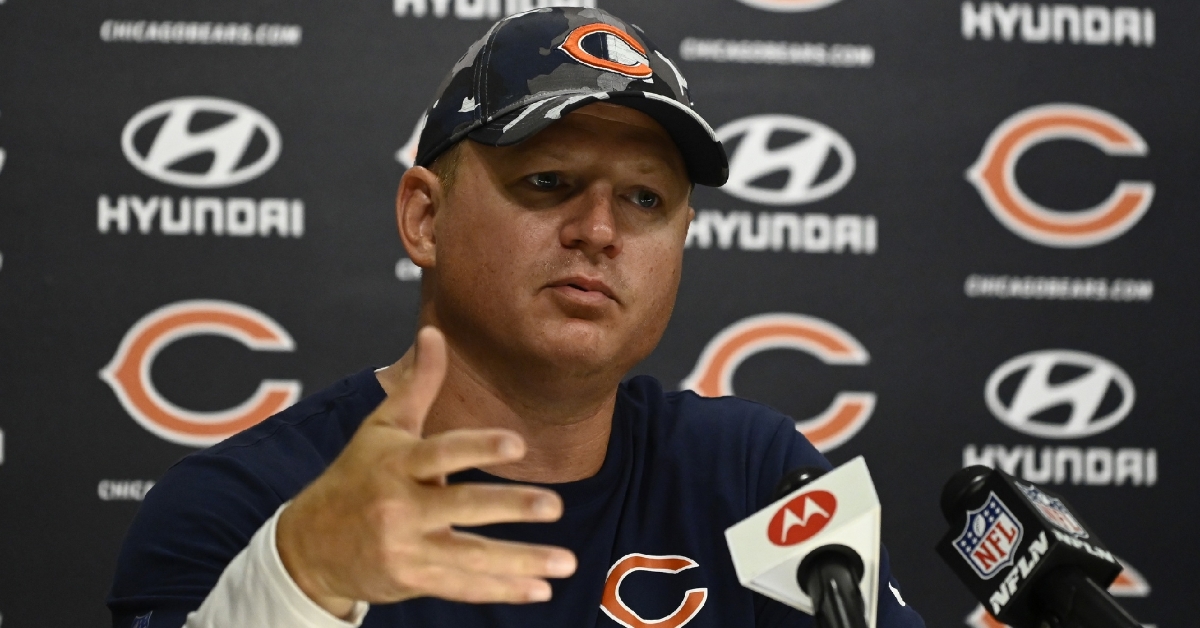 | | |
| --- | --- |
| Bears fans should expect creativity from OC Luke Getsy | |
---
With a new regime and head coach comes a new coaching staff, precisely what the Chicago Bears have in 2022. After watching Matt Nagy struggle to do anything right and create an offense that even a seasoned offensive coordinator in Bill Lazor couldn't fix, you knew there was a change coming this season.
Now that Matt Eberflus is the man in charge and has his staff how he wants it, the training camp portion of their summer is underway you can see the dramatic change in the organization. For the first time in five seasons, there seems to be a competition factor going on in camp, and the coaches are finally holding these players accountable for actions that were not done in the last regime.
Looking further into the coaching staff, you have new offensive coordinator Luke Getsy set to make his mark this season, but what can the Bears expect from him this year? Granted, this may be his first season as a play-caller, but there are tons of high hopes and expectations for Getsy.
For starters, he comes from the Green Bay Packers organization, which is the blueprint in the NFC North that everyone wants to be. While with the Packers, Getsy worked with Aaron Rodgers, who continues to be one of the best to do things.
No one is saying Justin Fields is Rodgers or will become the next Rodgers, but Getsy has experience working with one of the game's all-time greats. He can use a lot of that knowledge to pass along to Fields in hopes of creating an offense to utilize his strengths to make him the best QB possible.
Along with excellent QB play comes great offensive line play, which is something the Bears have not had in recent years. That is something the Packers have had, and it is a big reason why their offense was as good as it was for so long.
Not only have the Bears done a great job improving on the offensive line, but they added more pieces in recent weeks to make that unit deeper than it was before. Knowing the types of offenses Getsy has been a part of, look for him to use his offensive lineman more uniquely and diversely than the previous OCs did.
Perhaps the biggest thing that stands out for Getsy is his diverse creativity. He is known for creativity when calling passing plays or blocking plays at practice, so I expect him to offer a unique wrinkle to the Bears offense they haven't seen. In other words, expect the unexpected with Getsy, as I think he will keep teams off balance all season.
While all of this seems excellent, the Bears do need to remember that Getsy is not only the new offensive play-caller for the Bars this season, but this will be his first time calling plays in general. With that comes the learning curve that all first-year coaches go through, so things will be far from perfect, especially in the early going.
Given what fans just went through with Nagy and Lazor, their patience may be running thin regarding playcalling and getting the most out of this offense. Getsy is not like either one of them, and this is an offense that is not only geared to Fields and his strengths, but the perfect offense for a first-year play-caller to be involved with.
Bears fans need to be patient and let things fall into place because as Getsy grows, so will Fields. That will ultimately determine how far this team can go this season, and Getsy may have the most prominent role not mentioned in getting them to the next level.