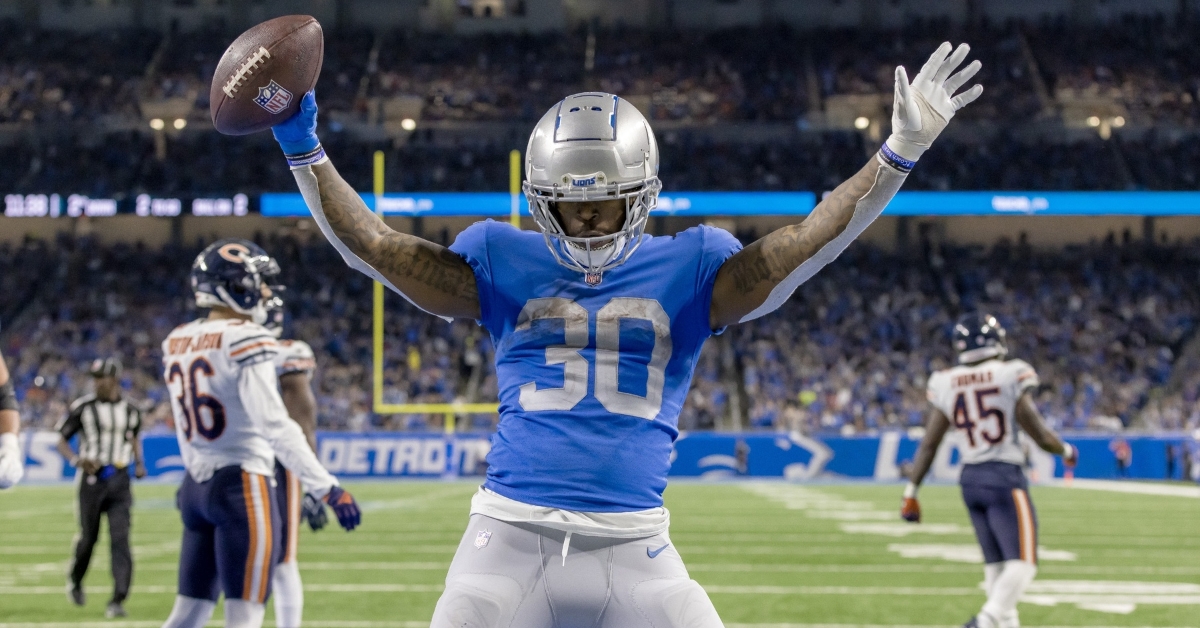 | | |
| --- | --- |
| Bears free agent target: Redzone beast Jamaal Williams | |
---
| | | |
| --- | --- | --- |
| Thursday, January 26, 2023, 10:00 AM | | |
We continue to go down the free agency list for 2023 and focus on specific players the Bears may consider targeting. With over 100 million dollars in cap space and more to come based on players testing free agency, the Bears will be in a rare position to run free agency this season as they look to return to their winning ways.
When it comes to their roster and the needs of this team, there are so many holes that you could make a case that all of the holes are equally as important. The offensive side is more important, as they were putrid at best last season. However, only some of the offense was bad, as they did lead the NFL in rushing yards as a team this past season.
A big reason for that was having your QB in Justin Fields rush for more than 1000 yards, while David Montgomery and Khalil Herbert gave the Bears a tremendous three-headed monster. Herbert will be back again next season and could see an increase in touches, but where will Montgomery be?
A free agent himself this season, the Bears could bring him back or, at the very worst, franchise tag him for another year. However, that may not be in his best interest as I fully expect him to hit the open market and try for a long-term deal elsewhere. If that is the case, Treston Ebnar will enter the season as the team's backup unless the team addresses that position via free agency.
Sticking with that, Detroit Lions RB Jamaal Williams is coming off a great season and could be a sneaky pickup for the Bears this offseason. Coming off his second and final year with the Lions, Williams spent his four seasons with the Packers, where he was splitting time with Aaron Jones in the backfield.
Williams had moments of being a reliable back with the Packers, but Jones was the primary carrier in Green Bay, and that didn't sit well with him. In four years with Green Bay, Williams averaged around 490 yards rushing per season, with his rookie season being his best at 556 yards. He also had 10 total touchdowns, with four coming as a rookie.
Once his four years in Green Bay ended, Williams felt he could be a No. 1 back somewhere and then signed with the Detroit Lions on a nine-million-dollar two-year deal. Immediately after signing, the Lions drafted D'Andre Swift and had Keryon Johnson on the roster. Still, Williams went on to have his best season as a pro, accumulating 601 yards, but just three touchdowns.
Those are not No. 1 RB numbers, but the Lions were mixing and matching that season, so Williams never got into the groove he was hoping for. Then came the 2022 NFL season, where Williams finally had an opportunity to be the every down back he knew he could be while also putting up historic numbers in the process.
For the season, Williams topped the 1000-yard mark for the first time in his career, finishing with 1066 yards on 262 attempts. That landed him in the top 10 in the NFL, finishing with the seventh most rushing yards this season. However, there was another aspect of his game that often went overlooked, but it will no longer be ignored.
Williams was a beast in the red zone, which will be a big reason why teams look at him this off-season. His 17 rushing touchdowns led the NFL this season and were a team record as he passed Barry Sanders in week 18 this season. Any team is lucky to have a red zone threat like that in the backfield so expect him to have plenty of offers this season.
Williams would be an excellent addition to the Bears and their offense, giving them an element they never had last year. He may not be as explosive as Montgomery, but when you have Herbert and Fields, he could be the thunder to their lightning. What he lacks in explosiveness, he makes up for his red zone presence as he has become a touchdown machine.
That was one of the Bears issues this season, as they left a ton of points on the board in the red zone. Williams would change that narrative as the Bears would have a reliable RB to go to in short-yardage situations, which could lead to more first downs and more touchdowns. Williams will also come cheaper than a lot of free Agent RBs, and he could be had for six million a season for three years.