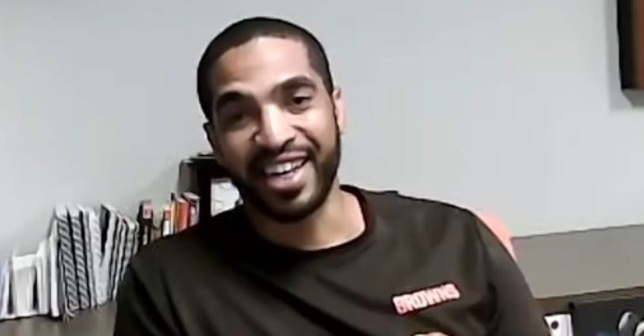 | | |
| --- | --- |
| Bears GM Candidate: Glenn Cook | |
---
| | | |
| --- | --- | --- |
| Wednesday, January 19, 2022, 10:01 AM | | |
Part of building a winning organization starts at the top and works its way down through the rest of the team. It starts with ownership, which trickles down to the president, who typically runs the day-to-day operations. It is up to that president to find the winning combination of a GM and Head Coach to win games consistently.
That is something this Bears team has struggled to do since the Lovie Smith days and is now in the position of finding a new GM and head coach. With plenty of great candidates on the market, the Bears are wasting no time digging in as they are expected to interview upwards of 10 people for their current GM opening. One of the names to keep an eye on is Glenn Cook, who is starting to gain a ton of attention.
When it comes to building a winning organization, scouting may be the most critical piece of the puzzle that is often overlooked. If you can't scout talent, chances are you can't draft talent, and that is never good. Cook is no stranger to the scouting world and has been a scout for three organizations that have paid dividends along the way.
His scouting journey started in 2011, working for the Indianapolis Colts. Over his two years with the team, Cook was a scouting assistant, but did play a role in drafting Peyton Manning's replacement Andrew Luck which worked out for several seasons. Following his time with the Colts, Cook headed north for a more prominent role where he took on the Pro Scout position for the Green Bay Packers. He held this position for four seasons, and the results speak for themselves when you look at the Packers organization. They know how to win, they know how to draft, and having that experience under your belt makes you an immediate candidate for anyone.
Once word got out about Cook and his success with the Packers, he became an extremely hot commodity and eventually latched on with the Cleveland Browns, where he has been since 2016. Originally the assistant director of pro scouting from 2016-19, Cook was promoted to VP of Player Personnel in 2020 and has held that position the past two seasons. Granted, the results were not always great for Cleveland, but he has played an essential role in making the Browns relevant once again.
Unlike most candidates that the Bears will bring in, Cook has one of the most unique profiles. Having success with the Colts and Packers is one thing, but seeing him have success with the Browns and earn a promotion indicates he is a fast riser, which is attracting the Bears to him. 24 hours after Pace was let go, Cook heard his name pop up regarding the Bears GM gig, along with another Cleveland member who we will touch on later.
Unlike coaches, where you are judged by breaking down tape, schemes, and overall coaching trees, GM candidates are looked at in a different light. Considering that every candidate does something different with their respective organizations, it would be difficult to pick one thing and run it. The GM experience may not be there for Cook, but experience in other aspects of the game makes his resume extremely intriguing.
He was often considered one of the Browns best talent evaluators, and if you look at some of the talent, they have on their roster, that is a good title to have. Pace did a lot of good for the Bears organization, but he also made a ton of mistakes that he can't undo. That ultimately sealed his fate which is why the Bears are going in a different direction.
Chicago is looking for a GM that can help build a winning organization and interact with fans and express honest thoughts and feelings about the team. That isn't saying give away secrets about the team, but fans like honesty when it comes to a GM. Cook appears to be that guy and has all the knowledge in the world to make this work.